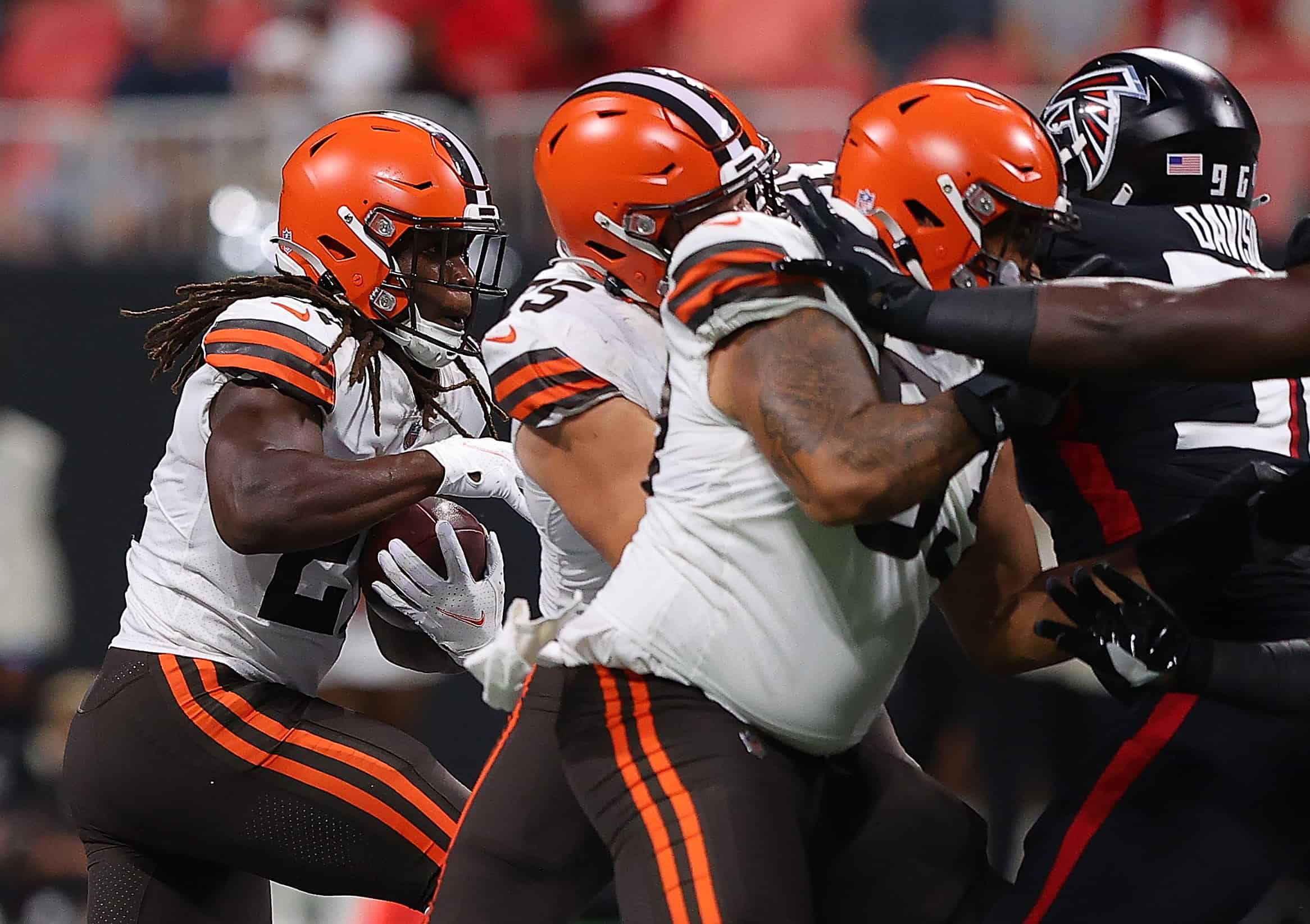 The Cleveland Browns made the difficult decisions and have trimmed the roster to the magic number of 53.
Though the roster shows an extremely talented group of players, there are still lingering questions as the team hones in on its preparations for the Week 1 regular-season game against the Kansas City Chiefs.
Here are those three lingering questions.
1. Who Will Be The Kicker?
What's the message for kicker Chase McLaughlin after he made #Browns initial 53-man roster? "It's show up and work — for all of our guys," coach Kevin Stefanski said.

— Nate Ulrich (@ByNateUlrich) August 31, 2021
Is Chase McLaughlin the opening day kicker?
He did not make a resounding case for himself to earn the kicking job during the preseason game against the Atlanta Falcons.
McLaughlin missed a field goal and an extra point.
Will the Browns be shopping the waiver wire looking to try out kickers in the coming days?
In a true back-to-the-future maneuver, might the Browns bring back Austin Seibert?
He was the Browns kicker in Week 1 of 2020 before being replaced by Cody Parkey.
Seibert then went to the Bengals but was released yesterday.
Patriots kicker Nick Folk may also be looking for a job.
#Browns Nick Folk made 92.9 percent of his FGs in 2020 with the Patriots, including 13 of 15 on kicks >/= 40 yards. 30/33 on extra points.

A name to watch depending on what happens at the K position. https://t.co/MR8iHVTYvg

— Cody Suek (@CodySuek) August 31, 2021
2. How Much Will The Rookies Be Involved?
There has been so much talk about the depth of talent in the 2021 draft class.
What we do not know is how much and often will these players contribute.
Beyond the obvious ones, Greg Newsome II and Jeremiah Owusu-Koramoah, what will Anthony Schwartz's role be?
Tony Fields II has been hampered with the injuries but finally got on the practice field late last week.
What is his role?
#Browns rookie LB Tony Fields II on field today for the first time. He's been slowed by two foot injuries since being drafted.

— Tom Withers (@twithersAP) August 27, 2021
How about Richard LeCounte?
Looks like the Browns are going with John Johnson III, Ronnie Harrison, Grant Delpit and Richard LeCounte at safety. #Browns

— Hayden Grove (@H_Grove) August 30, 2021
Demetric Felton, the ultimate utility guy, will be on special teams.
#Browns HC Kevin Stefanski on rookie RB/WR Demetric Felton: "I'd say he's our kick returner and, like any player, he's got to earn the role and then keep the role. He's got to keep working."

— 92.3 The Fan (@923TheFan) August 31, 2021
Will he be inserted elsewhere in the offense?
3. Will The Revamped Defense Be Ready?
The free agents that have made this defense more formidable on paper have not played together in the preseason.
They include Jadeveon Clowney, Takk McKinley, Troy Hill, Anthony Walker, and John Johnson III.
We saw a little bit of the latter three, but we did not see any of these guys play with Myles Garrett.
Coordinator Joe Woods says the #Cleveland @Browns working to have top-five #NFL defense #Browns https://t.co/TdOXmpdGSM

— Matt Florjancic (@MattFlorjancic) August 29, 2021
Will they be in sync and ready to go against the Chiefs in Week 1?
Could Grant Delpit actually make his long-awaited NFL debut?
What will he look like after his season-ending injury during the 2020 training camp and lingering injuries during the 2021 camp?
Looks like the Browns are going with John Johnson III, Ronnie Harrison, Grant Delpit and Richard LeCounte at safety. #Browns

— Hayden Grove (@H_Grove) August 30, 2021
We certainly do not want to see penalties and miscommunication in that game; Patrick Mahomes needs no extra advantages beyond his incredible talent.
The offense answered some of these basic question marks by putting Baker Mayfield and key components of the offensive line on the field against the Falcons, but the defense did not do the same.
Conclusion
Looking on the bright side, if fans have these questions and are uncertain of what this team will ultimately look like on September 12, that means the Coach Andy Reid and the Kansas City Chiefs have the same questions.
What is not clear is if Coach Stefanski knows the answers to all of these questions and is just keeping a tight lid on them from strategic reasons or if these details are yet to be fleshed out in the next week and a half of practice.
Now that the calendar has flipped to September, we will not have to wait too much longer to find out.
Opening day is 11 days away.