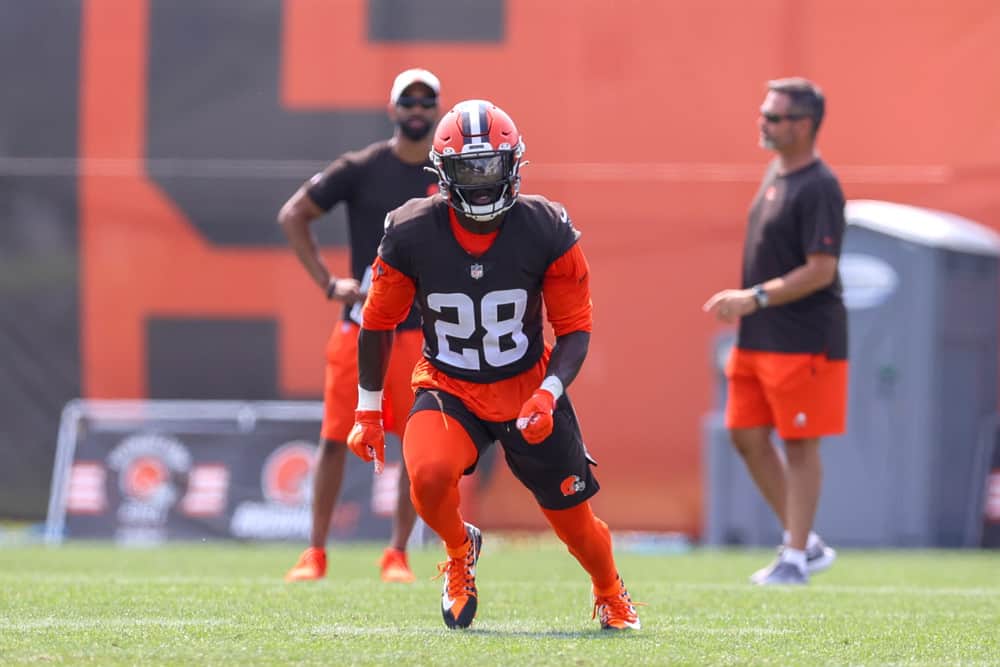 In news that is both good and not surprising, Cleveland Browns rookie linebacker Jeremiah Owusu-Koramoah (JOK) is declared OK for Week 1 action.
Coach Stefanski announced that JOK practiced on Tuesday with no restrictions.
#Browns coach Kevin Stefanski said no restrictions on rookie linebacker Jeremiah Owusu-Koramoah, who practiced today for first time since weightlifting accident led to stitches in forehead

— Nate Ulrich (@ByNateUlrich) August 31, 2021
Recall that JOK was involved in a weightlifting accident.
Details for the accident were very sparse with the only thing truly known about it is that he needed stitches on his forehead as a result of it.
While those stitches thankfully did not mean anything more than surface damage, they did keep him out of the third preseason game against the Falcons because they were at an area where the helmet rubbed his skin.
#Browns Jeremiah Owusu-Koramoah sidelined but at practice after getting stitches in his forehead yesterday following a lifting accident. pic.twitter.com/pemffL9HRx

— Camryn Justice (@camijustice) August 25, 2021
Drafting JOK Considered The Best Browns Offseason Move
GM Andrew Berry gets high marks for the 2021 offseason roster additions.
Between free agency when the team signed veteran stars like Jadeveon Clowney, John Johnson III, and Troy Hill and the draft, the team has higher skilled players on the roster than last season.
Some believe that Berry's best move was drafting JOK in the second round of the draft.
Brent Sobleski of Bleacher Report explains why this is true.
"Last season, the Browns featured the league's least-talented linebacker corps. Owusu-Koramoah brings a completely different dynamic with his sideline-to-sideline speed, comfort in coverage and ability to play numerous positions."
A couple of weeks ago, the Browns first-round draft pick, cornerback Greg Newsome II, talked about what JOK brings to the team.
"He's a stud. I'm glad he's on our team for sure. He's really not even close to where he's going to be. I've seen it from the first day of rookie minicamp, the way he moves. He's a beast."
Preseason Prowess
In the preseason, JOK gave us a preview of what is to come during the regular season.
Jeremiah Owusu-Koramoah (28) REALLY flashed on film in his NFL preseason debut. Undersized, fast LB – but really impressed with how fast he triggered. pic.twitter.com/GnLDE4fuVE

— Josh Cohen (@JCohen_NFL) August 16, 2021
#Browns LB Jeremiah Owusu-Koramoah first career sack, albeit preseason. pic.twitter.com/wMIy426hfD

— Turner Maney (@turnermaney) August 15, 2021
We cannot wait to see this kid flying all over the field in Week 1 against the Chiefs.