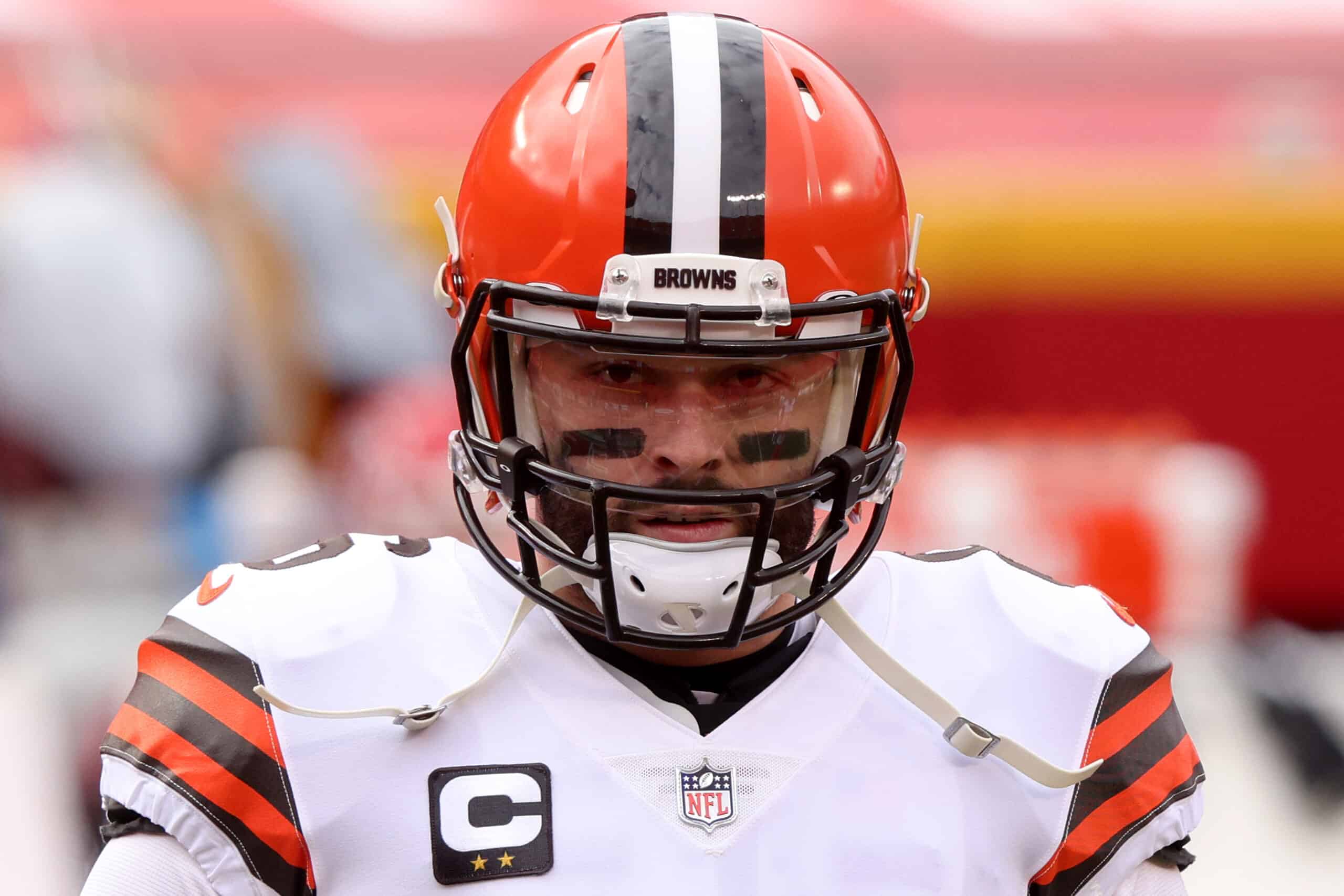 Baker Mayfield continues to be a topic of debate for fans and critics of the Cleveland Browns.
There are plenty of folks who refuse to accept Mayfield as a top-tier NFL quarterback.
Others are ready to enshrine the quirky passer in the Hall of Fame today.
#Browns Baker Mayfield is currently T-9th for odds to win the 2021 NFL MVP award (33/1) pic.twitter.com/Q6XCD5PCLK

— MoreForYouCleveland (@MoreForYou_CLE) April 14, 2021
Allegedly objective analysts rank Mayfield anywhere from a top-5 quarterback to the bottom-third of his peers.
This writer has not always been on the pro-Mayfield side of the arguments.
But I am admittedly more positive than in the past.
And it is not just the hangover effect or residual euphoria of a playoff victory improving my outlook.
Baker Mayfield made a HUGE leap in 2020!

It's looking scary for #Browns opponents in 2021 😳 pic.twitter.com/LUCPjy69jQ

— CBS Sports HQ (@CBSSportsHQ) March 31, 2021
Mayfield is set up beautifully for a breakout season in 2021.
We can continue to argue whether it is his talent or his situation that provides the biggest potential.
But here are three reasons Baker Mayfield is poised for a big 2021 season.
1. Stable Coaching Staff
Mayfield's NFL situation has been less than optimal since the day he became the Browns' top pick.
The rotating group of coaches, coordinators, and players is well documented.
And most folks recognize that coming back with the same group in the same offense is a huge advantage.
But the fact is Mayfield is not actually coming back with the same offense.
Kevin Stefanski and Alex Van Pelt have been tweaking their attack plan since Kansas City advanced in the playoffs.
#Browns Baker Mayfield excelled down the stretch in 2020, making Big Time Throws and limiting his turnover-worthy plays:

Wks 9-17
BTT% – 6.8 (T-4th best)
TWP%- 1.3 (3rd best) pic.twitter.com/JFAyRFucNE

— PFF CLE Browns (@PFF_Browns) March 4, 2021
Furthermore, according to Stefanski, they included Mayfield in many of their conversations.
Mayfield has the chance to contribute his thoughts about new plays and processes.
That is why the second year of Stefanski-Mayfield is so exciting.
This is the first time Browns fans will see Mayfield in an advanced version of an offense.
And Mayfield 2.0 promises to be more exciting than the basic 2020 version.
2. Stefanski Will Open Up Passing Attack
Browns fans did not find Baker Mayfield listed among the statistical leaders last year.
But watching the games, it was no secret Mayfield had a good handle on the offense.
Mayfield was among the best in several secondary statistical categories, like deep passes and play-action.
His mid-range ranking in yards and touchdowns left most NFL fans unimpressed.
But his 18th most yards compares well to his 17th most pass attempts.
Baker Mayfield 2020 mixtape pic.twitter.com/FTUj0sRSTG

— Ian Hartitz (@Ihartitz) July 19, 2021
If he threw the ball as much as the passing leaders, it stands to reason Mayfield would be a passing leader.
Even in Mayfield 2.0, we expect Nick Chubb and Kareem Hunt to get their touches.
But Stefanski promises a more explosive attack in 2021, and with Mayfield's input, that might mean more passes.
Cleveland also improved their defense enough to expect more offensive snaps for Mayfield this year.
For all those reasons, the Browns season passing record and touchdown records should fall in 2021.
3. Mayfield Performs Well Under Pressure
Anyone who has followed Baker Mayfield's college and professional career knows one thing is true.
The man loves to prove his critics wrong and beat the odds.
Baker Mayfield is as aware as anyone of the questions revolving around his role in the Browns' resurgence.
He knows he will not get credit as a great quarterback unless he flashes more than he did last year.
In 2021, the Browns' defense is poised to steal some of Mayfield's thunder.
Will the return of OBJ launch Baker Mayfield to new heights in 2021?@Ihartitz: https://t.co/NDlejZKRCB

— PFF Fantasy Football (@PFF_Fantasy) July 17, 2021
Odell Beckham Jr could detract more if his own Comeback Player of the Year challenge pans out.
Cleveland's full complement of potential Pro Bowl skill players might demand Mayfield succeed.
But there is only one ball to play with, and that sets Mayfield up as the most visible component.
Stefanski will spread the ball around game-to-game and play-to-play.
And the only constant is Mayfield, who will let the chance to pile up stats propel him to a Pro Bowl season.