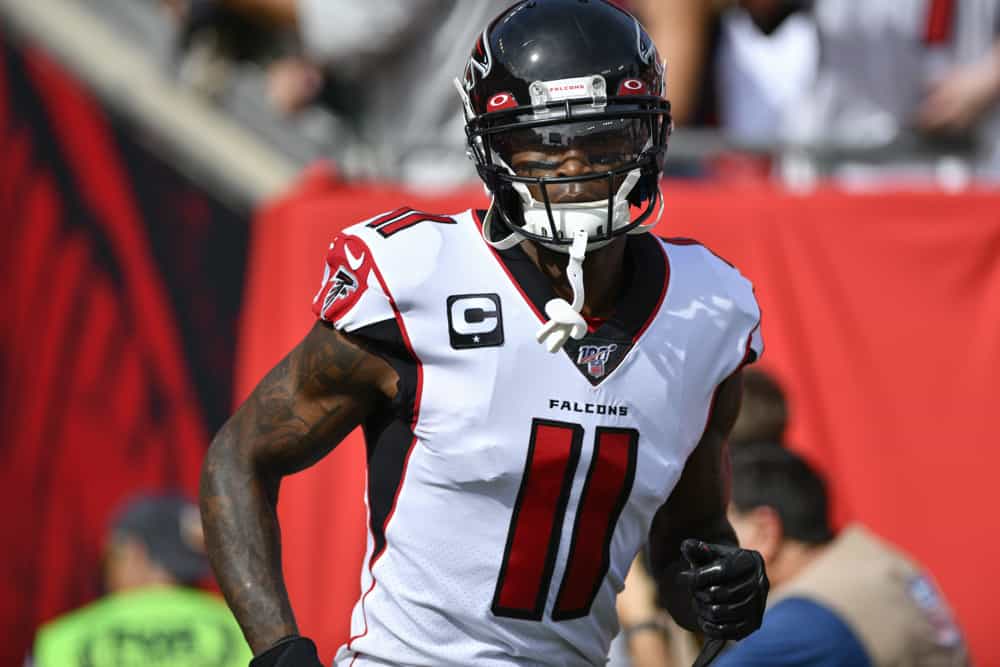 Every time a Pro Bowl player wants to leave his current team, there is clamoring that the Cleveland Browns and GM Andrew Berry should get him.
The latest player falling under this scenario is Atlanta Falcons wide receiver Julio Jones.
Behind the scenes, Jones has been asking the Falcons for a trade for months, but it just became public information this week.
This is why Julio Jones told Shannon Sharpe he's "out of there." Because he knows he requested a trade and the team is open to considering it. But it doesn't mean he will get traded. https://t.co/2F0aFeSr5o

— Ian Rapoport (@RapSheet) May 24, 2021
Julio Jones is a great player and will be an asset to the right team, but that team is not the Cleveland Browns.
Here are three reasons the Browns should not trade for Jones.
1. His Age
Jones is 32 years old and entering his 11th NFL season.
My thoughts on the whole Julio Jones thing is he's on the older side in terms of football age + he has a hefty contract left. I feel like he's more of a risk then a reward. IF he does get traded it will only be for a 2nd rounder and beyond. I don't see the Falcons getting a first

— Maluma's Wife (@MsSportsFan24) May 24, 2021
To top that off, he is coming off a hamstring injury that forced him to miss playing time last year.
Jones has three seasons where he netted over 1,500 yards receiving and at least six touchdown catches.
However, he has not seen that level of productivity since 2018.
Jones can provide veteran leadership to a young and inexperienced team while picking up some admirable stats; the Browns are not that team.
2. The Contract
Jones signed a 3 year $66 million contract that is effective through 2023.
Important to note: A team trading for Julio Jones would have to take on his contract and fit it in a shrunken salary cap, while also giving up compensation that would satisfy the #Falcons. All that while knowing the player has dealt with nagging injuries and is 32 years old.

— NFL Update (@MySportsUpdate) May 24, 2021
Even though the Browns are in a favorable financial situation, the team does not need to absorb this contract.
The Browns have young players about to come off of rookie contracts that will need to get paid.
On the top of that list are Nick Chubb and Wyatt Teller in 2022, but Baker Mayfield and Denzel Ward in 2023.
Paying out Jones' contract limits the organization's ability to keep these players in a Browns uniform.
3. Loaded Wide Receiver Room
Part of the reason that the Browns did not focus on offense as much in this offseason was because the foundation was laid in 2020 and earlier.
Odell Beckham Jr. and Jarvis Landry are the veterans of the group.
However, fan favorite Rashard Higgins and second year player Donovan Peoples-Jones also played key roles last year.
Kha'Darel Hodge can play a role in the offense (as well as on special teams) and 2021 draft pick Anthony Schwartz also is looking to make his mark on the 2021 Browns team.
In addition, Stefanski features tight ends in his offensive scheme so there are other playmakers not listed as wide receivers who will catch passes in 2021.
Kareem Hunt is another non wide receiver who will get catches and yards.
With all of this talent already on the roster, the Browns do not need Julio Jones.
Where Will Jones Go?
Daily rumors change.
Some indicate that the Falcons want a first round draft pick in the 2022 NFL Draft as part of the trade.
Atlanta has asked teams that have inquired about Julio Jones for a first-round draft pick in return, per sources. Others around the league don't believe the Falcons ultimately will get a first for the perennial Pro-Bowl wide receiver.

— Adam Schefter (@AdamSchefter) May 24, 2021
That seems to be a moving target also.
Falcons would "probably" trade Julio Jones for a second round draft pick "at this point." according to: Albert Breer

The Patriots traded a second round pick for Sanu…Go Get Julio Bill!! LFG

— 𝗕𝗼𝘀𝘁𝗼𝗻Mike🍀 (@boston_sp0rts20) May 24, 2021
Tennessee and New England are reportedly interested; however, there has been no official word on what, if any, discussions are ongoing.
Jones is just the latest player who wants out of his current situation.
Russell Wilson, Deshaun Watson, and Aaron Rodgers have hinted they do too, and there has been no movement so far.
Will Jones' situation follow that trend, and he will remain a Falcon in 2021?
Stay tuned for more updates.