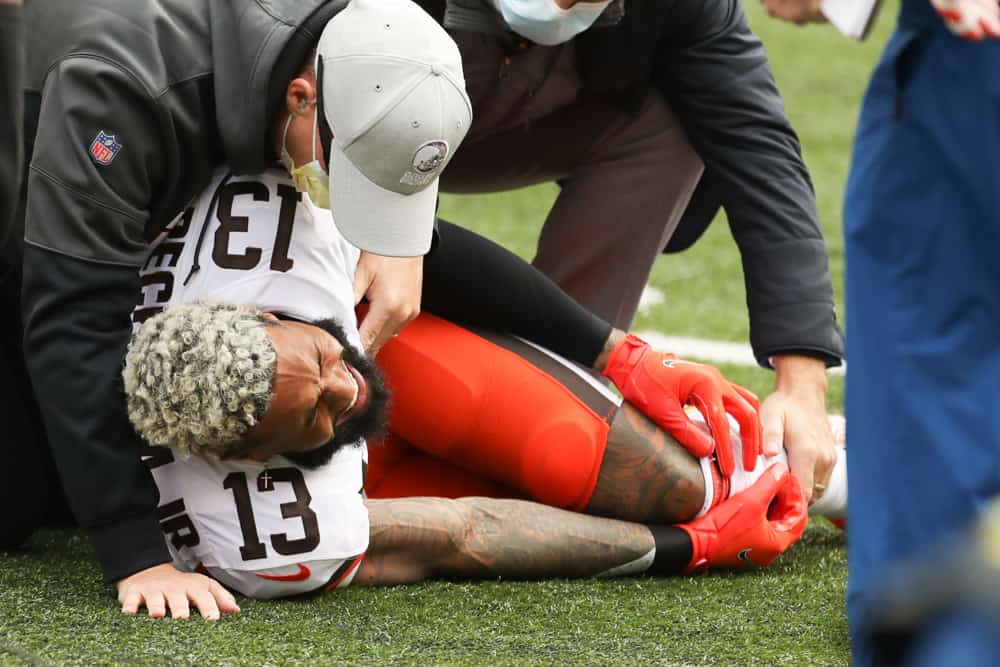 Everything is smelling like roses in the Cleveland Browns world.
At least if we are to believe most NFL analysts and the bulk of social media postings.
It seems like anything less than a playoff run and a division title will disappoint.
But as the offseason rolls into the preseason, we're bound to see some hiccups.
Predicting AFC division winners 🥇
(1-10 on level of confidence in prediction)

AFC East – Buffalo Bills (9.5)
AFC West – Kansas City Chiefs (9.5)
AFC North – Cleveland Browns (6.0)
AFC South – Indianapolis Colts (7.0)

(via @JasonLaCanfora) pic.twitter.com/FObS7pv6ba

— CBS Sports HQ (@CBSSportsHQ) May 23, 2021
Last year, Browns fans expected their defensive free-agent and draft additions to contribute to the team's success.
Only one of those free agents, Malcolm Smith, was re-signed for 2021.
Grant Delpit was done for the season just a week into camp and Andrew Billings was a Covid opt-out.
Who knows what will happen before the next season kicks off?
Here are three things that could go wrong for the Browns in 2021.
1. Injuries Continue To Hinder Delpit, Beckham
Any player or coach worth his mettle won't use injuries as an excuse, but facts are facts.
With all apologies to Case Keenum, a freak event involving Baker Mayfield puts a crimp in the Browns' game plan.
But assuming nothing pops out of those UFOs to "probe" our favorite quarterback, there is another concern.
Odell Beckham Jr (ACL) and Grant Delpit (Achilles) are slated to return from serious injuries.
Each says they will be ready for the season, with Beckham posting videos of his running efforts.
Grant Delpit expects to be 'fully healthy' by training camp

📰 » https://t.co/8iNZsv8c98 pic.twitter.com/WDsXwW8ymI

— Cleveland Browns (@Browns) May 27, 2021
But even a well-healed ACL or Achilles can slow a player down a step, sometimes for a whole season.
And there is also a psychological barrier to pass before cutting and pivoting on a damaged Achilles or knee.
Stefanski is counting on Beckham to provide vital speed in his offense.
Rookie Anthony Schwartz brings a speed option, but he can't be counted on to be Odell Beckham Jr.
Any tentativeness on Delpit's part and a half-step lost to Beckham change the dynamic on both sides of the ball.
2. NFL Defenses Catch Up to Stefanski 
Beckham and/or Schwartz are key to the Browns' offense this season.
That is not just because Stefanski promises a more explosive attack.
It is because the Kansas City Chiefs showed the league how to beat the Browns without them.
We already knew Beckham's absence affected Nick Chubbs' yards-per-carry.
The divisional playoff game proved stacking the box is a low-risk gamble against Cleveland without a speedy threat.
Alright, let's talk #Browns – Chiefs.

Here we have Cleveland's first offensive snap of the game.

Beyond the Chiefs going Cover-1 tight, notice how little the defense moves in reaction to the offensive motion from Hooper and Landry… pic.twitter.com/DnBjmEUvQT

— Sam Penix (Julio Jones to CLE) (@Sam_Penix) May 21, 2021
Even with one of the best deep-ball throwers in the NFL, at least one receiver has to separate vertically.
But even if Cleveland has Beckham and Schwartz, teams had a full offseason to study the Browns.
Stefanski will alter his attack somewhat for that reason.
But tendencies can carry over into various game plans- at a player and play-caller level.
And 31 of the best NFL defensive coaching teams are working hard to decipher the Browns.
3. Defensive Rookies Crash Back To Earth 
Cleveland's 2021 NFL Draft class won kudos from all around the league.
Greg Newsome II and Jeremiah Owusu-Koramoah are widely expected to take on big roles.
Defensive tackle Tommy Togiai should be a regular part of the defensive line rotation.
This will be the first time safety Grant Delpit faces NFL competition, too.
There could be times when 4 or more of the defensive players on the field are essentially rookies.
By the Numbers: Breaking down our 2021 draft class

📋 » https://t.co/EPUv682beG pic.twitter.com/sZUVZYE9As

— Cleveland Browns (@Browns) May 5, 2021
What if the game proves to be too big or too fast for them?
We heard all the best things about their college playing careers, but does it translate into the NFL?
And none of them have ever played 17 games across 18 weeks in their lives.
What if they hit a wall at some point… just as the Browns need them most?
There are a lot of new parts in the Browns defense, and a bunch of them are as yet untested.
Could a Repeat of 2019 Be In The Cards? 
There is plenty of good news and reasons for optimism about the Browns' upcoming season.
And it is very unlikely the reigning NFL Head Coach of the Year and his staff forgot how to coach.
But there is a reason they play the games.
Cleveland has a relatively easy home schedule compared to a brutal road slate.
Even some of the lower-ranked teams on their travel plans are big question marks at this point.
What stands in the way of the Chiefs getting to a third straight Super Bowl 🤔

Listen up @Browns fans 👀 (🎙️: @89JonesNTAF) pic.twitter.com/nIT32c0zEj

— NFL Total Access (@NFLTotalAccess) May 21, 2021
Despite a first-time head coach and offensive coordinator with a 2nd-year quarterback, the Chargers are a threat.
And nobody can dismiss Bill Belichick's chances of instantly putting all the new pieces together in New England.
Even Pittsburgh seems like an easier mark, but Mike Tomlin won't meekly concede his first losing season.
Cleveland can be as good as we expect and still win fewer games than in 2020.
Especially if one of those UFOs takes Baker away before the end of the season.