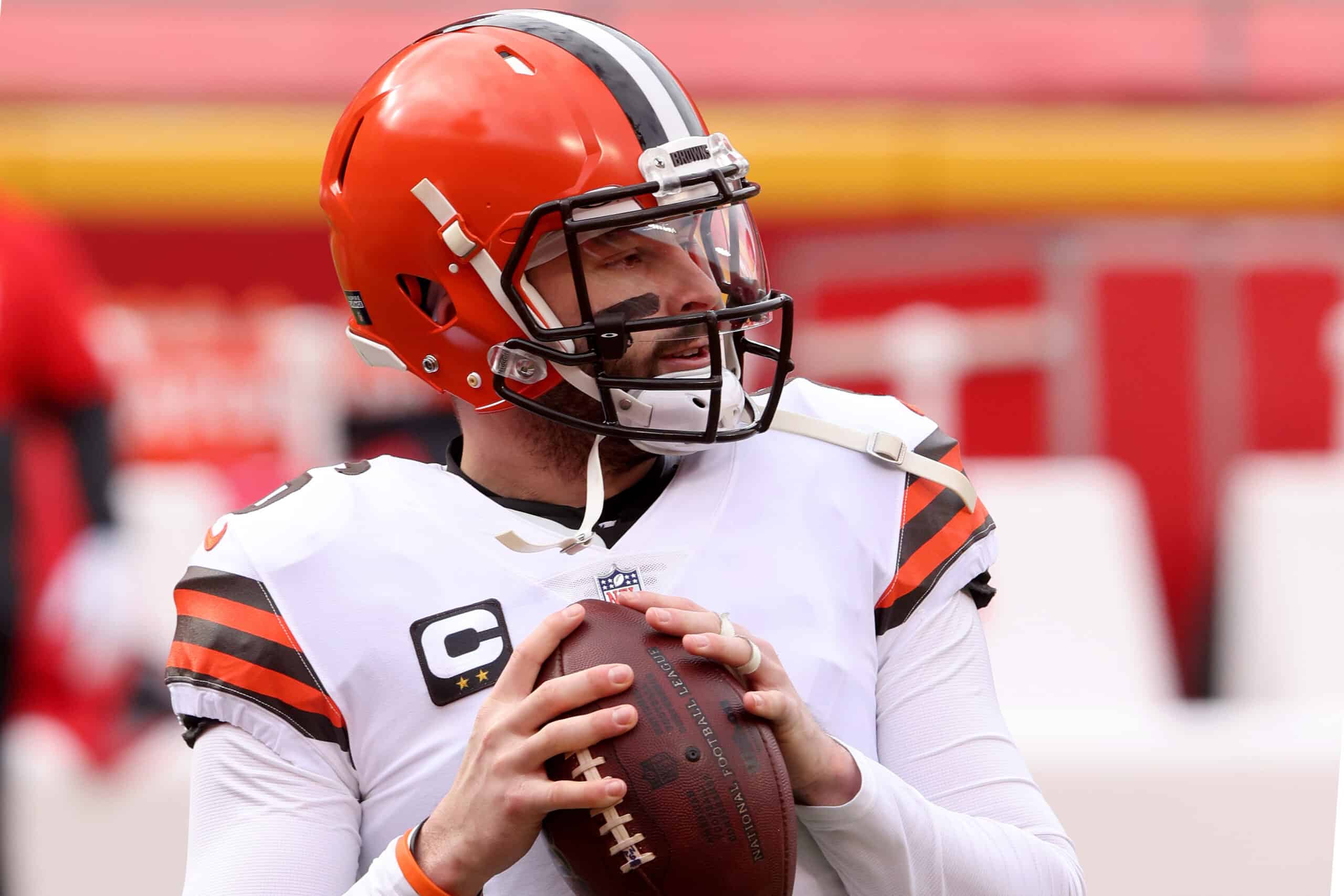 At this point in the 2021 season, anyone can win 2022 NFL MVP award handed out on Super Bowl weekend in February 2022.
Some have stronger chances than others once September rolls around, and their teams take the field.
One of those with a viable chance is Cleveland Browns quarterback Baker Mayfield.
Yes, he has plenty of competition for this coveted award, but that does not discount the possibility that he could win it.
2021-2022 NFL MVP odds courtesy of @betonline_ag.

Thoughts? pic.twitter.com/ny0uDc4FBj

— 2nd & Victory (@2ndandVictory) April 13, 2021
Here are three reasons to believe Baker Mayfield can win NFL MVP.
1. He Has A Talented Roster To Work With
Most complete NFL teams heading into 2021 season? Browns, Buccaneers lead the pack in @MarcRoss' rankingshttps://t.co/1KYsKpCOyH pic.twitter.com/sYIrWAUVca

— Around The NFL (@AroundTheNFL) June 24, 2021
Mayfield is playing with arguably the most talented Cleveland Browns roster ever assembled.
That means he has playmakers all over the place to connect with.
In addition to the tight ends and wide receivers, he has two receivers-in-waiting in Kareem Hunt and Nick Chubb.
If he is able to lead this group to a successful season with all the attention and pressure on them to perform, he has a very good chance of nabbing the award.
That talented roster also includes the best offensive line in football.
If there is ever a time for Mayfield to win MVP, it is while the members of this elite offensive line are in Browns uniforms.
🥇 Cleveland Browns
🥈 Indianapolis Colts
🥉 New England Patriots @PFF_Steve ranks the top 32 offensive lines in the NFL ⤵️https://t.co/8JLhQeUgeC

— PFF (@PFF) June 7, 2021
2. He Finally Has Not Only Consistent Coaching But Also Excellent Coaching
Mayfield has admittedly been inconsistent throughout his NFL career.
Last year, there was definite growth in Mayfield's on-the-field and off-the-field presence.
First-year Browns coach Kevin Stefanski was voted The Associated Press NFL Coach of the Year after leading Cleveland to its first playoff appearance since 2002.

The latest on the awards >> https://t.co/v7rWL9dXwS pic.twitter.com/jYRU5Q8ypZ

— AP NFL (@AP_NFL) February 7, 2021
Of course, he has more experience, but it would be foolish not to give a lion's share of the credit to offensive coordinator Alex Van Pelt and head coach Kevin Stefanski.
The offense they have introduced suits Mayfield well, and both have coached him well in it.
Entering the second year under their collective tutelage means a more expansive offensive playbook and more opportunities for Mayfield to shine.
Going into his fourth NFL season, he is saying and doing the right things.
Just last week, when he appeared on "The Match" celebrity golf tournament, he sounded just like Coach Stefanski as he answered Charles Barkley's question.
When he talked about the team looking inward and creating their own expectations and focusing on the daily and weekly tasks to meet them, that sounded like what Stefanski said after most of the games in the latter third of the 2020 season.
#Browns QB Baker Mayfield spoke on The Match broadcast about the teams chemistry and expectations this season: pic.twitter.com/8aRqb5iVWC

— Baillie Burmaster (@bayburmTV) July 7, 2021
3. Quarterbacks Have Won MVP In Recent Years
In the past 14 years, someone other than an NFL quarterback won the MVP award only one time.
That was running back Shaun Alexander in 2005.
Mayfield plays the right position to be considered for the award.
Some scoff at the quarterbacks always being the awardees, but let's face it they are under the most scrutiny and pressure.
Conclusion
All that Baker needs to do is to rally the Browns to play up to the high expectations set both inside the locker room and among Browns fans.
Easier said than done, but Mayfield is capable of doing it.
And if he does, there is no question he can win NFL MVP in 2022.