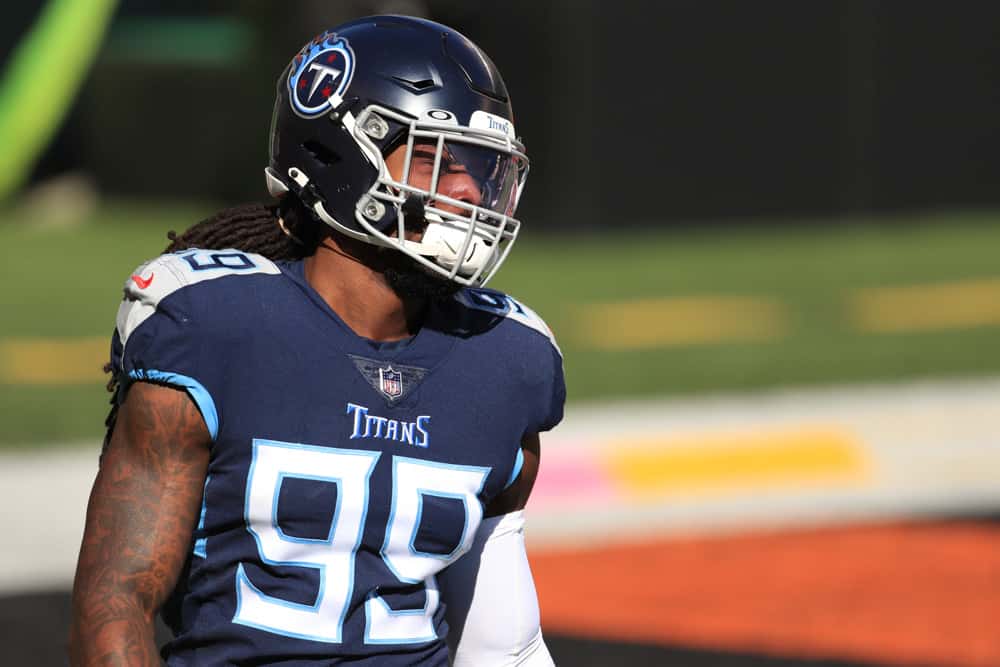 Jadeveon Clowney went home without a contract after a recent visit with the Cleveland Browns
But he knows what the Browns will offer as he ponders what to do next.
Meanwhile, Cleveland fans are left to debate whether the former All-Pro is worth adding to their team.
Definite "mutual interest" between #Browns and free agent DE Jadeveon Clowney, and their meeting puts them in a great position to potentially sign him somewhere (near) down the road per @RapSheet pic.twitter.com/XsJeb0UtkQ

— MoreForYouCleveland (@MoreForYou_CLE) March 25, 2021
After an 8-game season with no sacks and cut short by a surgically-repaired torn meniscus, there are questions.
Some are even underwhelmed with Clowney's 24.5 sacks over his 3 peak years in Houston opposite J.J. Watt.
He was a Pro-Bowler each of those seasons, as much for his overall game as for his sack total.
But sacks play a big- and possibly an over-emphasized role in an edge rusher's value assessment.
And with only 3 in two seasons since his Houston days, Clowney won't land a Pro-Bowler-worthy deal.
#Browns have made Jadeveon Clowney what they feel is a good offer. Now it's just up to him and his agent. pic.twitter.com/CgWoCVXWMZ

— America's Team🇱🇷 (@brownsinput) March 27, 2021
Personally, I think a $7 million dollar deal with enough incentives to double it, is generous enough.
But there is a reason I write about this stuff and Andrew Berry actually does the job.
If Berry signs him, here are 3 good reasons Jadeveon Clowney would be worth the gamble.
Browns Can Use The Boost To Their Run Defense 
Cleveland's 2020 defense ranked around the middle of the NFL pack in most defensive categories.
But overall numbers don't always do justice to what we see.
Opponents ran the ball with more success as games went on.
Adding size and numbers to the interior line rotation might be more urgent.
Everyone is saying Jadeveon Clowney is an "unproductive" pass-rusher. Just because he doesn't get sacks doesn't mean that he's unproductive. When healthy, he's an elite run stopper and generates pressures. Actually, last year Clowney had the most pressures without a sack.#Browns

— clebrownsnetwork (@clebrownsntwork) March 26, 2021
But putting Jadeveon Clowney in the edge rotation with Myles Garrett, Takk McKinley, and Porter Gustin helps, too.
Clowney logged more tackles for loss than Garrett's career-best three times.
And that was while ranking among the top-5 most double-teamed defensive ends.
With Garrett on the opposite end and good young legs to spell him at times, Clowney should thrive again.
Clowney's Upside Offsets His Injury Risk 
Clowney has had a lengthy list of injuries over the years involving his back, knees, ankles, and feet.
At age 28, it is not unreasonable to think a player has another 3-5 quality years at his position.
But the wear and tear has already reduced Clowney's mobility and arguably, some speed.
Grabbing Clowney on a one-year, incentive-laden contract minimizes the financial risk.
PFF's Top Available Free Agents:
💰 Richard Sherman
💰 Mitchell Schwartz
💰 Antonio Brown
💰 Jadeveon Clowney

Check out the full top 💯 here ⬇️ https://t.co/xxiHeNRN7n

— PFF (@PFF) March 23, 2021
But that doesn't make it any easier on his teammates to win ball games without him.
In this day and age, there are therapies and techniques to help Clowney extend his career.
And if he is able to stay healthy for 12-14 games, Cleveland will have one of the best edge rusher combos in the NFL.
Clowney is motivated to prove he can still play and will do whatever he can to stay productive on the field.
Browns Might Get First Dibs On 2021 Pro Bowler Clowney
There is a reason teams offer prove-it deals as a matter of routine: It almost always works out in their favor.
The majority of one-year "prove it" deals do not result in big paydays the following season for the player.
Sure, there is a chance for it to work, which is why players still seem willing to gamble on themselves.
It worked out pretty well for Jason Pierre Paul when he auditioned for a longer contract in Tampa Bay.
But Cleveland fans are more familiar with players like Andrew Sendejo.
.@AlbertBreer on @BullandFox re: #Browns – Jadeveon Clowney: "He's actually become a fairly complete DE when he wants to be, when he's playing motivated. If you've got Myles Garrett on the other side…it could wind up being a good fit for everybody involved."

— Keith Britton (@KeithBritton86) March 24, 2021
The scenario around Clowney centers on whether he can stay healthy, and will his production rebound with health?
All Clowney has to do is get through a 17-game season to improve his 2022 free agency value.
Throwing in another 9-10 sacks could help him land a 3-4 year deal closer to what he envisioned years ago.
And Andrew Berry will have the first shot at landing a reborn Jadeveon Clowney.