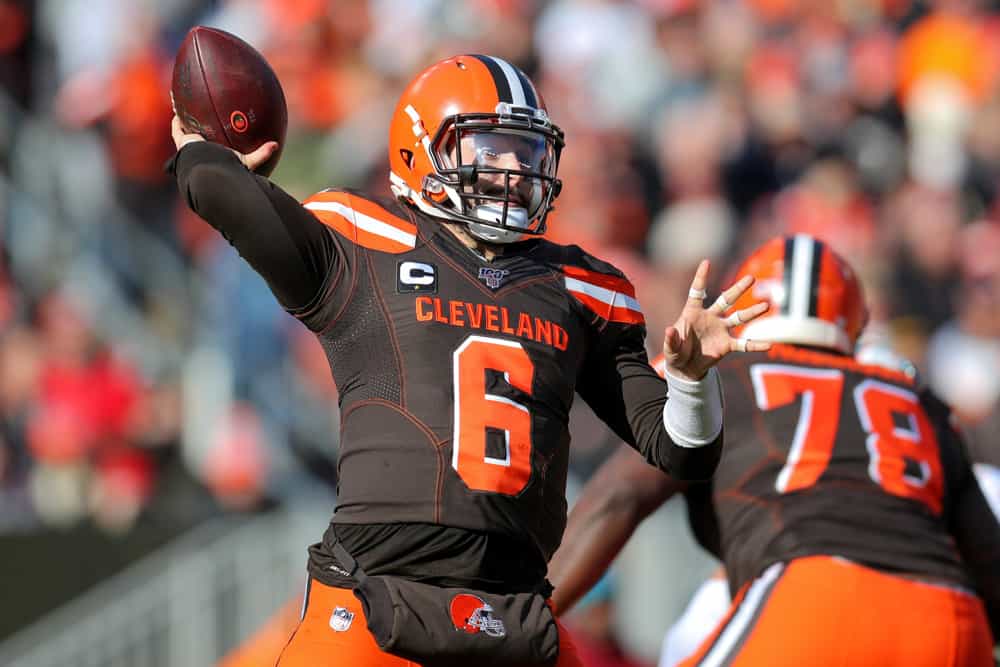 Cleveland Browns QB Baker Mayfield is in the crucial third year of his career.
Reading into GM Andrew Berry's words (or lack thereof), his future in Cleveland is not clear.
#Browns Andrew Berry: "Baker's done everything that we've asked him through the first 8 weeks." Said that he's put the team in a good position to win so far.

— Camryn Justice (@camijustice) November 4, 2020
The second half of the season will tell the tale for the Browns' playoff prospects as well as Baker's future as a Brown.
One of the knocks on Mayfield in 2020 is that he plays great against the lesser talented teams but does not perform well in the spotlight against a playoff contending opponent.
With that being said, Baker has three games in the second half of the season where he has to perform lights out.
They are:
1. Tennessee Titans
The Browns play the Titans in Week 13 at Tennessee.
Currently, the Titans are 5-2 and tied for first place in the AFC South with the Indianapolis Colts (who the Browns defeated in Week 5.)
Admittedly, the Titans are having defensive issues this season so Baker needs to put points on the board.
Week 9 ESN Power Rankings – Top 15

1) Steelers
2) Chiefs
3) Seahawks
4) Buccaneers
5) Ravens
6) Packers
7) Bills
8) Saints
9) Titans
10) Cardinals
11) Colts
12) Rams
13) Bears
14) Raiders
15) 49ers

— NFL Stats (@NFL_Stats) November 3, 2020
2. Baltimore Ravens
The Browns get the Ravens at home in Week 14 for Monday Night Football.
Cleveland has improved since their Week 1 drubbing by the Ravens, but they have to prove it during this game.
For Baker and the Browns to make a statement, this is a must-win game.
And Baker Mayfield must play well enough to win the dual with Lamar Jackson.
The Baltimore Ravens run game, which is No. 1 in the NFL with 178.7 yards per game and 5.5 yards per rush, is the main engine behind the offense, but it's only putting up an average of 179.9 passing yards per game (second-fewest in the NFL). Crazy balance, but to a fault?

— Eric (@ColtsCommentary) November 4, 2020
3. Pittsburgh Steelers
This game is the last week of the regular season, Week 17.
It is a home game for the Browns.
The Browns looked shell shocked in their first matchup this season.
It's possible this game may not have any meaning for the Steelers because they could have clinched the division and home field advantage by Week 17.
But that doesn't matter for the Browns and Baker.
Hopefully, the Browns will be playing for a playoff spot.
It will be a tough task.
Pittsburgh Defense this season:

NFL Rank
30 Sacks 1st
109 QB Pressures 1st
42.1% QB Pressure % 1st*

*9.5% higher than next closest team (TB) pic.twitter.com/53aQcgtURL

— CBS Sports HQ (@CBSSportsHQ) November 6, 2020
Factors That Will Help Mayfield
Baker Mayfield's solo performance needs to be remarkable in these games.
But there could be a few things that happen to help his cause.
1. Injured Players Are Healthy And Back In The Lineup.
Baker is at his best when there is a solid ground game.
A healthy Nick Chubb and Kareem Hunt helps open up the passing game.
2. Browns Defense Holds Opponents.
Sometimes Baker gets a bad rap for a poor game.
But the fact is he doesn't play defense.
He needs the defense to hold these teams especially, Derrick Henry to keep the Browns in these games.
3. Receivers Need To Step Up.
And that means catch the ball.
No more drops.
It's an incomplete pass according to the stats, but really there are instances where Baker throws a perfect pass, and it's dropped.
The drops yesterday by receivers was awful. Key situations all day where Baker put ball in hands and guys dropped. Very noticeable. I thought Mayfield did a good job. Defense blows. @KenCarman @SportsBoyTony @923TheFan #Browns @bakermayfield

— Louis IV (@trooper1165) November 2, 2020
These 3 games will show us what the Browns and Baker Mayfield are made of.
The Browns may not win all 3 of them, but they need to compete.
Avoid the blowout or early deficit that is too hard to make up.
It should be interesting.