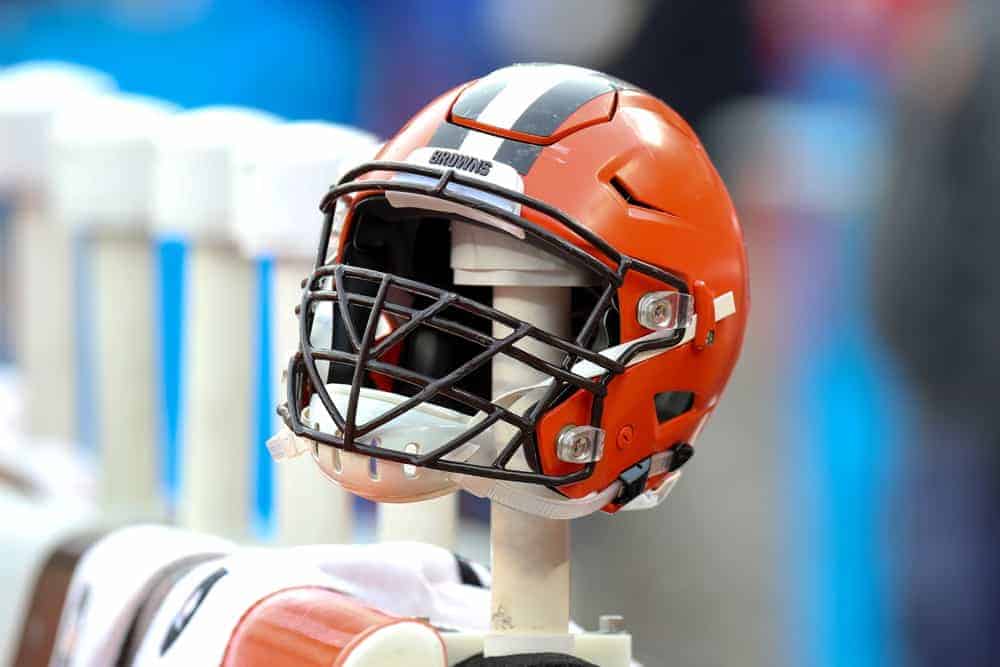 Cleveland Browns fans can feel good knowing their team is 5-3 entering their Week 9 bye week.
It wasn't a perfect first half, but Cleveland is still in the playoff race at the halfway point.
It doesn't seem to happen very often that Browns fans can actually talk about playoff position instead of draft position after eight games.
The biggest star for Cleveland through the first eight games was clearly defensive end Myles Garrett.
He heads into Week 9 with a league leading nine sacks and four forced fumbles.
However, there are a few other players Browns fans should watch out for during the second half.
1. Harrison Bryant
The Browns took tight end Harrison Bryant in the fourth round of the 2020 NFL Draft.
At the time, it seemed like Cleveland was adding depth to the position.
However, Bryant could have a real shot at becoming a starting tight end in Cleveland.
He has promising upside and has put together some solid performances during the first half.
Someone that LV must account for this Sunday is CLE TE Harrison Bryant. The 6'5" rookie has 3 TD's on the season and is averaging 10.5 yards per reception.

CLE targets him out of their 13 personnel package for a 40 yard gain below. #RaiderNation

📽️: @Errickson_NFL pic.twitter.com/tjnz7AfTSI

— Ramble Digital Media™ (@RambleDMedia) October 29, 2020
Through eight games, Bryant has 15 receptions, 151 yards, and three touchdowns.
At first glance, those don't seem like great numbers, but Bryant has been playing better lately.
He has seven receptions, 81 yards, and two touchdowns over his last two games.
The rookie tight end has filled in nicely with both Austin Hooper and David Njoku dealing with injuries in the first half.
Harrison Bryant's second career TD comes on #NationalTightEndsDay! #Browns

📺: #CLEvsCIN on CBS
📱: NFL app // Yahoo Sports app: https://t.co/MIIkbfUwYk pic.twitter.com/aBvNXTK0EX

— NFL (@NFL) October 25, 2020
There is a chance that Bryant gets more looks in the second half of the season.
Star wide receiver Odell Beckham Jr. is done for the year after tearing his ACL.
The Browns must find a way to replace his production, which could mean more targets for Bryant.
He continues to make plays when the Browns call upon him.
It wouldn't be surprising if the Browns continue throwing towards the rookie tight end in the second half.
2. Ronnie Harrison
In September, the Browns acquired safety Ronnie Harrison from the Jacksonville Jaguars in exchange for a fifth-round pick.
It was quite surprising to see the Jags give up a young promising defensive back like Harrison for that little in return.
Harrison didn't make much of an impact early in the season, but has turned it on lately.
Former #Alabama DB Ronnie Harrison Jr. had a big game today for the Browns with 10 tackles and a pass defended. pic.twitter.com/CCSFwW9rYe

— BamaOnLine (@BamaOnLine247) November 1, 2020
In Week 7, Harrison recorded nine tackles, one sack, and one pass defended.
He followed up that game with a 10 tackle performance against the Las Vegas Raiders.
The Browns have been desperately searching for help in the secondary all season long.
It appears the former third-round pick could actually be a reliable option for Cleveland.
Harrison has started each of the last three games and that's unlikely going to change.
Hopefully, he can carry his momentum from the last few games into the second half.
He's not exactly a big name player, but could emerge as a key defender down the stretch.