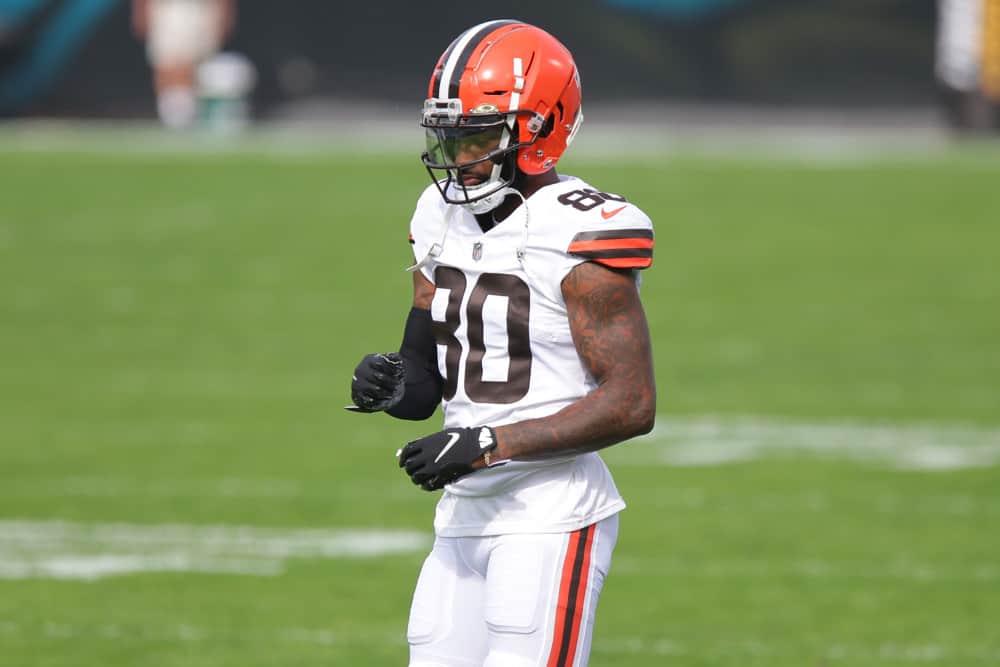 It seems unlikely that wide receiver Jarvis Landry and the Cleveland Browns will agree on a restructured contract.
The 29-year-old receiver has been fairly productive throughout his time with Cleveland.
However, his salary for next season is $16.4 million against the cap.
Cleveland could save $14.9 million by parting ways with the veteran wideout this offseason.
Landry mentioned he'd like to return to Cleveland next season, but the ball is in their court.
3/3 I have put the ball in CLE court by telling them I would like to stay but if not then I'm confident enough in myself to be a better healthy me this year and moving forward to helping do my part in winning a championship elsewhere.

— Jarvis Juice Landry (@God_Son80) February 22, 2022
That being said, it sounds like Landry has come to terms with the 2021 season being his last in Cleveland.
The five-time Pro Bowl receiver should have no shortage of suitors in free agency.
1. Philadelphia Eagles
The Philadelphia Eagles have never been shy about bringing in impact wideouts through free agency.
The acquisitions of talent such as Alshon Jeffery has helped them win a Super Bowl.
Lately, this organization has decided to retool and undergo a youth movement.
They have Jalen Hurts under center with three young and somewhat inexperienced wide receivers.
To be fair, Devonta Smith looks like a star, but Quez Watkins and Jalen Reagor are questionable options alongside him.
That being said, the addition of a veteran such as Landry could be great for this young unit.
He has been consistent and relatively healthy throughout his professional career.
Also, he might have a soft spot for Philly since he once wore Allen Iverson cleats.
Jarvis Landry is paying tribute to Allen Iverson on his cleats today as the Browns play the Eagles 🔥 @God_Son80

(via @MACHE275) pic.twitter.com/U2CK72Y0Sb

— ESPN (@espn) November 22, 2020
It's uncertain if Landry is going to be in the Eagles price range.
Although, this team has paid out big money to plenty of receivers in the past.
The addition of Landry could be good for the growth and development of these young receivers.
2. Indianapolis Colts
This offseason, the Indianapolis Colts could be big players in the wide receiver market.
They have young wideout Michael Pittman Jr. who could possibly end up as a No. 1 option.
However, they lack depth with both TY Hilton and Zach Pascal heading to free agency.
It's uncertain what direction this team is heading with quarterback Carson Wentz reportedly on the trade block after one season in Indy.
Despite that, Indy has a strong roster and should look to compete once again this upcoming season.
Possibly, bringing in Landry could do a lot of good for this offense.
They don't have too many trustworthy options on offense right now.
Landry put together six straight seasons of 80-plus receptions during his career.
He could be an impact player on this offense and be a dynamic duo alongside Pittman.
3. Chicago Bears
Similar to the Colts, the Chicago Bears should be highly interested in free agent receivers this offseason.
The Bears currently have four of their top six wideouts as impending free agents.
The biggest name being Allen Robinson, who appears unlikely to re-sign with the Bears.
That being said, Chicago could look at Landry as a possible replacement for Robinson.
Landry has shown throughout his career that he can be a reliable option on offense.
Most REC during a player's 1st 5 career seasons in NFL history:
1. Michael Thomas (510)
2. Jarvis Landry (481)
3. Cooper Kupp (433)
4. Larry Fitzgerald (426)
5. Torry Holt (423)
pic.twitter.com/soODsDwA7Y

— Best of Pro Sports (@pro_sports_best) March 3, 2022
The Bears offensive struggles have been their downfall over the last few seasons.
Possibly, an upgrade such as Landry is exactly what this offense needs to get them over the top.
He should be in their price range and a possible fit in their new offensive scheme.
Chicago has struggled to find reliable receivers, so signing Landry would be a huge step in the right direction.