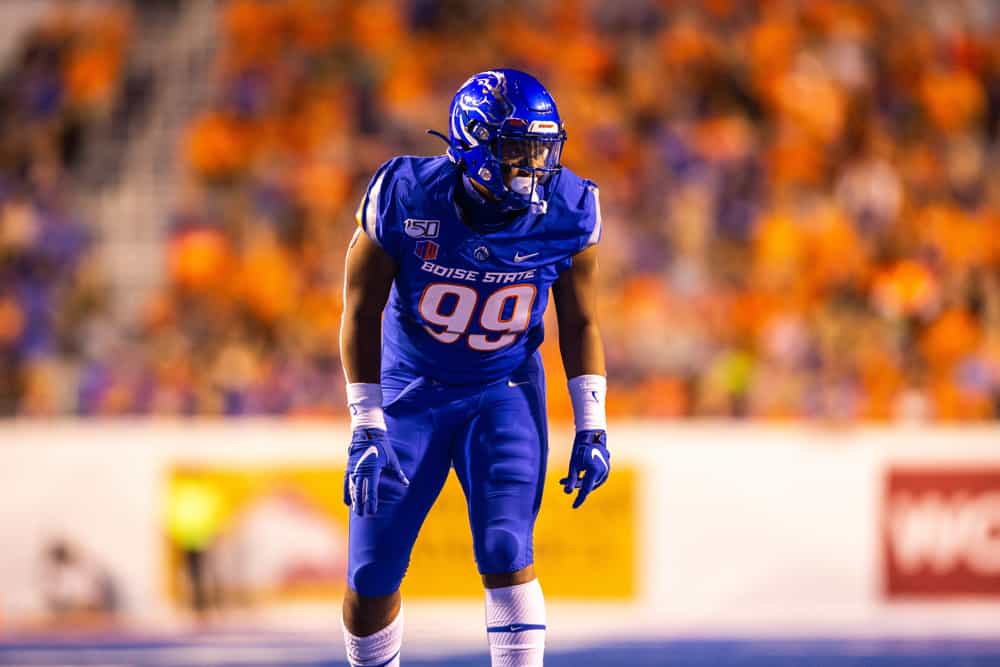 The Cleveland Browns claimed Miami Dolphins defensive end Curtis Weaver earlier this week.
The fifth-round rookie was cut by the team in a quite surprising move.
Weaver put up solid numbers during his three years at Boise State.
Miami put Weaver on waivers hopeful that he'd pass through and they could put him on the injured reserve.
However, the Browns didn't let that happen and now have a talented prospect without giving up anything in return.
3. Weaver Won't Play in 2020
As already mentioned, the Dolphins attempted to pass Weaver through waivers to place him on the injured reserve.
Weaver is expected to miss the entire 2020 season after suffering a foot injury.
Curtis Weaver is scheduled for season-ending surgery tomorrow, per source.

— Adam Beasley (@AdamHBeasley) August 26, 2020
When a major injury happens teams are allowed to place players on the injured reserve without using waivers.
For some reason, the Dolphins decided to expose Weaver to the open market and the Browns took advantage.
Possibly the Dolphins didn't want to wait for Weaver to get better, but it seems like an odd decision.
Regardless, the Browns are likely going to have to wait until 2021 to see what they have in Weaver.
Seems like a low-risk move that could end up having a high-reward if Weaver is able to develop his game.
2. Browns Weren't The Only Team Interested
Cleveland was able to snag Weaver off waivers, but they weren't the only team that wanted him.
The Los Angeles Rams also made an attempt to grab Weaver, but the Browns had a higher priority.
The Rams also attempted to claim new Browns DE Curtis Weaver off of waivers yesterday, per source.

Cleveland had higher priority, as both teams saw the opportunity to add a talented developmental prospect for their pass rush to develop in 2021 and beyond.

— Field Yates (@FieldYates) August 26, 2020
Weaver was a fifth-round pick, but clearly drew interest from multiple teams.
Insider Todd McShay had Weaver going as the 20th overall pick in one of his mock drafts.
Clearly, that didn't happen as Weaver fell all the way to the fifth round, but experts graded him well.
He likely dropped in the draft due to the fact he doesn't have the size to be a defensive end at the professional level.
However, Weaver put up good stats while in college, so maybe he can prove everyone wrong.
1. Weaver Won Defensive Player of The Year
The Browns may have made one of the best under-the-radar moves of the offseason.
They managed to claim a promising young rookie without giving up anything.
In 2019, Weaver won the Mountain West Conference 2019 defensive player of the year award.
He recorded 52 tackles, 19.5 tackles for loss, and 13.5 sacks through 14 games last season.
The three-year linebacker finished his college career with 128 tackles and 34 sacks.
There are some concerns about his technique and lack of size, but Weaver is a nice developmental prospect.
Sadly, the Browns won't be able to see Weaver play in 2020, but this is a solid addition considering the team gave up nothing to get him.