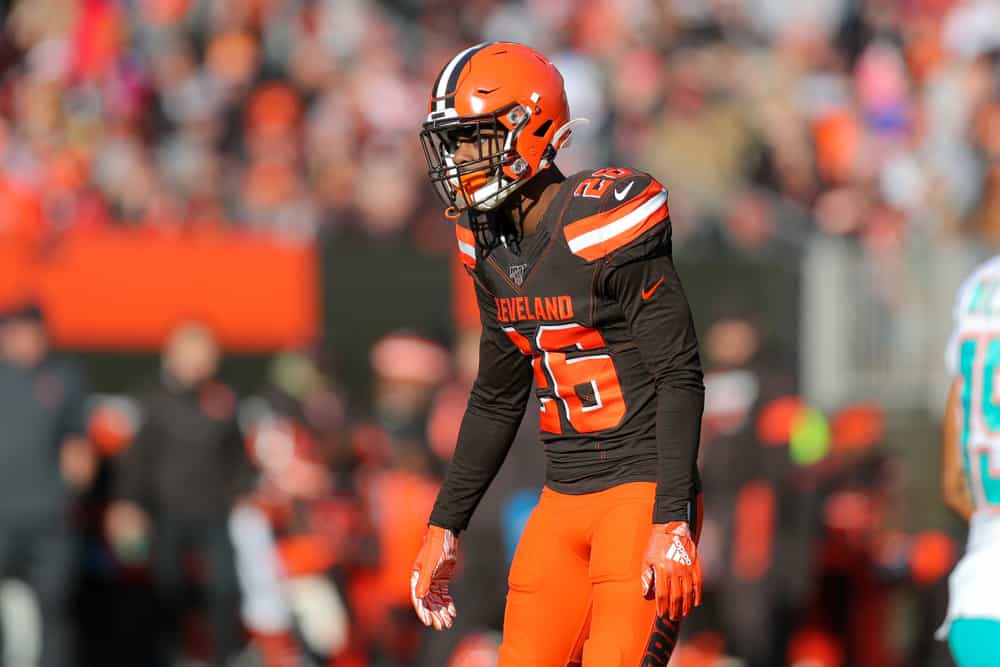 The injury bug is biting the Cleveland Browns hard.
Second-year cornerback Greedy Williams is the latest starter to take a seat.
If Williams misses significant time, the Browns have options.
These are just a few.

Option 1: Rely On Terrance Mitchell 
In a position that lacks depth, the Browns do not have a ton of internal options.
Mitchell is the primary backup cornerback right now on the depth chart.
The 28-year old tied his career-high in games played (15) last year, which also featured four starts in the place of the injured Denzel Ward.
Last year, Mitchell recorded 21 tackles, one interception, and three passes defended.
The only issue is that we do not know if Mitchell is deeply injured.
If you're scoring at home, here are the #Browns training camp injuries through 9 practices:

RB Nick Chubb (Concussion)
LB Mack Wilson (Knee)
DT Larry Ogunjobi (Groin)
TE David Njoku (Wrist)
C JC Tretter (Knee)
CB Kevin Johnson (Lacerated Liver)
S Grant Delpit (Achilles)

Yikes

— John Sabol (@John_Sabol) August 24, 2020

Mitchell has suffered knee injuries and a broken forearm in the past, so he is not a super reliable option.
However, in a slew of cornerbacks that are injured, he's your best bet right now if the knee injury is not serious.

Option 2: Sign Logan Ryan
Somehow, the Pro Bowler has not been signed.
As mentioned by USA TODAY, it is time for the Browns to make an attempt in signing Ryan.
With significant injuries to numerous cornerbacks and safety Grant Delpit, the Browns have many holes.
Former Pro Bowlers like Ryan and safety Earl Thomas are on the market, and the Browns remain as one of the top teams in cap space.
It's not crazy for fans to wonder if the Browns will try and unload some money on one-year deals.
Did anyone ask about Logan Ryan? https://t.co/yy4pNGu19O

— Jeff-LJ-Lloyd (@Jeff_LJ_Lloyd) August 25, 2020
Ryan is coming off a fantastic year with the Titans, which included a career-high 18 passes defended and 113 total tackles.
According to NFL sources, the Miami Dolphins, and most recently the New York Jets, have backed off from Ryan due to his asking price, which was as high as $10 million.
As we are creeping towards September, that number could be around $5 million and that's perfect if you are the Browns.

Option 3: Wait And Do Nothing
You are probably thinking, what?
For starters, there is no guarantee that there is even going to be a season.
There is no guarantee that there is going to be a full season and that it will start on time.
For some of these injuries, maybe if you are the Browns brass, you are thinking it's best to hold out and wait.
By waiting, if the season starts one month later, that gives the players more time to heal up without spending money.
It's not the most ideal option, but it's one that is not crazy to bring to the discussion table.