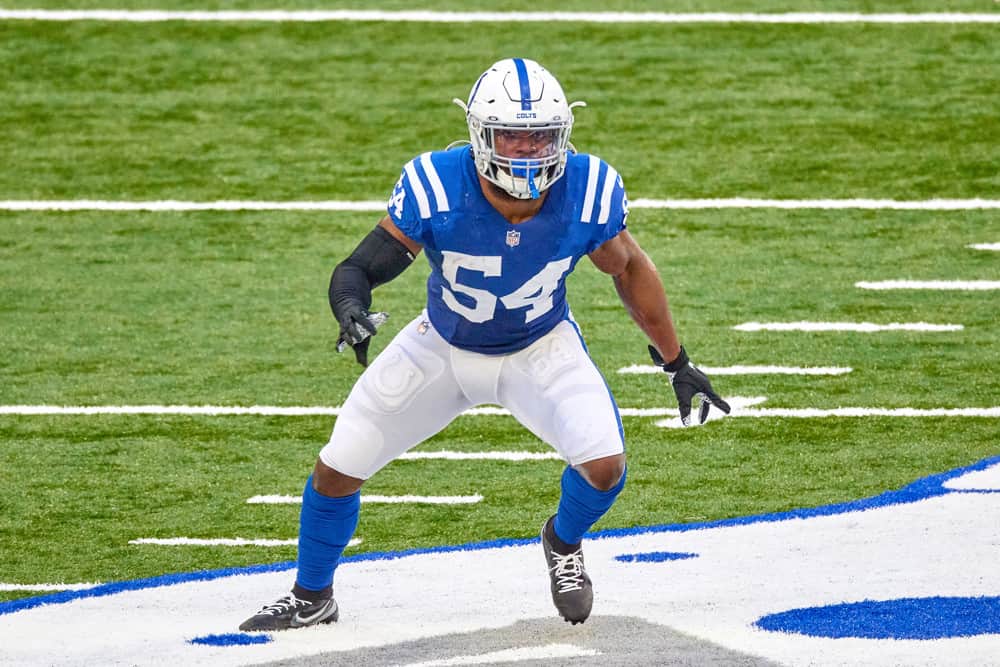 The additions on the defensive side of the ball keeping coming for the Cleveland Browns.
They've already added Takk McKinley and John Johnson III, but recently signed another defender as well.
On Friday, the Browns announced that they've agreed to terms with linebacker Anthony Walker.
Browns sign LB Anthony Walker to a 1 year $3.5M deal

Walker's 2020 stats w/ the Colts

• 697 Snaps
• 92 Tackles (2 TFL)
• 1 INT

Welcome to Cleveland! pic.twitter.com/XRhOypVEj2

— The Cleveland Pulse Podcast (@PulseCleveland) March 19, 2021
The former fifth-round pick spent the first four years of his career as a member of the Indianapolis Colts.
This is a low risk-high reward type of situation for Cleveland.
3. Colts Loved Him
Walker didn't spend a long time in Indy, but made a significant impact during his time there.
The 25-year-old received praise from both the coaches and players after announcing his departure from the team.
Colts general manager Chris Ballard had plenty of incredible things to say about Walker.
"I have a special relationship with Anthony Walker. Selfless. Team guy. Rare leader," Ballard said. "I hope he gets into coaching one day or scouting. Mark my words on this: if Anthony Walker gets into coaching, he will be a head football coach in the National Football League. And if he gets into scouting, he'll be a general manager. He's brilliant — absolutely brilliant, and he's made of the right stuff. I know Anthony wants to play more. We value Anthony. We'll see how it works out. I want good for Anthony."
Clearly, the Colts believe Walker is great on and off the field.
Ballard wasn't the only one that was sad to see Walker leave.
Both linebacker Darius Leonard and defensive back Kenny Moore went to social media to express their relationship with Walker.
If y'all actually understood the impact he has on a locker room!

— Darius Leonard (@dsleon45) March 19, 2021
It certainly seems that the Browns got a solid player, but also found a leader in the locker room.
2. Improved Tackler
Over the years, Walker has not technically graded well as a tackler.
In fact, Walker graded well below average during the 2018 and 2019 season.
Although, he finished with over 100 tackles in both of those campaigns.
The problem is the missed tackles are a significant problem for Walker.
Over the last few years, he has missed over 40 tackles.
The good news is, his tackling efficiency improved drastically in 2020.
Last season, Walker finished with 92 tackles, five passes defended, and one interception in 16 games.
Those 92 tackles were the second-most on the Colts last season.
Browns fans should expect some growing pains with Walker, but he does have promising upside.
1.  A Win-Win Situation For Cleveland
The Browns signed Walker to a one-year deal worth $3.5 million.
He is expected to replace B.J. Goodson, who was signed to a one-year deal last offseason.
At first glance, Walker is a much better player, but is a bit of a liability in pass coverage.
Outside of that, Walker is a solid run-stopper and becoming a better tackler.
He is also a leader on defense and his players and coaches clearly love him.
Darius Leonard posted a heartfelt message for former teammate and newest #Browns LB Anthony Walker… pic.twitter.com/p3mzA3OHzq

— MoreForYouCleveland (@MoreForYou_CLE) March 20, 2021
The Browns don't have many reliable options at linebacker.
Therefore, it's worth taking a risk on a young player like Walker.
He has shown plenty of potential and the Browns don't exactly have any better options.
This signing could result in being one of the bigger steals during the offseason.
Time will tell, but at worst Walker can be a great locker room presence and a helpful part-time option.