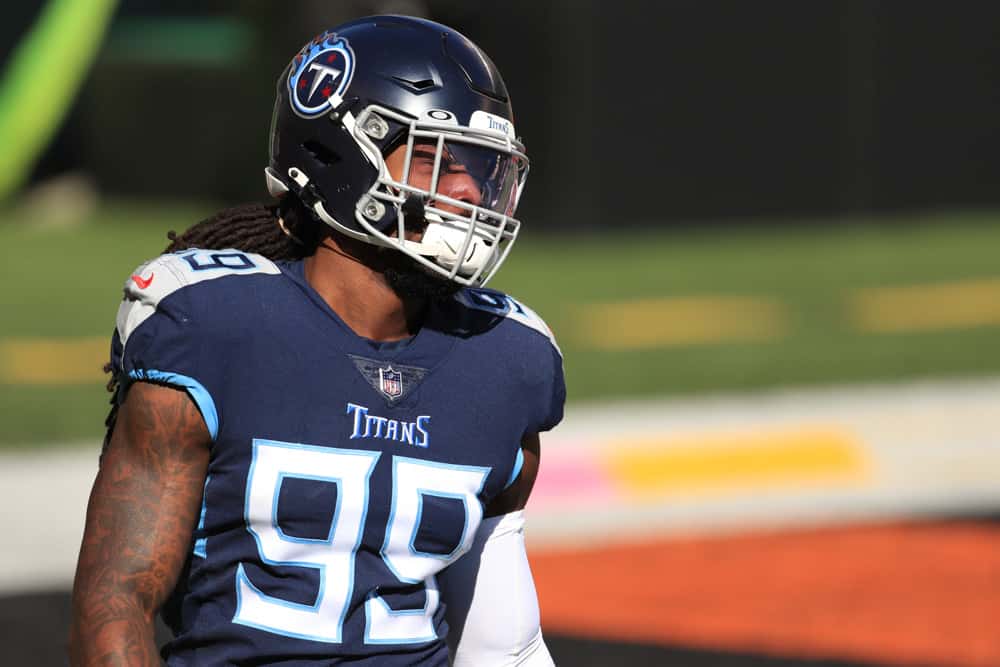 The Cleveland Browns front office has gone defense heavy during the early stages of free agency.
They've already signed Takk McKinley, John Johnson III, and Anthony Walker this offseason.
Everyone knew the Browns needed to make upgrades on the defensive side.
The front office has been aggressive thus far, but is Cleveland done making moves?
There is still a need for a pass rusher and three-time Pro Bowl defensive end Jadeveon Clowney could be a potential fit.
The Clowney Saga
Last offseason, the Browns made a heavy push to sign Clowney.
They made multiple offers, but were never able to finalize anything.
The Browns even went as far as to offering Clowney a deal worth $15 million for the 2020 season.
The #Browns have made a new offer to Jadeveon Clowney. pic.twitter.com/O6FmlGvvwl

— Everything Cleveland (@everythingcle_) June 15, 2020
Despite that, the former No. 1 overall pick declined the Browns offers.
Instead, Clowney decided to take a one-year deal with the Tennessee Titans.
The Browns ended up on the winning side here since Clowney had a disappointing 2020 season.
Through eight games, Clowney finished with 19 tackles and four passes defended.
He missed a majority of the season due to injury, so Cleveland got a lucky break there.
Although, Cleveland might attempt to strike another deal with Clowney this offseason.
Time To Sign Clowney?
It's tough to admit it, but Clowney might be the best pass rusher left available in free agency.
The injury history is an obvious concern, but Clowney does play well when healthy.
Through seven seasons, Clowney has 255 tackles, 32 sacks, and nine forced fumbles in 83 games.
His stats would've been better if he could actually stay healthy for an entire season.
Clowney has only played one full 16-game season once during his professional career.
Despite that, he has still made a name for himself and is a dangerous weapon on the defensive side of the ball.
JADEVEON CLOWNEY IS A TITAN pic.twitter.com/VuqIHSiyv6

— Nick Lombardi (@NF_Lombardi) September 6, 2020
The Browns have a need for another pass rusher with Olivier Vernon departing this offseason.
Clowney is an experienced player that could be a solid addition alongside Myles Garrett.
He has playoff experience and can play linebacker as well, so that's always a plus.
The biggest challenge is going to be finding a common ground from both sides.
To be honest, it would be difficult for Clowney to ask for a multiple year deal after last season.
Last offseason, Clowney had fairly hefty contract demands, but ultimately lowered them and signed with the Titans.
It was an obvious prove it deal, but Clowney might be forced to take another one-year deal again.
From @GMFB: How the #Titans landed pass-rusher Jadeveon Clowney late Saturday night, while the #Saints made a clever last-ditch effort… pic.twitter.com/IEVPKpqBEC

— Ian Rapoport (@RapSheet) September 7, 2020
The fact Clowney is still available could mean there isn't much interest for him.
Honestly, the injury history is a big concern and could be a significant factor as to why he remains unsigned.
Another factor could be that Clowney is asking for more money than teams are willing to pay him.
Cleveland should make an offer, but don't overpay for Clowney.
A one-year deal around $8 million seems fair after Clowney's performance last season.
The Browns should only do the deal if it makes sense for them financially, otherwise they should seek other options.