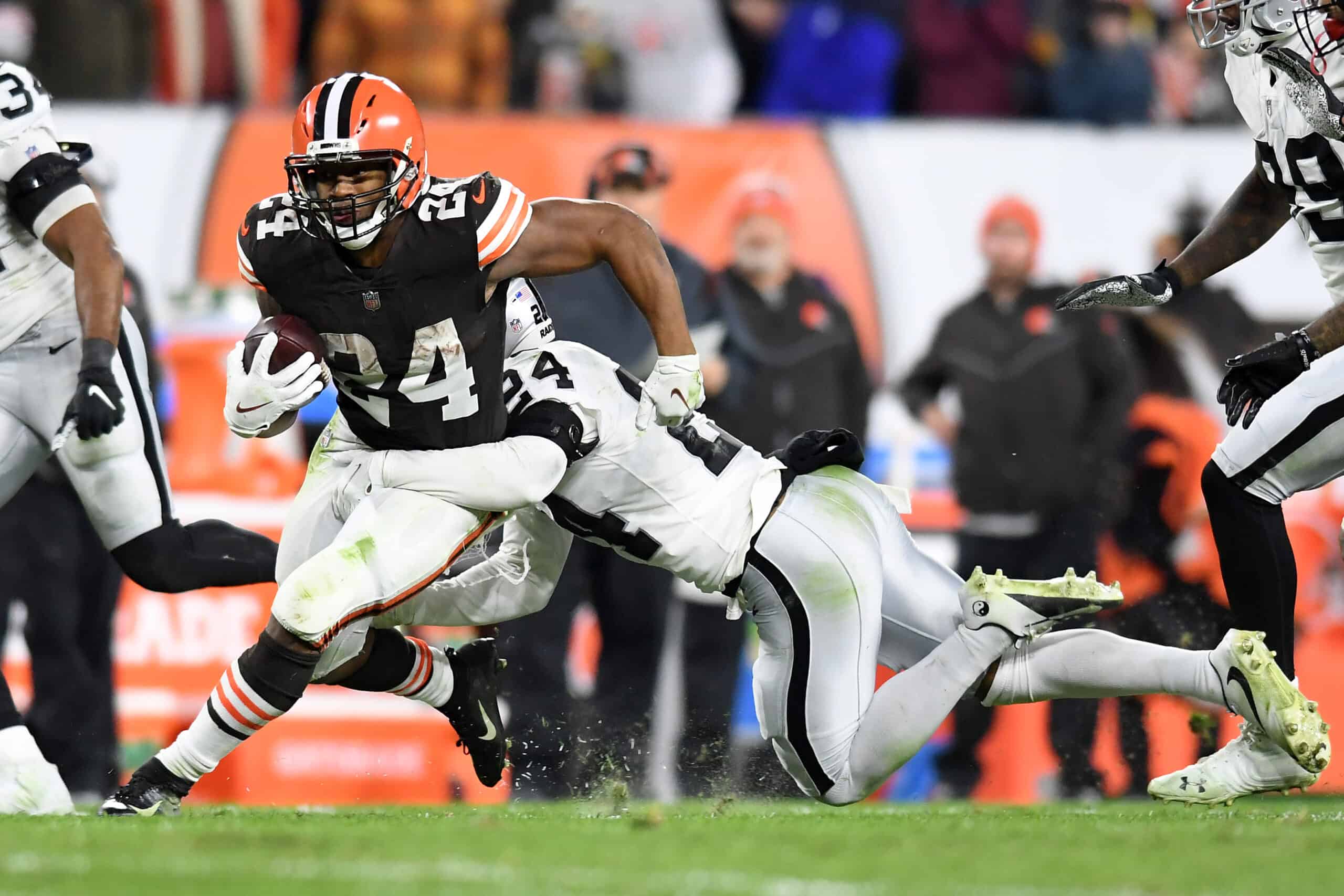 It was a heartbreaking loss for the Cleveland Browns on Monday.
They came into this game shorthanded and underdogs, but played well enough to win.
Sadly, things didn't end in their favor and they lost to the Las Vegas Raiders 16-14 on Monday.
This game certainly does sting with only three games left in the regular season.
However, it didn't come without lessons and the Browns can learn and adjust going into next week.
1. Nick Chubb Is Nearly Unstoppable 
As already mentioned, the Browns were shorthanded for this Week 15 contest.
They were without starting quarterback Baker Mayfield, wide receiver Jarvis Landry, and a handful of other players as well.
That being said, everyone knew the Browns were going to make running back Nick Chubb the focal point of the offense.
Despite that, Chubb has able to have success and help the Browns make a second-half comeback.
#LVvsCLE Nick Chubb lifts weights with his defensive line. Did y'all know that? pic.twitter.com/qrpigktiLY

— x C.T. x (@CTDirtyBirds) December 21, 2021
The stud running back rushed 23 times for 91 yards and one touchdown in the loss.
This marks the sixth time this season that Chubb has rushed for 90 yards or more in a single game.
The Raiders knew it was coming, but could do nothing to stop it.
That being said, Cleveland will need to continue relying on Chubb throughout the rest of the season.
2. Nick Mullens Is A Fighter
To be honest, most of the Browns organization deserves praise for fighting this hard when the odds were stacked against them.
However, quarterback Nick Mullens helped almost lead this Browns roster to an upset over the Raiders.
The third-string quarterback completed 20-of-30 passing attempts for 147 yards with one touchdown and zero interceptions on the night.
His lone score came late in the fourth quarter to give the Browns the lead in the game.
Nick Mullens keeps it alive!#Browns #GoBrowns #LVvsCLE pic.twitter.com/qMSJVRbF4C

— Browns fan UK (@brownsfanuk) December 21, 2021
Sadly, the Browns ended up coughing up the lead and losing the game.
Despite that, Mullens deserves praise for playing this well on such short notice.
The Browns will go back to Baker Mayfield once he's cleared to play.
Although, Mullens deserves an NFL roster spot whether it's in Cleveland or elsewhere next season.
He isn't a superstar, but is certainly capable of helping an NFL roster.
3. Chase McLaughlin Is On Thin Ice
The Browns seemingly handed kicker Chase McLaughlin the starting job in training camp.
His only competition in Cody Parkey suffered an injury and was released by the organization.
That being said, McLaughlin started out doing pretty well this season.
He made his first nine field-goal attempts, but things went downhill after that.
Since then, McLaughlin has struggled to find much consistency in Cleveland.
In fact, he has missed a field goal in each of his last four games, including Monday's game versus Las Vegas.
Chase McLaughlin misses a 47 yard field goal before halftime #Browns pic.twitter.com/7hRvK777ro

— Pro Football Culture (@proftblculture) December 20, 2021
The Browns ended up losing this game by two points, so McLaughlin's miss does loom large.
It's never easy finding reliable kickers, but McLaughlin has shown he isn't the long-term option.
Cleveland still has a chance at making the playoffs, but McLaughlin might not be on that roster.
He could very well be out of a job, assuming he continues to look sluggish against the Green Bay Packers next week.
At the very least, the Browns need to do a kicker search this offseason.