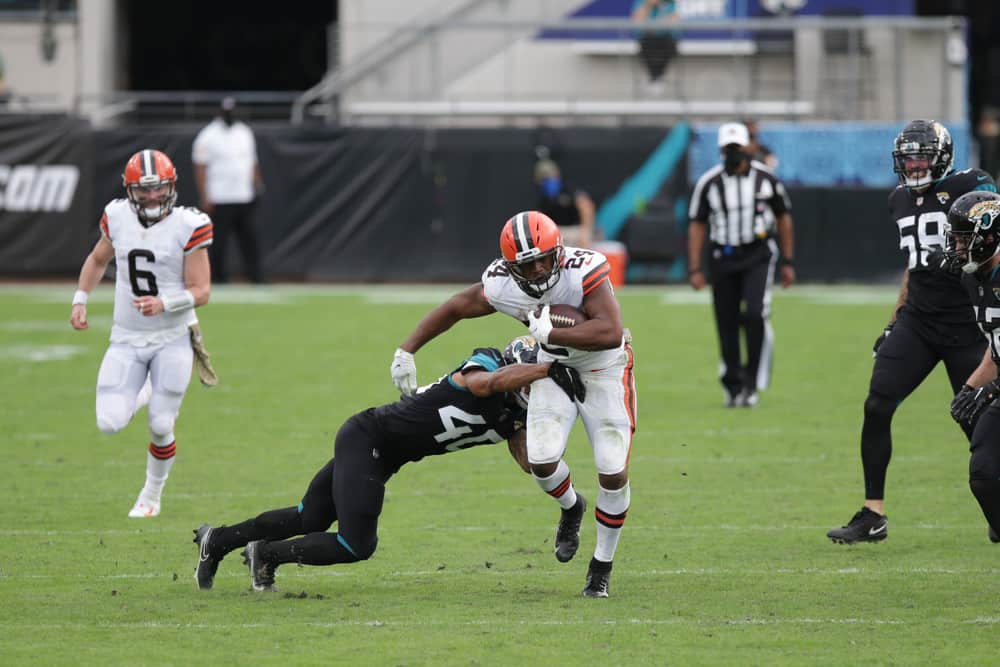 It was close.
But the Browns managed to hold off the Jaguars for their 8th win of the season, 27-25.
This could've been a trap game for the Cleveland Browns, but they did what they were supposed to do.
While it's a win that'll send the Browns to 8-3, there was a lot to take away from this game, and not all of it good.
So without further ado, here are three things we learned from the victory.
1. Baker HAS To Step Up If The Browns Want To Make A Run
Baker Mayfield went 19-29 for 258 yards and 2 TDs, which were his first TDs in almost a month, including this one to Jarvis Landry.
.@bakermayfield finds @God_Son80 for SIX!

📺: @NFLonCBS pic.twitter.com/AbOZs3L53l

— Cleveland Browns (@Browns) November 29, 2020
So, this was a good game statistically.
Overall, though…
This was a game that Mayfield should have been slinging the ball around the field against a not very talented and very beat up Jaguars defense.
While he completed 65% of his passes, there were more than a few passes that Mayfield just missed completely.
That includes two that should have resulted in touchdowns.
The Jaguars spent much of the first half cramming as many defenders as they could inside the box in order to stop the Chubb/Hunt rushing tandem.
This is a definite improvement over his previous games, but the Browns need to be better.
For the Browns to finish strong this season, they have to take on the Titans (next Sunday), along with the second go-rounds with the Ravens and Steelers.
Those teams aren't the Jags.
They have the talent to at least slow Chubb and Hunt down, leaving Mayfield and the receiving corp to have to pick up the slack.
2. The Defense Isn't Ready For Primetime
Ouch.
That is all you could really say about the defensive performance from Cleveland today.
Denzel Ward and Myles Garrett were out, which will always have a negative impact on your ability to stop an opposing offense.
The Jags carved up the Browns' defense for 375 yards.
It wasn't a flashy 375, but the Browns looked out of sorts all afternoon on the defensive side of the ball.
Mike Glennon, who hadn't started a game since 2017, went 20-35 for 235 yards and 2 TDs.
The Browns defensive backfield just looked lost and a step behind, including on this touchdown.
This was 🔥🔥🔥

46-yard @Jaguars TD! @Mike_Glennon @Call_In_Johnson

📺: #CLEvsJAX on CBS
📱: NFL app // Yahoo Sports app: https://t.co/bEHwkuL043 pic.twitter.com/xk82cEllZF

— NFL (@NFL) November 29, 2020
Watch this play unfold, and you'll see there isn't a Brown in sight until Collin Johnson is almost in the end zone.
The defensive backfield was always going to be the Achilles Heel of the defense.
It isn't particularly deep, and that has to do with a string of injuries that struck players like Grant Delpit and Greedy Williams.
That lack of depth showed today, but the defensive line and pass rush were also missing.
After a great game against the Eagles, the patchwork Jags offensive line did a great job frustrating the Browns pass rush.
The Jags also put on a clinic on the ground, with rookie running back James Robinson leading the way.
Robinson would end up toting the ball 22 times for 128 yards (good for 5.8 ypc) and a TD.
This unit needs to step it up as the Browns get closer to the playoffs.
3. It's Not All Doom And Gloom!
8 wins, everyone. 8!
This is the first time the Browns have been at 8 wins since 2007.
And while I may have been a bit critical in the beginning of this article, this Browns team IS a winner.
While I'd love to see Baker do more, Stefanski and company have a winning formula.
Run Chubb and Hunt, work in the play-action pass, and oh, run Chubb some more in the fourth.
The Finisher#GoBrowns#NickChubb @NickChubb21 pic.twitter.com/eiVcQv2lR1

— Josiah (@Jbuttermost) November 29, 2020
While it wasn't the prettiest win, good teams find a way to win, period.
Stefanski has transformed this team, and there is now a swagger that has been missing for, well, years.
Whether by a single point or 100, a win is a win, and today's win guarantees a non-losing season.
We're 11 games into the season, and things are already looking up.
With this kind of momentum, the best is yet to come.