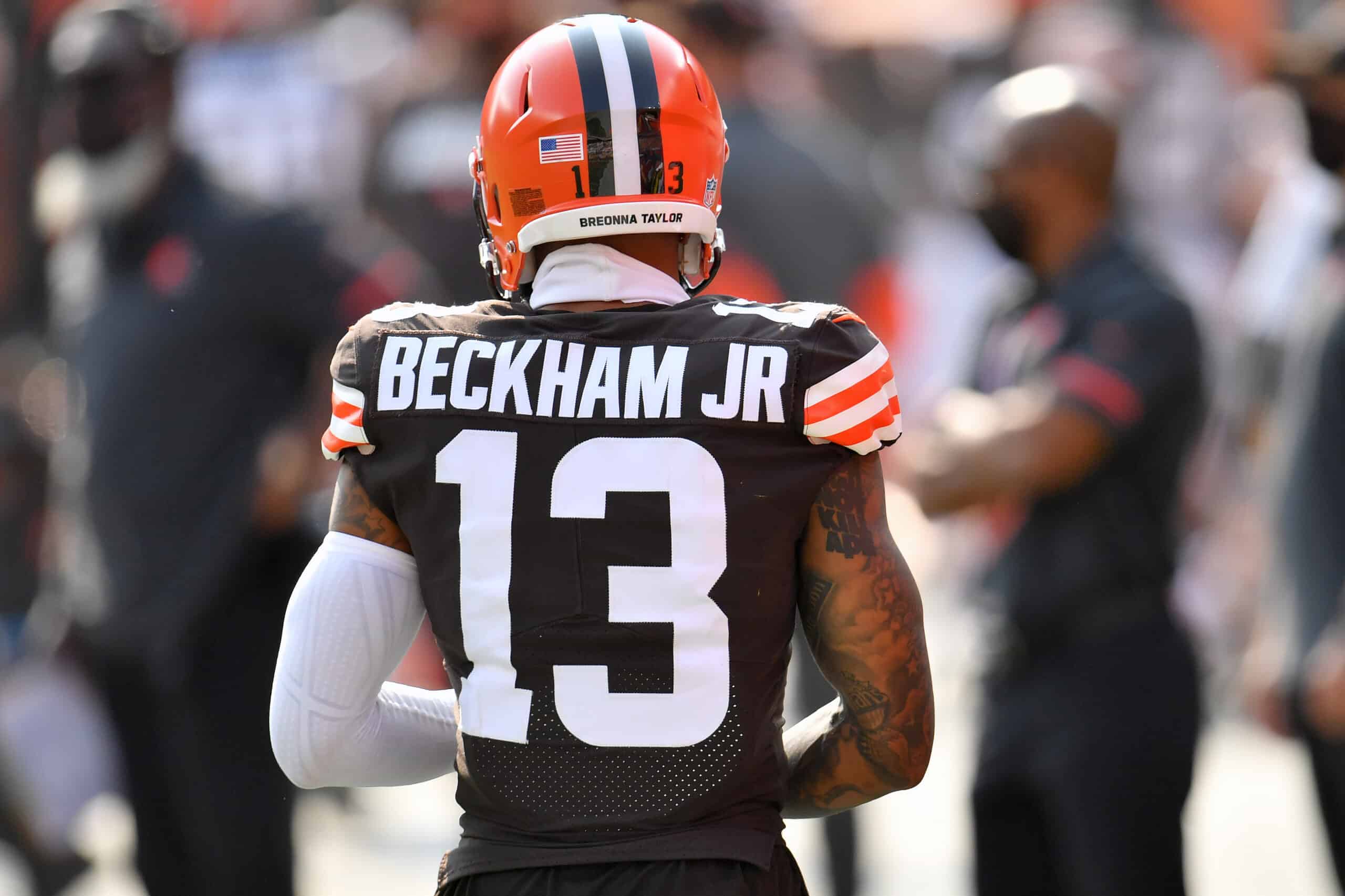 Reports from Baker Mayfield's Texas practice and the Cleveland Browns minicamp were overwhelmingly positive.
Everybody who spoke about him raved at how good Odell Beckham Jr. looks.
Barely 7 months after ACL surgery, OBJ is running, jumping, and cutting like the injury never happened.
.@obj looking SPEEDY in his ACL recovery 🤯 @ESPNNFL pic.twitter.com/KOgBH49dxT

— SportsCenter (@SportsCenter) June 23, 2021
And that should have every Browns fan excited, to say the least.
But, some fans may still doubt Beckham.
Cleveland fans barely saw a glimpse of what Beckham can do for an offense before his knee injury.
The Freddie Kitchens era was a lost season and Kevin Stefanski's offense was still in vanilla mode.
But Beckham's 59-yard touchdown run against Dallas was arguably the best offensive play of the season.
Browns 'Amazed' With Odell Beckham Jr's Recovery https://t.co/RskTKQlUcG pic.twitter.com/Va1zbj3kP3

— Pro Football Rumors (@pfrumors) June 21, 2021
And few remember he also caught a pair of touchdowns in that contest.
It stands to reason as Baker Mayfield's game improved, Beckham would have played a bigger role.
In fact, here are 3 ways Odell Beckham Jr will make the Browns offense dynamic in 2021.
1. Odell Beckham Jr. Frees Jarvis Landry 
There is a reason Jarvis Landry was so excited about Odell Beckham coming to Cleveland.
Landry has never been a deep threat, earning his living in the short and middle regions of the offense.
Last year, in a Stefanski-adjusted role, Landry put up a 71% catch rate on a career-low 101 targets.
The catch rate was a noticeable improvement over his earlier seasons in Cleveland.
Most receiving yards on play-action passes in 2019 (📸: @Titans)

A.J. Brown – 646
Odell Beckham Jr. – 536
Jarvis Landry – 521
Stefon Diggs – 452 pic.twitter.com/yeRZg6bUC5

— PFF (@PFF) June 18, 2020
But his yards after catch was almost a full yard lower than it was under Freddie Kitchens… or with OBJ.
The threat of Beckham breaking free draws extra attention to him, and away from other receivers.
That attention creates holes and passing lanes in the middle of the defense for Landry and the other receivers.
Everybody can improve, but Landry will thrive if he catches more passes in space than he did last year.
2. Beckham's Short Game Delivers Long Plays 
Much is made of Beckham's speed related to beating defenders downfield.
But Baker Mayfield doesn't have to hit OBJ 40 yards downfield for him to be effective.
In fact, Beckham is probably the Browns' best short-yardage receiver, too.
His excellent jumping ability, suction-cup hands, and body control give him an advantage anywhere.
The last time the #Giants played the #Ravens, @obj took a 4th a 1 slant 66 yards to the house with less than 2 minutes left in the game for the game winning touchdown. Odell Beckham Jr had 222 receiving yards and 2 TD's on the day. #TogetherBlue pic.twitter.com/eXaaIlWJNt

— Big Blue United (@BigBlueUnited) December 26, 2020
And Stefanski knows his most dynamic play might be Mayfield delivering a quick slant into OBJ's hands.
Browns fans saw a bit of OBJ's speed and cutting ability on that long run against Dallas.
He uses all those skills on short routes, too- whether a quick step-back, slant, or sideline curl.
And once he has the ball in his hands, there is always a big-play potential.
3. Beckham is (another) 3-Way Threat 
Some might argue the best offensive play of 2020 was Jarvis Landry's touchdown pass to OBJ.
But he is not the only Cleveland Browns wide receiver to throw a touchdown.
Odell Beckham matches Landry's 67% career completion percentage, but has 2 touchdown passes to his credit.
Landry's desire to match his buddy's career touchdown total gives fans something exciting to watch for.
Odell Beckham Jr. has more rushing and passing yards than receiving yards so far pic.twitter.com/SNAKcIAAVG

— 92.3 The Fan (@923TheFan) October 8, 2019
Beckham's long touchdown run was no fluke, either, although it was his longest and his first rushing touchdown.
Landry (5.9 YPC) and Beckham (7.2) are running threats, and Beckham would love to match Landry's 3 TDs.
Their friendly competition will be put to good use by Kevin Stefanski during the year.
Because utilizing a pair of 3-way threats only makes the Cleveland Browns offense more dynamic.