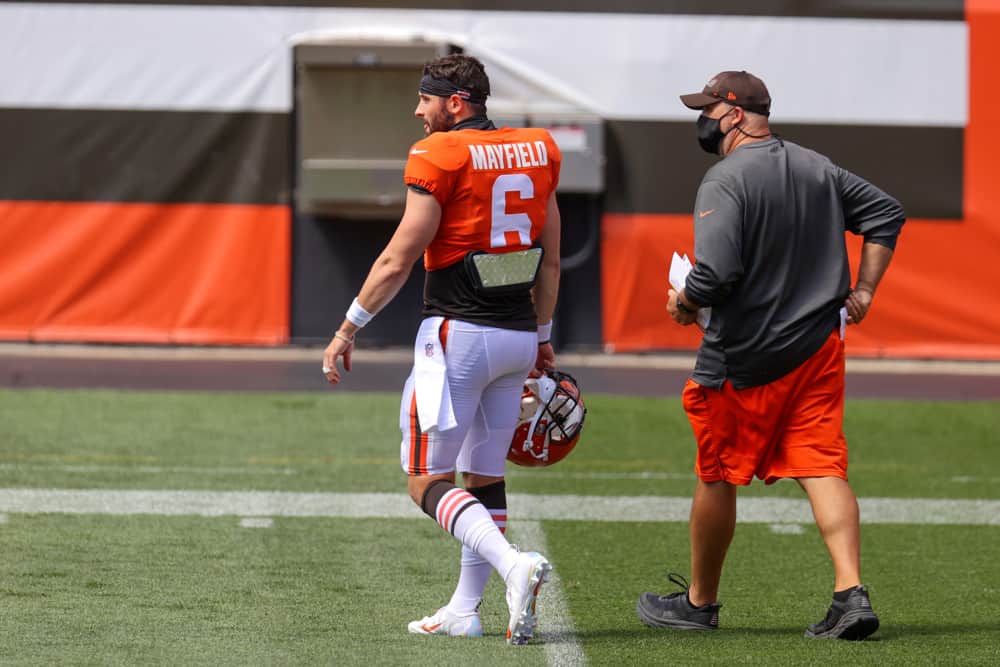 Alex Van Pelt brings a tenured career to the Cleveland Browns coaching staff.
On Sunday, he will be calling the plays against the Steelers in the Browns wild card playoff matchup.
The Browns announced the hiring of Van Pelt, who spent the last season as the quarterback's coach for the Cincinnati Bengals in January.
The #Browns have agreed to terms with #Bengals QB coach Alex Van Pelt, source says. Cleveland takes a good one from a division rival. https://t.co/h43FlbmFDu

— Ian Rapoport (@RapSheet) January 30, 2020

Here are five things to know about the Browns offensive coordinator.
1. One Of The Best Pitt QBs Ever
Alex Van Pelt played at the University of Pittsburgh, where he played quarterback.
Van Pelt ranks among the best quarterbacks in school history.
He is still the career record holder in passing yards (11,267) and holds that lead by nearly 3,000 yards over Dan Marino.
When he graduated, he was the school record holder for single-season passing (3,163 yards) but ranks third after Rod Rutherford (3,679 yards in 2003) and Tino Sunseri (3,288 in 2012) passed him.
He currently ranks third in career passing touchdowns (64) and tied for ninth with himself for most passing yards in a game (395 in 1992 against Maryland and Rutgers).
2. Second Stint As Offensive Coordinator
After a brief stint broadcasting as a color commentator for the Bills from 2004 to 2005, Van Pelt joined the coaching ranks.
He started as a volunteer quarterbacks coach for the University of Buffalo in 2005.
Later in 2005, he joined the Frankfurt Galaxy of NFL Europe, which was the NFL's developmental league.
He rejoined the Bills as an offensive quality control coach in 2006 until 2008 where he was promoted to quarterbacks coach and offensive coordinator in 2009.
He held that position until 2010 but was fired along with the rest of the staff after a 6-10 record.
Alex Van Pelt
•8th round pick in 1993.
•Played for Pittsburgh, KC, and Buffalo until 2003
•Coached in NFL Europe
•Bills OC in 2009
•Packers assistant (RB's and QB's on McCarthys staff from 2012–17)
•Bengals QB coach 2018-19
Now gets a chance to be #Browns OC.

— Jeremy Somerville (@SomervilleCLE) January 30, 2020
3. Aaron Rodgers Was Upset When He Left
Van Pelt gained traction as one of the better quarterbacks coaches in the league.
When Van Pelt was not resigned in Green Bay, it reportedly did not sit well with Aaron Rodgers.
Aaron Rodgers really liked Alex Van Pelt as his QB coach, and wasn't pleased when he was not renewed by #Packers. After a stint with #Bengals, Van Pelt, a former #Bills QB, is the new offensive coordinator of the #Browns and QB Baker Mayfield. https://t.co/uIZAA3x5PC

— Mike Clemens (@MikeClemensNFL) January 30, 2020
From 2012 to 2017, Rodgers threw for over 4,000 yards three times but was nearly four after just missing by 179 yards in 2015.
He threw for 39 touchdowns in 2012, 38 touchdowns in 2014, and 40 touchdowns in 2016.
Aaron Rodgers also recently expressed on the Pat McAfee Show that the Browns are in good hands with Van Pelt as their playcaller in the Steelers matchup.
4. Van Pelt Played Pro For 11 Seasons
He went pro after his senior season and was drafted by the Pittsburgh Steelers in the eighth round of the draft, but was released during training camp.
In 1993, Van Pelt played three games for the Kansas City Chiefs after Joe Montana sustained a hamstring injury.
He enjoyed a 10-year period of playing backup for the Buffalo Bills, where he finished his career with 16 touchdowns, 24 interceptions, and 11 starts.
5. Van Pelt Was Josh Freeman's Savior
Remember Josh Freeman?
Freeman, the former Tampa Bay Buccaneers quarterback, played in the league from 2009 to 2015 after drafted as the No. 17 overall pick in 2009.
Freeman never lived up to the hype as a first-round pick but had his two best seasons with Van Pelt as his QB coach. 
Van Pelt coached quarterbacks in Tampa from 2011 to 2012.
He was fired along with the rest of the coaching staff of Raheem Morris.
However, in 2011, Freeman tossed 3,592 passing yards and 16 touchdowns but also threw 22 interceptions.
In 2012, he had a career year by throwing 4,065 passing yards, 27 touchdowns, and 17 interceptions in a 7-9 season.