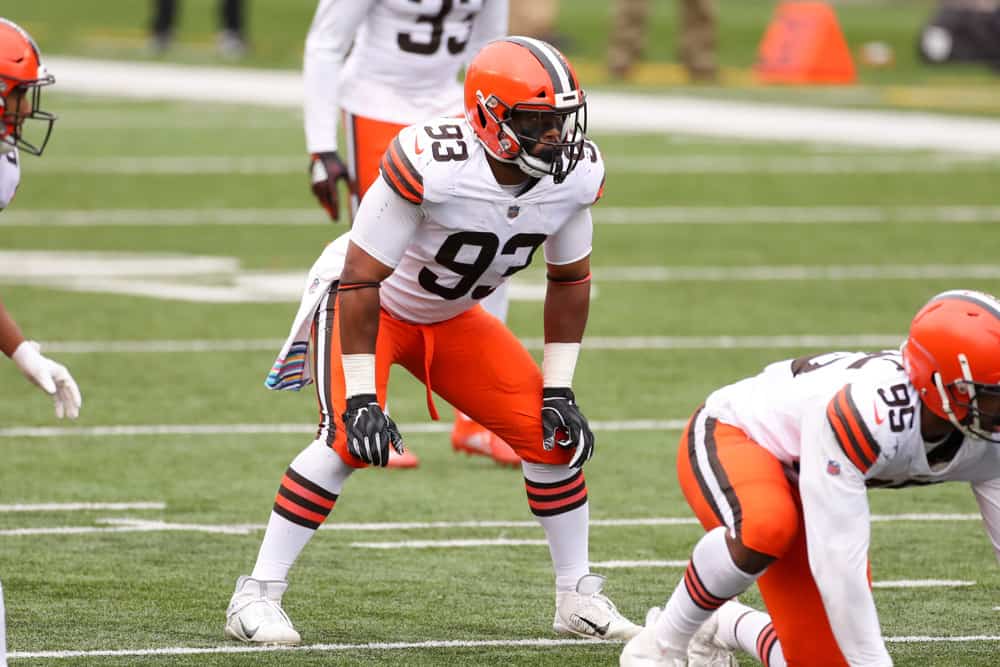 There is some good news coming from the Cleveland Browns heading into their playoff game against the Pittsburgh Steelers.
Sadly, the team was unable to practice on Wednesday, but did make some addition moves.
They've activated linebacker B.J. Goodson, and safety Elijah Benton from the COVID-19/reserve list.
#Browns LB BJ Goodson has been activated from the Covid-19 list.

He will start Sunday night. pic.twitter.com/CGHsYnPsvS

— MoreForYouCleveland (@MoreForYou_CLE) January 6, 2021
Cleveland has also decided to bring in some depth with veteran center Anthony Fabiano.
Unfortunately, the Browns are still without linebacker Malcolm Smith, but at least the team is moving in a positive direction heading towards Sunday.
The Return Of Goodson
It's fair to say that many did not expect this type of performance from Goodson coming into the season.
The fifth-year linebacker had a career-high 61 tackles heading into the 2020 campaign.
Through 14 games, Goodson has a team-high 91 tackles, six passes defended, and two interceptions.
The 27-year-old is having a career year in Cleveland, so getting him back on the field is huge for the Browns.
It's unclear if Benton will actually suit up for Sunday's game, but the Browns desperately need options at safety.
At worst, Benton gives the Browns a body to use at safety during practice this week.
The Browns have been put in an unfavorable position heading into this playoff matchup.
However, Cleveland has exceeded expectations all year long, so Browns fans should continue to believe in this team.
The Addition Of Fabiano
At this point, Browns fans should be familiar with Fabiano playing in Cleveland.
The Harvard product will join the organization for the third time in his career.
Reason the Browns signed OL Anthony Fabiano for a third stint with team: With the injuries to Chris Hubbard and Nick Harris, and with Javon Patterson on practice squad Covid-reserve, they didn't have a backup center.

— Tony Grossi (@TonyGrossi) January 6, 2021
The 27-year-old played in four games with the Browns during the 2016 season.
He is an athletic and versatile player, but never really caught on in the NFL.
Fabiano spent time with the Indianapolis Colts in 2017, but only played in five games before being waived by the organization.
Since then, Fabiano has bounced around on different practice squads, but has not taken an NFL snap since his season in Indy.
However, the Browns are desperate for help on the offensive line with both Chris Hubbard and Nick Harris sidelined.
The Browns are basically out of depth, so the addition of Fabiano is huge.
He is a veteran player that can play multiple spots on the o-line.
Fans shouldn't expect him to be a star, but a reliable backup for this playoff matchup.
At first glance, these moves might not seem like much, but these are actually big additions for Cleveland as they prepare for their first playoff matchup in a long time.