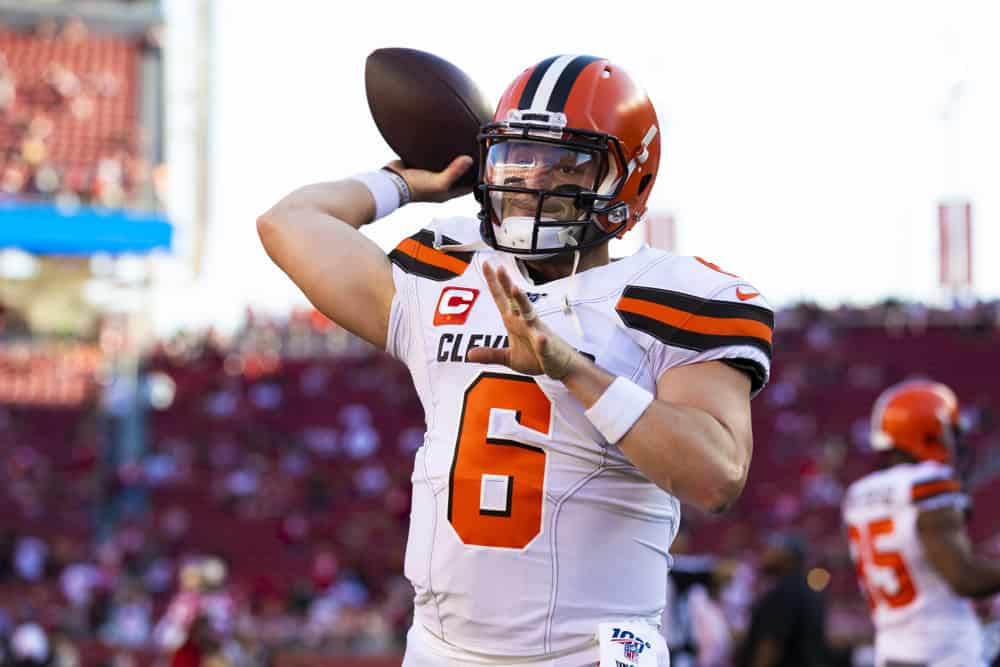 Baker Mayfield led a potent Cleveland Browns offense to the second round of the playoffs in 2020.
Only 8 teams got that far into the postseason.
Wild Card Weekend's top QBs 🃏 🏆 pic.twitter.com/6wItxsaRTs

— PFF (@PFF) January 11, 2021
For his efforts, NBC Sports lists Mayfield as the 17th best quarterback heading into 2021.
Lineups.com has Mayfield at number 20, which sets the bottom of most subjective ranking articles out so far.
But at least one network analyst agrees with most Browns fans when it comes to Mayfield.
FoxSports1's Emmanuel Acho spoke about the Browns' leader on FS1's Speak For Yourself podcast.
Acho points to several factors analysts should consider when ranking Mayfield against his peers.
But perhaps the ESPN Total QBR ranking illustrates one of Mayfield's problems.
Mayfield did not rank better than 12th in any of the categories factoring into his total QBR.
But collectively, his stats earned him the 10th-best overall ranking.
.@BakerMayfield ➡️ @AustinHooper18… Touchdown @Browns!

📺: #PITvsCLE on CBS
📱: NFL app // Yahoo Sports app: https://t.co/EMdqIO97si pic.twitter.com/oUU9JqU11F

— NFL (@NFL) January 3, 2021
In Pro Football Network's Power QB system rankings, Mayfield had the 20th best yards per game and 27th pass completion rate.
But his second-best air-yards-per-completion, something most analysts don't factor in, pushed him to 15th overall.
Measurables are nice, but as economist Aaron Levenstein once said,
 "statistics are like bikinis. What they reveal is suggestive, but what they conceal is vital."
Acho Says Location, Location, Location Adds Value
Imagine Cleveland was evaluating a pair of wide receivers, and they both ran 4.25-second 40-yard dashes.
At first glance, you might assume they are close in value.
But then you find out the first player ran his 40 on an Olympic-caliber track wearing $800 running shoes.
And the other guy ran on a downtown Cleveland sidewalk in Converse high tops at lunchtime during a snow squall?
#Browns Baker Mayfield on deep throws (20+yds) since WK9:

142.0 passer rating (1st)
57.9 Adj. completion % (3rd)
362 yds (4th) pic.twitter.com/BP703d5iml

— PFF CLE Browns (@PFF_Browns) December 15, 2020
Sometimes, we have to look past the numbers, and that is what Acho says we need to do with Mayfield.
He lists several negative factors Mayfield had to fight along the way to his playoff victory.
First was the losing culture that comes off a 1-31 stretch, like the era before Mayfield joined the Browns.
Then he piled on the Freddie Kitchens unappreciation wagon before comparing Mayfield to his predecessors.
A thing of beauty 😍@bakermayfield finds @CALLME_WOOD for the touchdown!

📺: @NFLonCBS pic.twitter.com/wuvBuKgjL6

— Cleveland Browns (@Browns) December 6, 2020
Cleveland's previous first-round quarterbacks went a combined 32-67, compared to Mayfield's 23-22 record.
If he comes close to expectations in 2021, Mayfield will sport a winning record with two playoff seasons.
And that was the other cloud over Cleveland that Mayfield cast away, bring a legitimate playoff contender to Berea.
But We Can Also Look Deeper At The Numbers 
Acho correctly alludes to Baker Mayfield's value exceeding his statistically-supported skill set.
It is hard to get around an allegedly objective rating system like his 16th best QBR.
NFL.com's editor group appears to consider Baker's impact as well as stats in the NFL.com 2020 QB Index.
In a blurb justifying Mayfield's No. 11 QBI ranking, they cite the Browns' return to the playoffs, for example.
But Mayfield has several important and impressive statistics he can point to as well.
One example is PFN's air-yards-per-completion statistic.
PFF Grade since Week 9:
💥 Baker Mayfield – 90.5
💥 Patrick Mahomes – 88.5 pic.twitter.com/5i9WtpVaiO

— PFF (@PFF) January 12, 2021
Mayfield threw fewer passes than most quarterbacks, but he threw the ball farther than they did, too.
And he threw it well, posting the highest completion rate on deep passes in the NFL.
Cleveland's lost season in 2019 made some folks forget Mayfield's record-setting rookie campaign.
And he was better in 2020, especially once he settled into the latest Browns offense.
So, Acho is right that Mayfield's relative value in Cleveland is through the roof.
But we shouldn't sell the Browns' quarterback short on his skill and leadership qualities, either.