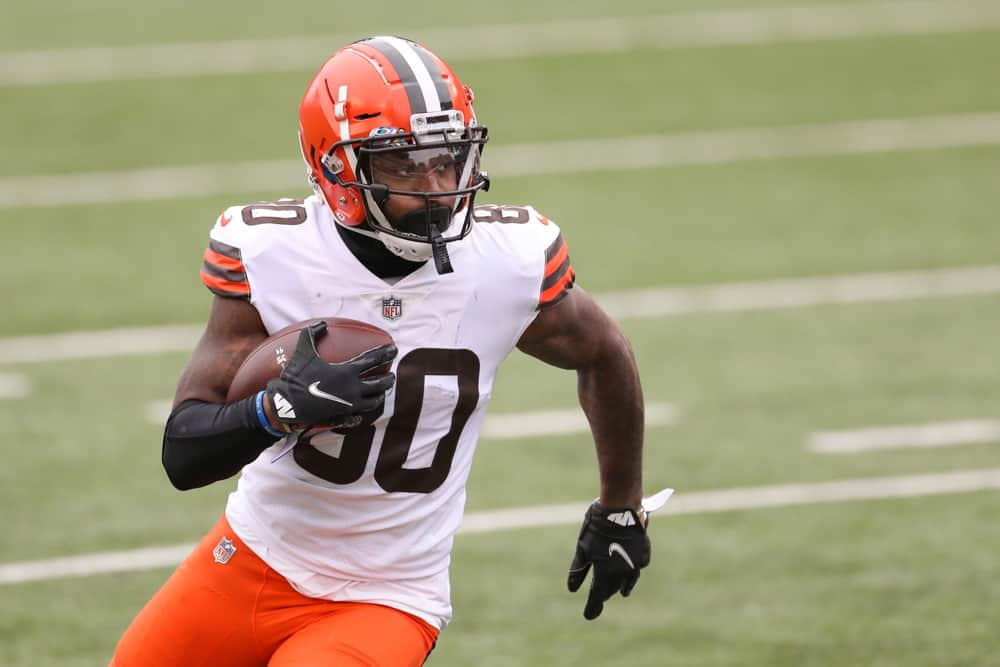 The Cleveland Browns are in the playoff hunt down the stretch of the season.
They could be headed to the postseason for the first time in a very long time.
The Browns roster appears to be clicking right now, but ESPN writer Dan Graziano, believes it could look a little different next season.
They suggest that wide receiver Jarvis Landry could become a cap casualty during the offseason.
It's difficult to imagine the five-time Pro Bowl receiver being cut by Cleveland, but you never know in the NFL.
Landry's Disappointing 2020 Season
The 2020 season is Landry's third year as a member of the Browns.
Sadly, this season is looking like possibly the worst of his career.
Through nine games, Landry has 36 receptions, 448 receiving yards, and zero touchdowns.
Landry could very well be headed to a career-low in all of those categories.
It has been a frustrating year for Landry, but the 27-year-old has a great track record.
Landry has put together some nice moments like when he threw a touchdown pass against the Dallas Cowboys.
#Browns Top 5 Plays of 2020‼️#4️⃣: Jarvis Landry Trick Play TD to OBJ, in a Week 4 win vs the #Cowboys. 🎩#NFL @obj @God_Son80 pic.twitter.com/2QNSJTAzX5

— The Hottest Take Sports Podcast (@Hottest_TakePod) November 10, 2020
There is still time for Landry to bounce back, but it might not all be about performance.
The Browns are still on the hook for $12.5 million next season and $14.3 million the following year.
Cleveland could save quite a lot of money by cutting ties with Landry.
It appears the Browns would be saving around $11.8 million by letting go of Landry this offseason.
That's quite a lot of money, but the Browns already have plenty of free cap space.
Keeping Landry
There is an argument to be made that cutting Landry could benefit the Browns.
Financially it makes sense for the Browns, but it's more than just money.
It's unclear what condition Odell Beckham Jr. will be in next season after suffering a season-ending ACL tear earlier this season.
Odell Beckham Jr. says he suffered a torn ACL against the Bengals and is out for the season, per @JosinaAnderson pic.twitter.com/RE9q9RnkVu

— Bleacher Report (@BleacherReport) October 26, 2020
It's unknown if this injury will have long-term effects on his play, or throughout the rest of his career.
Honestly, it's unclear if Beckham will be ready to play by the beginning of next season.
The Browns don't have many reliable options at receiver outside of Landry right now.
The front office cannot afford to lose Landry without anyone to fill his shoes on the field.
Yes, it's a big cap hit, but Landry has proven to be worth the money during his career.
The Browns need Landry more than ever before without Beckham available and the team fighting for a playoff spot down the stretch of the season.
Cleveland does have plenty of young players that need long term extensions soon.
However, cutting Landry is going to do more damage to the team than it would help them.
The Browns should keep Landry and hope for a bounce-back year next season.