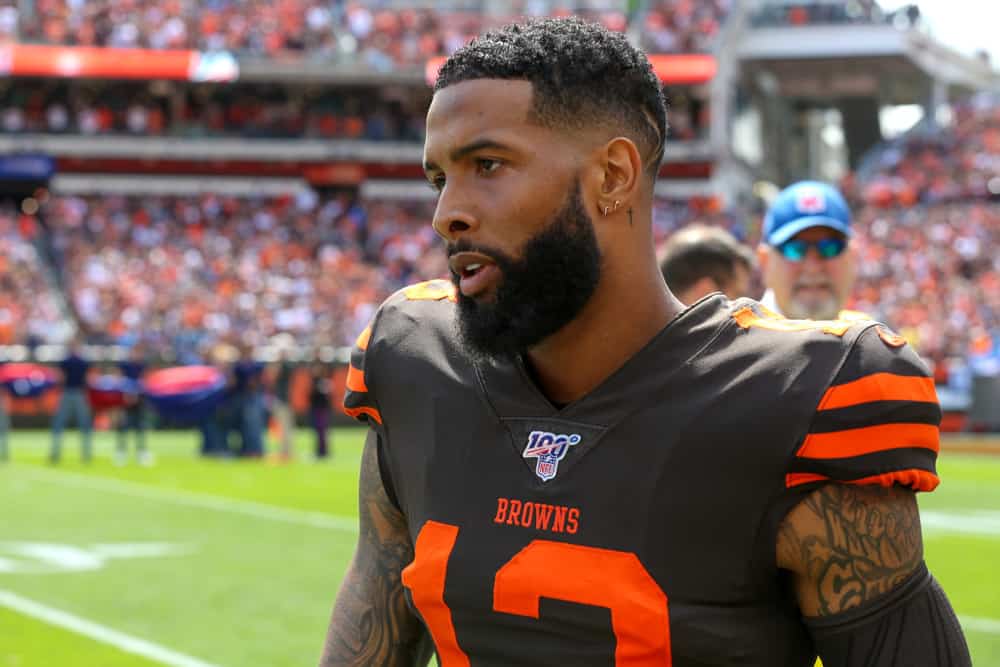 Odell Beckham's father helped set off a firestorm of social media and sports pundits' posts and positions.
But for the most part, the Cleveland Browns presented a unified and focused locker room to downplay the matter.
That illusion took a hit today with an unattributed quote reported on the NFL Network.
From NFL Now on @nflnetwork, following @AKinkhabwala's reporting on the #Browns and Odell Beckham, on Beckham's role in this standoff right now. pic.twitter.com/Rw4SePu7sx

— Mike Garafolo (@MikeGarafolo) November 4, 2021
According to Mike Garafalo, an anonymous player told him about Beckham Jr,
"(Beckham) does nothing. He talks to no one. He just has a malcontent attitude."
An anonymous Browns' player had some things to say about OBJ. 👀 pic.twitter.com/CJPEMuiHUq

— theScore (@theScore) November 4, 2021
This contradicts statements from several players, including Baker Mayfield, that there was no previous sign of a problem with OBJ.
Beckham being upset by his number of touches or his role in the offense makes him a typical wide receiver.
But isolating himself from teammates to the point someone sees him as a malcontent makes him a problem.
Which Story Is Correct? 
Video emerged from the Browns' most recent game that seems to corroborate the malcontent position.
On D'Ernest Johnson's touchdown, Beckham starts walking off the field immediately upon realizing the runner scores.
Later, Baker Mayfield scrambles to make a third-down conversion and takes a late hit on the play.
Fans gasped as they worried if Mayfield's shoulder help up, but Mayfield quickly jumps to his feet.
Body language… Seriously, is there anyone more miserable than #13? #Browns pic.twitter.com/marnplf802

— Roberto Shenanigans (@Rob_Shenanigans) November 2, 2021
But as cheers greet a fist-pumping Mayfield, Beckham walks right past him with his head down and shoulders slumped.
There is no high five or congratulatory word as the two players pass each other.
The claim that Beckham disassociated himself from the rest of the team in the locker room becomes credible.
Even if most other players publically claim he was a positive presence and a cheerleader.
Is The Locker Room Factioning Off? 
Besides the obvious conflict in what type of teammate Beckham was, there is other evidence of problems.
Rashard Higgins and John Johnson were among players who "liked" an anti-Baker Instagram video posted Tuesday.
Odell Beckham Jr.'s dad posted an 11 minute video on IG showing all the times Odell was open and not thrown to.

The video was liked by multiple Browns players including, Rashard Higgins & John Johnson III.

📸: Theo Wargo/Getty Images pic.twitter.com/k22gV0a3CE

— My Mixtapez (@mymixtapez) November 2, 2021
Higgins has been a favored target of Mayfield and was adamant about re-signing with Cleveland in the offseason.
And Johnson was brought on board to be a team leader, albeit for the defense.
#Browns S John Johnson III says majority of locker room wants Odell Beckham Jr. back pic.twitter.com/toyNLzuxdZ

— Daryl Ruiter (@RuiterWrongFAN) November 4, 2021
Johnson addressed the issue by voicing his support of Mayfield as the team's quarterback.
But he also asserts that "most of" the locker room would welcome OBJ back if he returned, tainting his Mayfield remark.
What does "most of" mean, and does it mean players are taking sides in the matter?
Mayfield said all the right things at his Wednesday presser, but his teammates' words are raising questions.