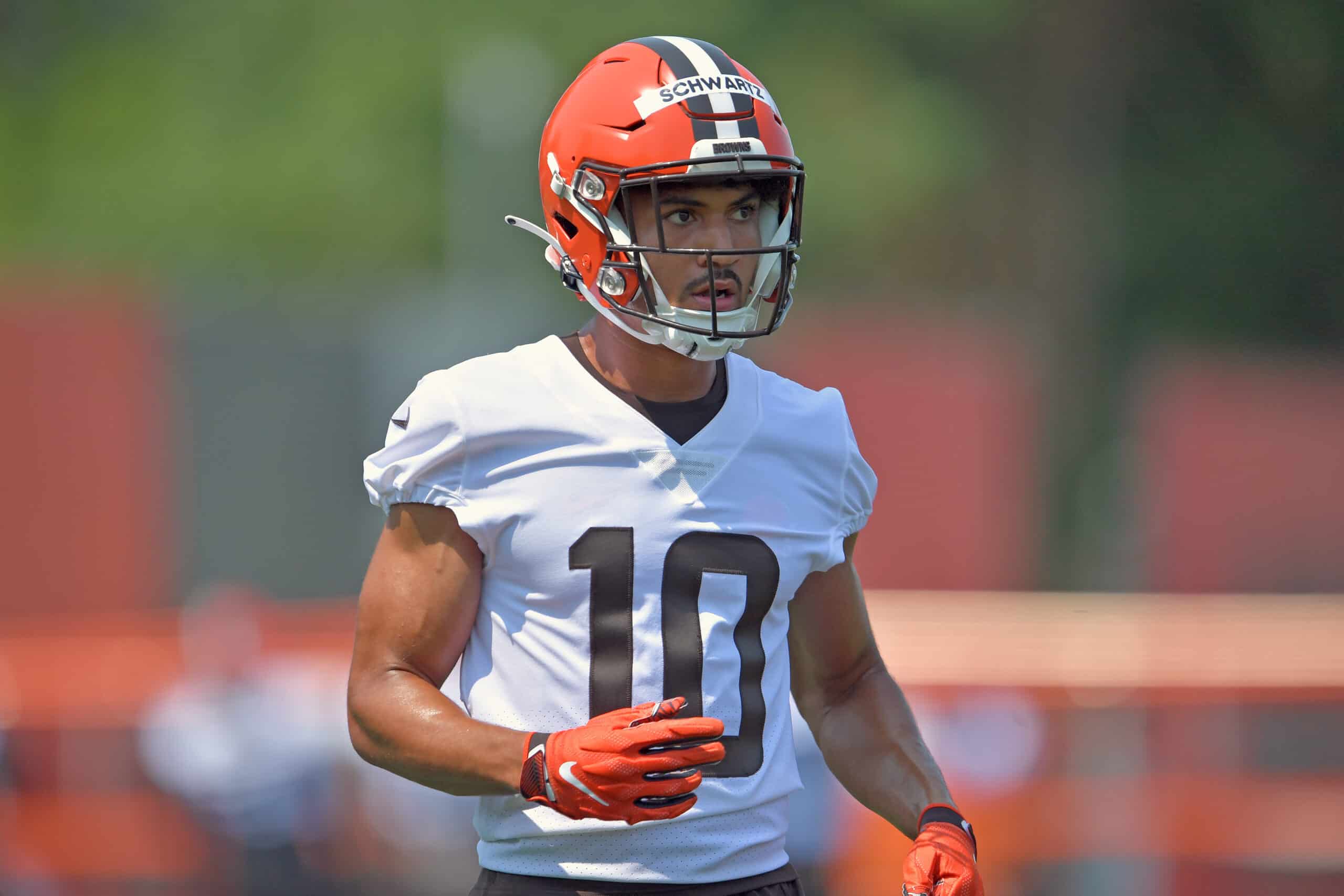 The Tampa Bay Buccaneers and the Dallas Cowboys kick off the 2021 NFL season Thursday night, September 9, 2021.
Though the Cleveland Browns are not slated to play until Sunday, that did not stop Browns rookie wide receiver Anthony Schwartz from offering a little bit of perspective on Tom Brady's legendary career.
Brady at 44 years of age is about to enter his 22nd NFL season.
Schwartz took to social media to share this insight that will either make you feel old or young in comparison.
I just turned 21 a few days ago… https://t.co/aaVDiQZxpg

— Anthony Schwartz (@TheRealF1ash) September 9, 2021
Extraordinary Comparison
Schwartz is telling us that he has not been alive as long as Tom Brady has been in the NFL.
Brady, playing alongside players who are generations younger than himself, is nothing short of extraordinary.
Let's not forget that Brady has spent a lot of his lengthy career winning also.
Those 7 Super Bowl rings are a reminder of a career that is likely never to be duplicated or outdone.
Though an intense competitor, Brady does poke fun at his age in a youth-oriented league.
This spring, he posted his NFL Combine picture with the hilarious insight that his NFL career can now legally buy a beer.
Big day. My NFL career can legally buy a beer https://t.co/TzG24x0Vgo

— Tom Brady (@TomBrady) April 16, 2021
Anthony Schwartz
For his part, Schwartz made the 53 man roster of a Browns team that can contend with the best teams in the league including Brady's Buccaneers.
Schwartz was sidelined part of training camp with a hamstring injury so sadly we did not see much of him.
His first preseason play against the Falcons makes us wonder if this is foreshadowing.
Schwartz, lined up as a wide receiver, drew the pass interference penalty.
The defender was definitely concerned with Schwartz's trademark speed which has been compared to Tyreek Hill's who plays for the Browns Week 1 opponent, the Kansas City Chiefs.
#Browns rookie WR Anthony Schwartz's preseason #NFL debut begins with drawing a pass interference penalty

— Nate Ulrich (@ByNateUlrich) August 30, 2021
Hope this doesn't get taken wrong but if Anthony Schwartz can be half the player tyreek hill is the browns will be great for years similar speed similar play style/ usage

— NOB Jae (Rock) (@JawaunOfficial) September 9, 2021
Though Schwartz is not currently listed on the depth chart as special teams player, we hope that changes.
Anthony Schwartz is my WR14. 4.2 track stud who adds a deep element. Started to develop as a route runner, especially the quick slants and out routes. Special teams ace too. Adds a new element to the #Browns. Great pick. #NFLDraft #HallamAnalysis

— Shane P. Hallam (@ShanePHallam) May 1, 2021
Watch Schwartz and the Browns take on the Kansas City Chiefs on Sunday, September 12 at 4:25 PM EDT.