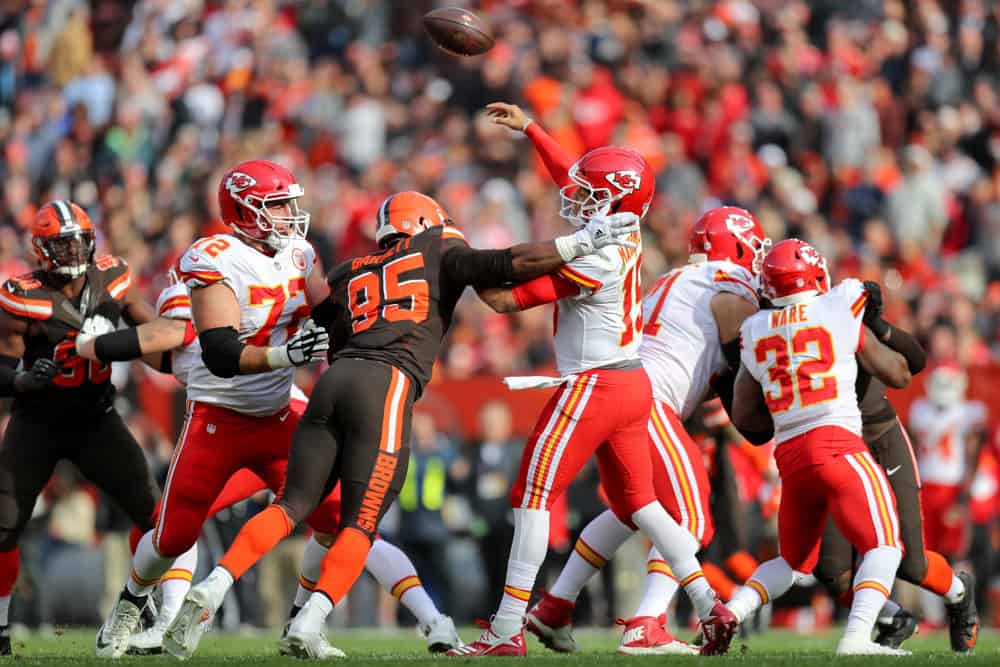 Sunday will finally be the day that we get to see the Browns on the field playing football that matters.
The defending AFC champion Kansas City Chiefs are a formidable opponent.
Last year, the Chiefs ranked in the top 10 in both offense and defense in terms of points.
This year, they are favored to win Super Bowl LVI and are far and away projected to be the best team of the AFC.
Early odds to win the Super Bowl: 🏆

+500: Chiefs
+600: Buccaneers
+1000: Bills
+1300: 49ers, Browns
+1400: Packers, Rams, Ravens
+2300: Seahawks pic.twitter.com/v1XqB1SUyH

— theScore Bet (@theScoreBet) September 1, 2021
They also led the NFL with 14 wins last year.
As a result, the Browns are one of the largest underdogs in Week 1.
It is important for Denzel Ward, Jadeveon Clowney, and Jack Conklin to step up in the first game of the season.
We will have to see if they can win these important matchups on Sunday:
1. Denzel Ward vs. Tyreek Hill
It will be no easy task for Denzel Ward in his first game of the season.
Ward made his lone Pro Bowl in 2018, but Tyreek Hill has been selected to the game each of the five years he has been in the NFL.
Here is how the duo performed during the 2020 regular season:
Denzel Ward vs. Tyreek Hill

Who wins this matchup today? 🤔 ⬇️ pic.twitter.com/2v2OVRFHpZ

— PFF (@PFF) January 17, 2021
Then, Hill went for eight receptions on 10 targets and 110 yards in the 22-17 Chiefs victory in the divisional round last year.
Also, the Chiefs went 14-1 in his 15 regular games played last year.
Since he was drafted 165th overall in 2016, the Chiefs have won fewer than 12 games just once (2017: 10 wins).
This dynamic wide receiving talent, who has speed for days, will not make it easy for Ward in what should be a tremendous matchup.
Also, first-rounder Greg Newsome II will draw his first career start in his NFL debut.
He should draw Mecole Hardman, who is a hail mary threat on almost every play.
Therefore, both Newsome and Ward will have to be careful and keep the Chiefs receivers to shorter receptions.
2. Jadeveon Clowney vs. Orlando Brown
Entering 2021, Jadeveon Clowney is with his fourth franchise in the last four years.
Browns fans hope that his any off-the-field antics can be limited so that he does not make that five teams in five years.
However, even before Clowney's first regular-season snap as a Cleveland Brown, he is already making news.
The first pick of the 2014 draft made preseason comments that downplayed the athletic ability of offensive guards in the NFL.
Those comments were criticized by retired offensive guard Geoff Schwartz.
This bulletin board material may not bode well for the edge rusher.
Let us see how Clowney can perform against the two-time Pro Bowl offensive tackle Orlando Brown Jr. (son of former Browns and Ravens tackle Orlando Brown).
Most likely, the left tackle did not take kindly to those words about the players he has been lining up next to for three NFL seasons.
The two-time Pro Bowler and former Baltimore Ravens starting tackle will be a tough test for Clowney in Week 1.
Most likely it will be Brown lining up against Clowney, but we will have to see if the former right tackle has a chance to go up against Myles Garrett.
3. Jack Conklin vs. Chris Jones
Jack Conklin will be looking to limit the Chiefs sack leader from 2020.
Chris Jones finished with a team-leading 7.5 sacks last year.
It will be a battle of the 2016 draft picks in Week 1.
Here is the tale of the tape:
Jack Conklin (OT): age 27, pick No. 8 (2016), two-time First-Team All-Pro
Chris Jones (DE): age 27, pick No. 37 (2016), two-time Second-Team All-Pro
Last year in the playoffs, Jones failed to sack Baker Mayfield.
He finished with three combined tackles and a quarterback hit.
Conklin played all 64 offensive snaps while Jones played 52.
Entering his sixth year, the impressive offensive tackle will look to continue his success and prevent Jones from sacking Mayfield.
Overall, the Chiefs sacked Mayfield just once last year, but the Browns tallied just one sack as well.
If the Browns can win the battle of the trenches at the line, then maybe Cleveland can emerge with the victory.