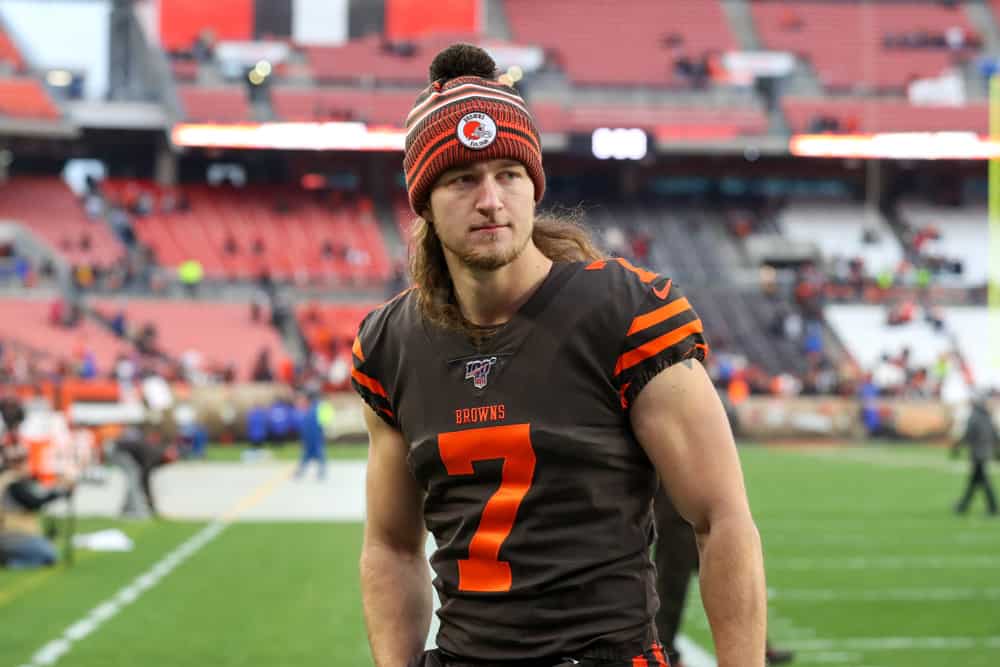 The Cleveland Browns punting game has not been especially impressive in 2021.
Jamie Gillan is in the final year of his three-year contract.
Some expected he would be a free agent at the end of the season, but the Browns may not wait that long.
There has been reporting that the Browns invited free agent J.K. Scott in for a workout on Saturday.
Punter news: The #Browns worked out free agent punter J.K. Scott today.

— Brad Stainbrook (@BrownsByBrad) October 16, 2021
Who Is J.K. Scott?
Scott, who will turn 26 at the end of the month, went to college at Alabama.
He was drafted in the 5th round of the 2018 NFL Draft, 172nd overall, by the Green Bay Packers.
Scott spent the past three seasons with the Packers.
He was cut by the Packers during the final big roster cuts in the preseason when teams got down to their final 53 players.
The Packers replaced Scott with former Buffalo Bills punter Corey Bojorquez, the 2020 NFL punting leader, whom they acquired from the Los Angeles Rams in a trade.
Trade: Rams sent P Corey Bojorquez and a 2023 7th-round pick to the Packers in exchange for a 6th-round pick in 2023, per source.

— Adam Schefter (@AdamSchefter) August 31, 2021
Jamie Gillan In 2021
Gillan's Week 1 kicking fiasco against the Kansas City Chiefs is forever etched in people's minds.
Browns punt blocking on this play was excellent. He could have got that punt off still. Jamie Gillan just panicked.pic.twitter.com/G87L5cUdjZ

— Tim x opTIMus 🎮 (@timschuerger) September 12, 2021
In addition to that, his punts have not been especially long and robust.
Coach Stefanski was asked earlier this week about the Browns' punting game.
He was pretty forthright with his thoughts.
"Obviously, we want to punt better – that is no surprise. He needs to be better, and he knows that."
Gillan has punted 15 times in 5 games.
His average punt is 41.8 yards ranking him next to last in average punt distance in 2021.
#Browns P Jamie Gillan ranks 31st in the league with an average punt distance of 41.8 yards.

— MoreForYouCleveland (@MoreForYou_CLE) October 16, 2021
Conclusion
It is not clear if the Browns are set upon replacing Gillan yet this season.
They could have brought Scott in for a workout to further motivate Gillan to continue to improve and play better.
#Browns  ST coordinator Mike Priefer said Jamie Gillan had great punt vs. Houston, nice one vs. Minnesota, but he needs to be more consistent, he knows that, he needs to relax and do his job, had text convo with him Tuesday and he had best practice of season Wednesday

— Nate Ulrich (@ByNateUlrich) October 14, 2021
What is true is that the Browns' punting game has plenty of room for improvement.
How they get there is yet to be determined.