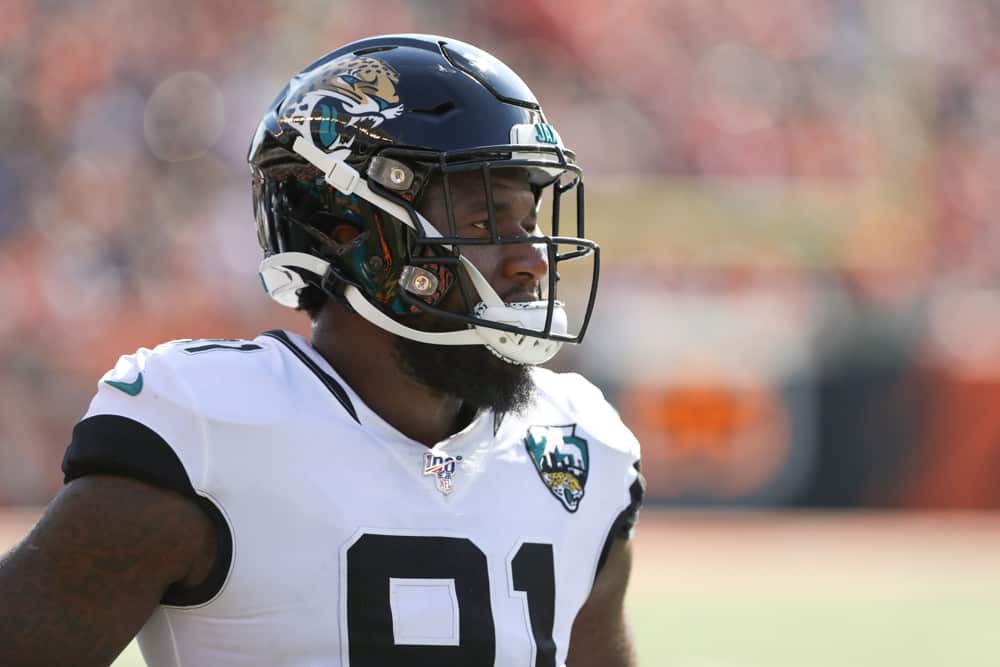 There has been speculation all offseason that the Jacksonville Jaguars are going to trade defensive end Yannick Ngakoue.
The Cleveland Browns don't seem like an ideal fit for Ngakoue, but could be in the mix for him.
The 25-year-old expressed his desire to be traded in March.
"The Jaguars are aware I no longer have interest in signing a long-term contract in Jacksonville," Ngakoue said.
Ngakoue wants to play elsewhere and he may very well get his wish sooner rather than later.
According to Michael Lombardi of the Athletic, Ngakoue is close to being traded.
According to NFL sources, Jacksonville is extremely close to trading Yannick Ngakoue today or tomorrow, have a firm offer in place–(hearing a two). looks like this holdout will be over soon and Jacksonville will get more picks for their tanking….

— Michael Lombardi (@mlombardiNFL) August 19, 2020
It doesn't sound like Jacksonville is willing to give Ngakoue an extension, so a trade seems likely.
At this point, Jacksonville appears ready to trade Ngakoue, but could the Browns be in on it?
Ngakoue To Cleveland?
Earlier in the offseason, Ngakoue mentioned that he wanted to be part of a team that has a great culture and where winning is a habit.
Sadly, that statement doesn't scream Cleveland Browns, but Ngakoue does not have much control over where he gets traded.
"I don't want to be part of a team that losing is a norm or anything of that nature," said Ngakoue.
The Browns don't need Ngakoue, but acquiring him would no doubt give Cleveland the best front-four in the league.
They already have Myles Garrett who received a massive contract extension this offseason.
Details on the extension for the #Browns and Myles Garrett: In his rather large 5-year, $125M extension, there are $100M in total guarantees and $50M fully guaranteed at signing. He's now under contract 2026. https://t.co/873RKFYdbk

— Ian Rapoport (@RapSheet) July 14, 2020
On the other side they have former Pro Bowl defensive end Olivier Vernon.
He is coming off a down year in 2019, but has a fairly solid track record to back himself up.
Vernon did play linebacker in 2018, so maybe the Browns could shift him over there if they acquire Ngakoue.
Ngakoue doesn't seem like the needed move right now, but when you get a chance to acquire a superstar player then you should at least consider it.
Ngakoue's Value
One of the main reasons Cleveland is an ideal home for Ngakoue is because they have plenty of cap space.
This season, Ngakoue will be making $18.3 million because Jacksonville applied the franchise tag on him.
Ngakoue believes he is an elite player, so he's likely going to want to be paid like one.
"I'm a top-five defensive end in this league — top-three — my play hasn't been able to be seen like that playing in Jacksonville," says Ngakoue.
He has recorded 122 tackles, 37.5 sacks, 14 forced fumbles and two interceptions over his first four seasons in the league.
The former third-round pick has become a force to be reckoned with on the field.
Most forced fumbles since 2017

T.J. Watt – 15
Chandler Jones – 13
Khalil Mack – 12
Aaron Donald – 11
Dee Ford, Yannick Ngakoue – 10

— NFL Stats (@NFL_Stats) August 19, 2020
That being said, Jacksonville is likely going to want a significant return in exchange for Ngakoue.
It's an organization that is leaning towards rebuild mode, so draft picks would be ideal.
The Browns have a fairly young core, so losing a few draft picks wouldn't be the end of the world.
Honestly, the biggest problem is going to be finding the money to pay all their young stars.
Cleveland is going to quickly have to decide which young players they want to build their future around.
They already have Garrett and a solid front-four, so adding Ngakoue is not a must.
Trust me, everyone would love to have a player like Ngakoue, but does it make sense for Cleveland?
That is going to come down to what Jacksonville wants and how much Ngakoue really believes he is worth.
The Browns shouldn't do this trade until they're positive they can come to terms on an extension with Ngakoue.
It sounds like we'll find out shortly whether or not Cleveland is truly interested in making this deal happen.