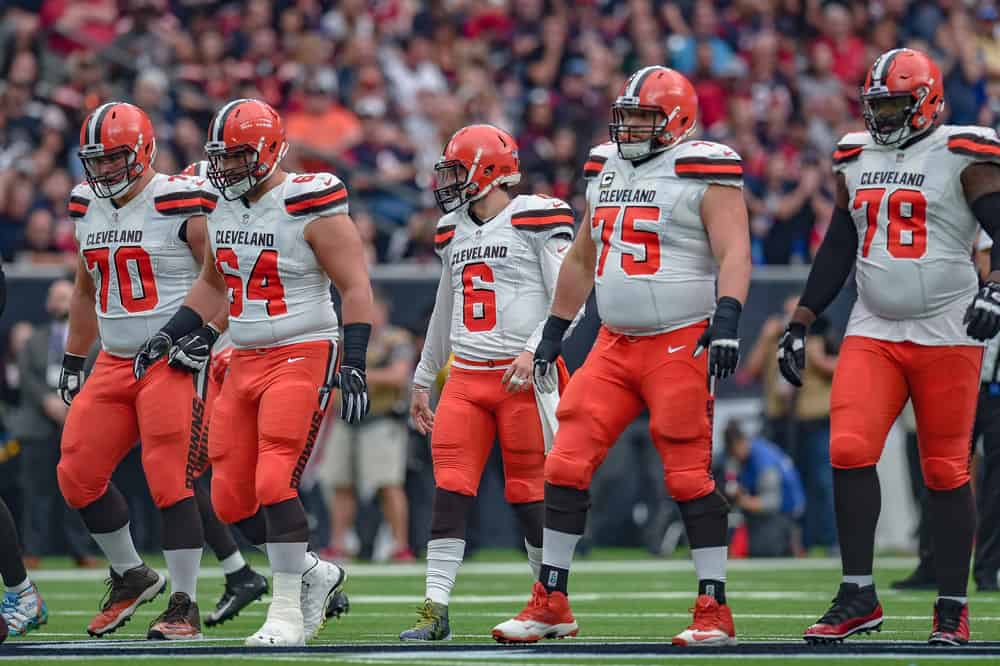 Ben Linsey of PFF recently released his list of the top 25 interior offensive linemen ahead of the 2020 NFL season, and the Browns are looking good with 2 mentions.
It is not a surprise, as the Browns impressively ranked sixth overall in pass block win rate as a team in 2019, according to ESPN.
Here are the details about the top two interior offensive linemen on the Browns:
1. Joel Bitonio
Drafted as the No. 35 overall selection in the 2014 NFL Draft, Joel Bitonio has improved throughout his career.
He has made each of the last two Pro Bowls, and he has been named second-team All-Pro in 2018 and 2019 as well.
PFF explains why he is high on the best interior offensive lineman list:
"A lot of heat came down on the Browns' offensive line in 2019, but that was directed more so towards the tackle position than the guys along the interior. Bitonio certainly wasn't at fault for their offensive woes, as he put up an 86.0 pass-blocking grade on the season — his third straight year above 85.0, joining Martin and Brooks as one of just three guards that can claim that feat since 2017.

Consistently putting out reps like the one above is the reason why Bitonio is one of the best pass-blocking guards in the NFL. Though Baker Mayfield finds his way into pressure, it's a strong rep from Bitonio — widening Cameron Heyward's path to the quarterback before seamlessly picking up Bud Dupree on the stunt."
The NFL world has recognized Bitonio as one of the best guards in the league.
Back in 2014, he began his NFL career on a strong note.
The Pro Football Writers Association named him to the All-Rookie Team that year.
Bitonio's pass block win rate of 96 percent ranked fourth in the NFL among guards last season.
In 2019, he played 1,039 snaps.
Bitonio allowed just three sacks last season.
He also had just three penalties called on him during all of last year, according to PFF.
Heading into 2020, the Browns are looking forward to another Pro Bowl season from Bitonio.
If he can keep up his performance, then the Browns will be well on their way to another top offensive line season.
2. J.C. Tretter
Unfortunately, J.C. Tretter may miss the beginning of the NFL season.
However, there is no doubt that he will make a tremendous impact when he plays for the Browns this season.
Here's what PFF had to say about Tretter:
"Few centers can claim to be a better, more consistent pass-protector than Tretter. In fact, over the last five seasons, the only center to record a higher PFF pass-blocking grade than Tretter is Hudson. The only thing keeping him down at 17th is that he lags behind some of the other top centers in the league when it comes to his work as a run-blocker.

Now, just imagine if the Browns hadn't traded away Zeitler. The trio of Bitonio, Tretter and Zeitler that shared the field in 2017 and 2018 was easily one of the best in the NFL. Alas, the Browns will have to settle for having two-thirds of that trio still on the roster — certainly not the worst of outcomes as the offense looks to rebound in 2020."
PFF does not rank Tretter as highly as Bitonio.
However, PFF believes in his ability to make an impact with pass blocking.
How good is #Browns C J.C. Tretter?

Highest pass blocking grades since 2015, among centers with at least 2500 snaps:

Rodney Hudson – 95.5
J.C. Tretter – 90.2
Brandon Linder – 88.2
Alex Mack – 84.2 pic.twitter.com/ctdJCrnYhi

— PFF CLE Browns (@PFF_Browns) August 15, 2020

Tretter's 98 percent pass block win rate ranked second among centers in 2019.
In the same number of snaps as Bitonio, Tretter allowed just one sack last year, according to PFF.
Unfortunately, the injury bug has hit Tretter, as his minor offseason surgery may prevent him from playing the first two weeks of the regular season.
University of Washington center and 2020 fifth-round selection Nick Harris may have to step into the starting role.
Even if Harris has to replace Tretter heading into the season, PFF's most improved offensive line in the league should still thrive.
Bitonio, Jack Conklin, and Jedrick Wills Jr. are ready to play as soon as possible, and they will be protecting Baker Mayfield in what hopes to be a very successful Browns season.