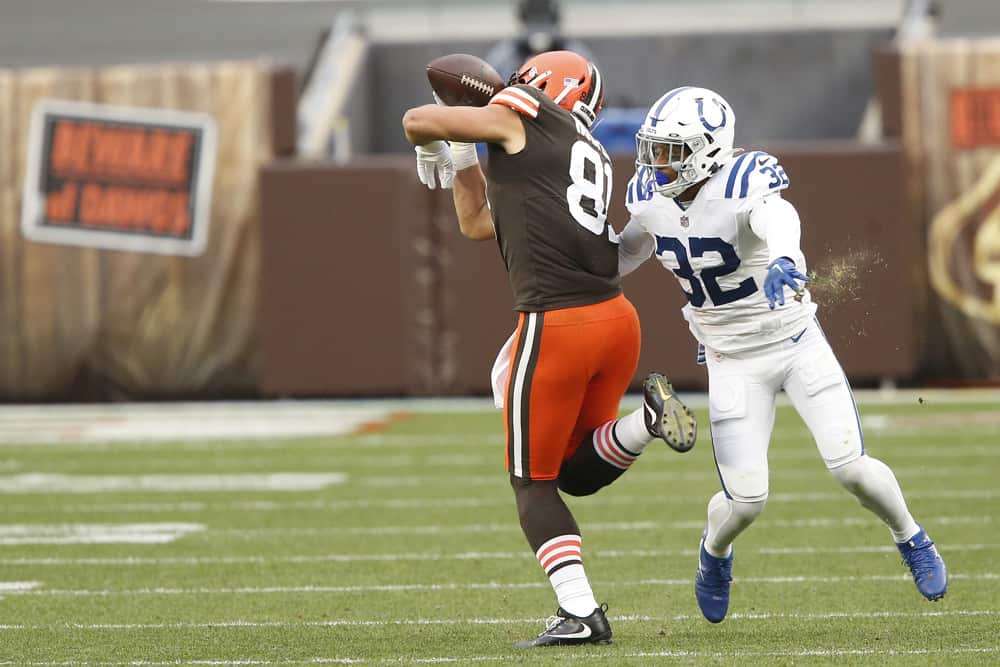 One of the big free agent signings for the Cleveland Browns in the 2020 offseason was tight end Austin Hooper.
Through his four seasons in Atlanta, he was a workhorse.
It was logical that GM Andrew Berry would want to add him to Coach Kevin Stefanski's offense that relies heavily on multiple tight end schemes.
Hooper finished the regular season with 435 yards receiving and 4 touchdowns; his production was down from 2019 with the Falcons.
He did miss playing time after undergoing an emergency appendectomy in the middle of the season, and Hooper suffered a neck injury after coming back.
In spite of all of this, he still found a way to dazzle his teammates and Browns' fans with clutch catches.
Here are his top three for the 2020 season.

3. Austin Hooper Goes Deep, New York Jets, December 27, 2020.
Baker Mayfield tells Austin Hooper to go long! #Browns pic.twitter.com/GsrmMwBlVe

— uSTADIUM (@uSTADIUM) December 27, 2020
Most of the season Austin Hooper was underneath or making short catches.
That's why this catch comes in third because he is the deep man and as usual he hauls the ball in to keep the Browns offense moving down the field.

2. Austin Hooper Keeps His Feet Inbounds For The TD, New York Giants, December 20, 2020.
Baker Mayfield connects with Austin Hooper to give the Browns the lead on SNF. pic.twitter.com/2senf4Il5C

— The Comeback (@thecomeback) December 21, 2020
While this catch is typical of another day at the office for Hooper, it certainly isn't simple.
He has to control the ball and his body to make sure he stays inbounds for the touchdown.
1. Austin Hooper's Clutch Catch Saves The Season, Divisional Playoff, Kansas City Chiefs, January 17, 2021.
Austin Hooper's 4th down catch 👀🔥 pic.twitter.com/DeAkKfwW4i

— Athlete Tweets 🔥➐ (@AthleteTweetts) January 17, 2021
Ranking this as Hooper's top catch of the season is a no-brainer for many reasons.
To begin with, this was a critical fourth down play where the Browns were challenging the Chiefs' lead.
Also, his body angle and where Mayfield places the ball makes it a tough ball to catch, but he does it.
Hooper prolonged the Browns season with this catch and arguably earned his big salary with this single play.
What's Next For Hooper
Browns fans can expect more of the same from Austin Hooper in 2021.
The fact that he and Mayfield have a year under their belts will make it more possible for them to convert big plays like these.
He is one of the few players that Andrew Berry and Kevin Stefanski do not need to make decisions about; his contract is a four year deal for $42 million.
2021 is only the second year, and at 26, Hooper should be at the prime of his career.
While we talked extensively about his catches, Coach Stefanski noted early in the season about Hooper's other contributions, i.e. blocking.
"Yes, I think there will always be more chances to get the ball, but if you look at any of our success we have had the first two ball games, No. 81 is typically heavily involved in that success, whether he is catching the ball or not. I do know that opportunities in the pass game, they come one week, and the next week, maybe they are not there. It is really kind of you judge it after a few games more than two."