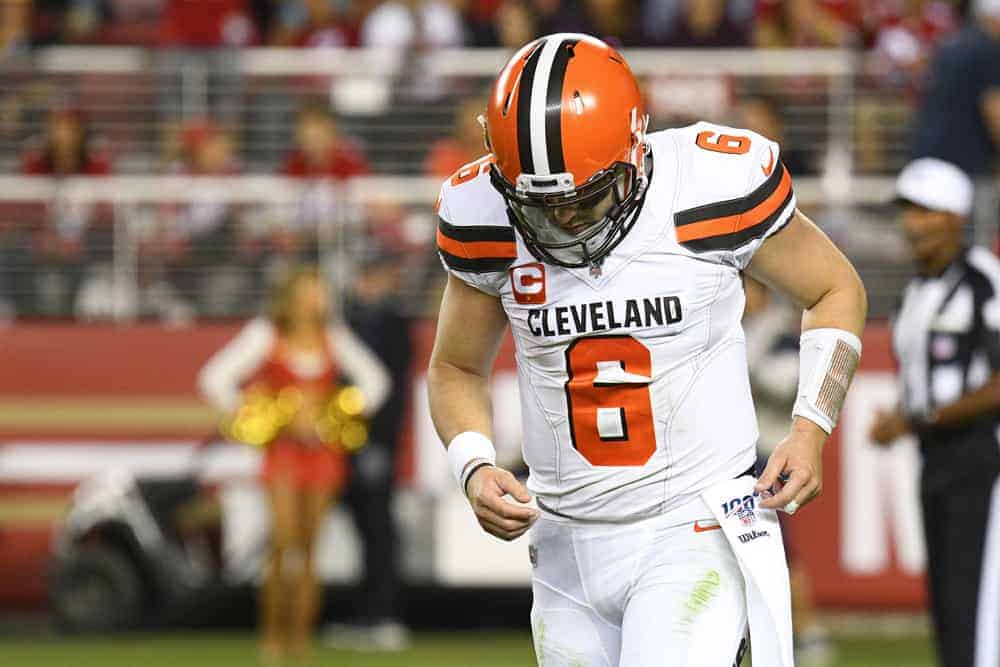 Pettiness is no stranger to the NFL.
Apparently, it's been familiar on the sideline of the Cleveland Browns as of late as well.
After an upsetting loss to the Pittsburgh Steelers that ended with Baker Mayfield on the bench, the starting quarterback voiced his displeasure with offensive coordinator Alex Van Pelt.
Or, rather, he didn't voice anything at all, as he gave Van Pelt the silent treatment as if he was his high school sweetheart.
What Happened?
Van Pelt recounted the events following the game, per Radio.com.
"Baker was not real happy. He did not talk to me for a little while after the game either. He wanted to stay in, as well", said Van Pelt.
However, the offensive coordinator also explained his fondness for that kind of passion from his players.
"Those are the guys you want on your team – the fighters, the guys that want to finish the race. Like I did say, this is a 16-game one-at-a-time sprint, and it is a little bit of a marathon in that regard. We had some guys injured that needed to get out of that game and get healthy for the long run. I do appreciate the fact that they want to play, and I love that about those guys".
Of course, Mayfield was dealing with injured ribs heading into the game, which were only worsened as the hits piled up on Sunday afternoon.
Bud Dupree 2nd sack ~ (14:17) B.Mayfield sacked at CLV 10 for -10 yards (B.Dupree). #Steelers pic.twitter.com/GjG3MN44MW

— BlitzburghUSAVideos (@sdextrasmedia) October 20, 2020
Mayfield was not alone in the injured bunch.
As Van Pelt mentioned, there were multiple guys who needed to get out of that game.
Among them was receiver Jarvis Landry, who revealed earlier this week that he has been playing with broken ribs since the Colts game.
#Browns WR Jarvis Landry talks about playing through a broken rib; head coach Kevin Stefanski & Joel Bitonio admire his toughness pic.twitter.com/PPLIrGvmhy

— Daryl Ruiter (@RuiterWrongFAN) October 22, 2020
Maturing and Developing
Sunday was beyond frustrating for the Browns, taking another pummeling from the Steelers.
Mayfield, who struggled from his very first pass onward, has every right to be upset after a game like that.
Is the silent treatment towards his OC something he should make a habit out of?
No, certainly not.
He knows that, though, as any professional in the league does.
He knows he has to be better.
#Browns Baker Mayfield on his performance. pic.twitter.com/OtMv8Rg7NG

— Fred Greetham (@FredGreetham) October 18, 2020
This is certainly one of those early legacy-defining situations he finds himself in, however.
His entire career will not solely be based on this one season.
But, he is being met with a hefty chunk of adversity right now.
If you punch "Baker Mayfield" into your Twitter search bar, the results are brutal.
The days of his early dancing videos that were filled with positive comments are gone.
Each week it's harsh criticism, whether it be from the media, fans, or both.
It's not totally unjustified, poor performances will bring that.
Even locks for the Hall of Fame go through it.
Look at what happened to Tom Brady on Twitter when he forgot what down it was.
The rest of this season can go one of two ways for Mayfield, provided he gets healthy again.
His next game, whether that comes against the Bengals or the Raiders, needs to be a good one.
He's owned up to needing to play better, that's great.
Talk can be cheap though, and the Browns need more walk then talk out of Mayfield right now.