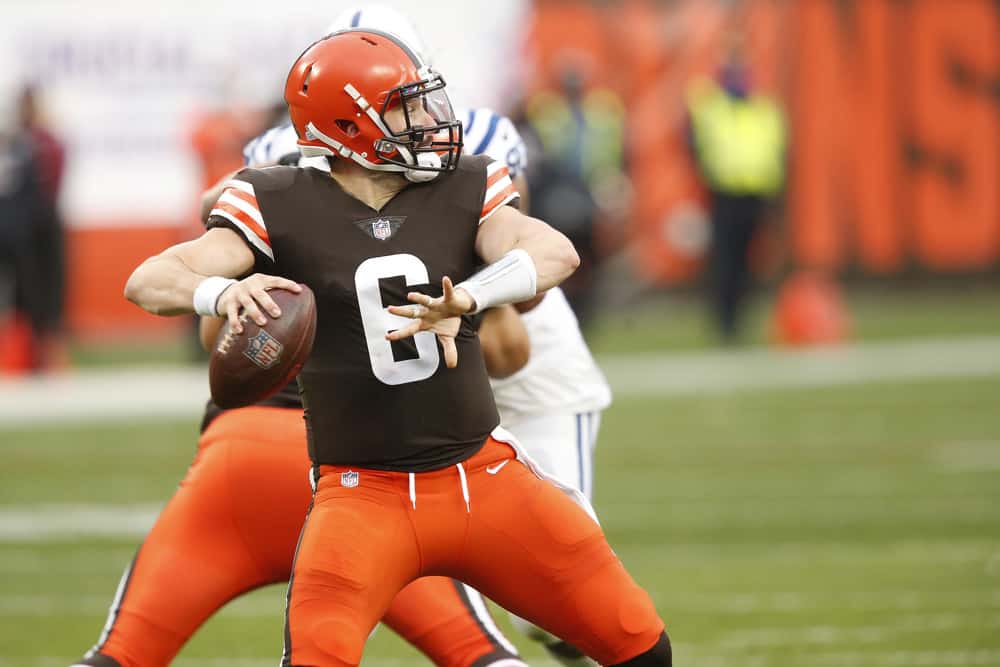 Baker Mayfield will get the bulk of this season to prove he can be a franchise quarterback.
Unless of course, he melts down along the way and gives the Cleveland Browns reason to bench him.
Reports are he gave his offensive coordinator the silent treatment in response to getting pulled from a lost game raises alarms.
Today marks Baker Mayfield's 11th career game with multiple interceptions.

Only Jameis Winston (13) & Philip Rivers (12) have more such games since Mayfield entered the league in 2018. pic.twitter.com/AqNpLy9biW

— ESPN Stats & Info (@ESPNStatsInfo) October 18, 2020
But Kevin Stefanski and Andrew Berry are committed to letting Mayfield win or lose the right to lead their team for the foreseeable future.
The former Heisman winner is surrounded by talent and Stefanski tailored much of the offense to his quarterback.
But a franchise quarterback has to be able to drop back and pass when the team needs a score.
So far, Mayfield has not shown enough to warrant his coronation in Cleveland.
That's why we're taking a look at three other options at quarterback for 2021, just in case.
Option 1: Trade For Sam Darnold
The New York Jets sport the NFL's only winless record after 6 weeks and their players are in near revolt.
When Steven McLendon was traded after New York's shutout loss in Miami, he couldn't get away from the Jets soon enough.
Instead of returning to New York, he walked out of Hard Rock Stadium, rented a car, and drove the 250 miles to Tampa Bay.
Sam Darnold was drafted two slots after Baker Mayfield to be the Jets franchise quarterback.
He is suffering through his worst season yet in an offense without identity.
"We haven't seen him with the group that we drafted and signed…some of these games have been hard to evaluate him, it's survival mode"

Adam Gase on Sam Darnold's development: pic.twitter.com/YCROYATbeO

— Jets Videos (@snyjets) October 21, 2020
Ryan Tannehill suffered in Adam Gase's offense for several seasons, too, before he escaped to Tennessee.
With the Titans, Tannehill blossomed into a top-five quarterback and has the Titans at 5-0.
Tennessee (+1.5) is a popular pick to beat the Pittsburgh Steelers this week.
The Jets are expected to fire their manager and GM and start their rebuild by drafting Trevor Lawrence.
Cleveland and Stefanski provide a much better environment for a talented quarterback to blossom.
There are plenty of reasons to suspect Sam Darnold will be the next Tannehill with competent coaches in place.
Option 2: Find A QB In The 2021 Draft
Andrew Berry and Paul DePodesta built a solid and competitive team for 2020.
We should expect them to replace some aging parts with more young talent supplementing their established stars.
The Browns might not be built to "win now," but they are definitely built to win "pretty soon."
That might make Cleveland less likely to spend the capital necessary to trade into position for a top quarterback.
But there is an interesting prospect who might fall to the Browns as late as the third round.
Jaime Newman is my #5 ranked QB in the 2021 NFL Draft and he's got significant traits to work with @jlmn12_

Full scouting report here‼️#nfldraft #scouting @SChornobroff @TWSNETT https://t.co/LFvbMxwgOp pic.twitter.com/ZvgaiCy5YY

— Daniel Alameda (@DanielAlameda11) July 2, 2020
Former Wake Forest quarterback Jaime Newman opted to skip the 2020 draft and transferred to Georgia.
He drew plenty of attention last year as a legitimate professional prospect, and he thought better exposure at Georgia would lift his status.
But then he decided to sit out 2020 and immediately declared for the 2021 NFL draft.
His lost season will probably prevent him from climbing into the first round, even with a good combine.
But he needs to show enough to make Berry believe he is still a dual-threat, athletic quarterback with good size and a live arm.
Berry would then do well to take a chance on Newman with his extra third-round pick, or if necessary, a second-rounder.
Such a decision will require a short term free agent signing, like Andy Dalton or a recently cut Kirk Cousins.
Option 3: Sign Cam Newton
There are some big names available in free agency, although most are not real options for the Browns.
There is a very low likelihood Berry will get into a bidding war with Jerry Jones for Dak Prescott.
Mitch Trubisky, Tyrod Taylor, or Ryan Fitzpatrick won't generate any more excitement than Case Keenum.
If New Orleans gives Drew Brees another season or hands the reins to Taysom Hill, Jameis Winston might bolt.
Winston would be worth signing, especially with Stefanski's history of fixing interception issues.
Bit a more likely prospect is Cam Newton.
Highest-graded QBs in the 2nd half of games this season:

🔹 Aaron Rodgers – 94.8
🔹 Russell Wilson – 91.6
🔹 Cam Newton – 88.4 pic.twitter.com/nhxPE69skQ

— PFF (@PFF) October 15, 2020
Unless Newton and the Patriots turn things around soon, Bill Belichick will start a youth movement.
Most mock drafts have New England drafting another quarterback, reflecting Jason Stidham's shaky standing.
Belichick is also monitoring the Jimmy Garoppolo situation in San Francisco.
Newton is a free agent regardless and a team built to win pretty soon might attract his attention.
Cleveland's assortment of skill players can make a winner out of a competent quarterback.
And Cam Newton has the drive and ambition to accelerate Cleveland's Super Bowl schedule.
Another Long Shot to Pique Your Interest
Atlanta has too many needs to add a quarterback to their list.
Matt Ryan will not be released or traded any time soon.
But Carson Wentz might be.
Philadelphia is still alive in the horrendous NFL East, but that is not saying much.
If they decide to switch to Jalen Hurts midseason and he shows any promise, Wentz could be available.
It would take some creative financing and contract work to deflect his $38 million cap hit, but it's possible.
Berry is unlikely to give Trubisky or Dwayne Haskins the opportunity to prove their first teams wrong.
And Mayfield is probably not going to play out the fourth season of his rookie deal in Cleveland.