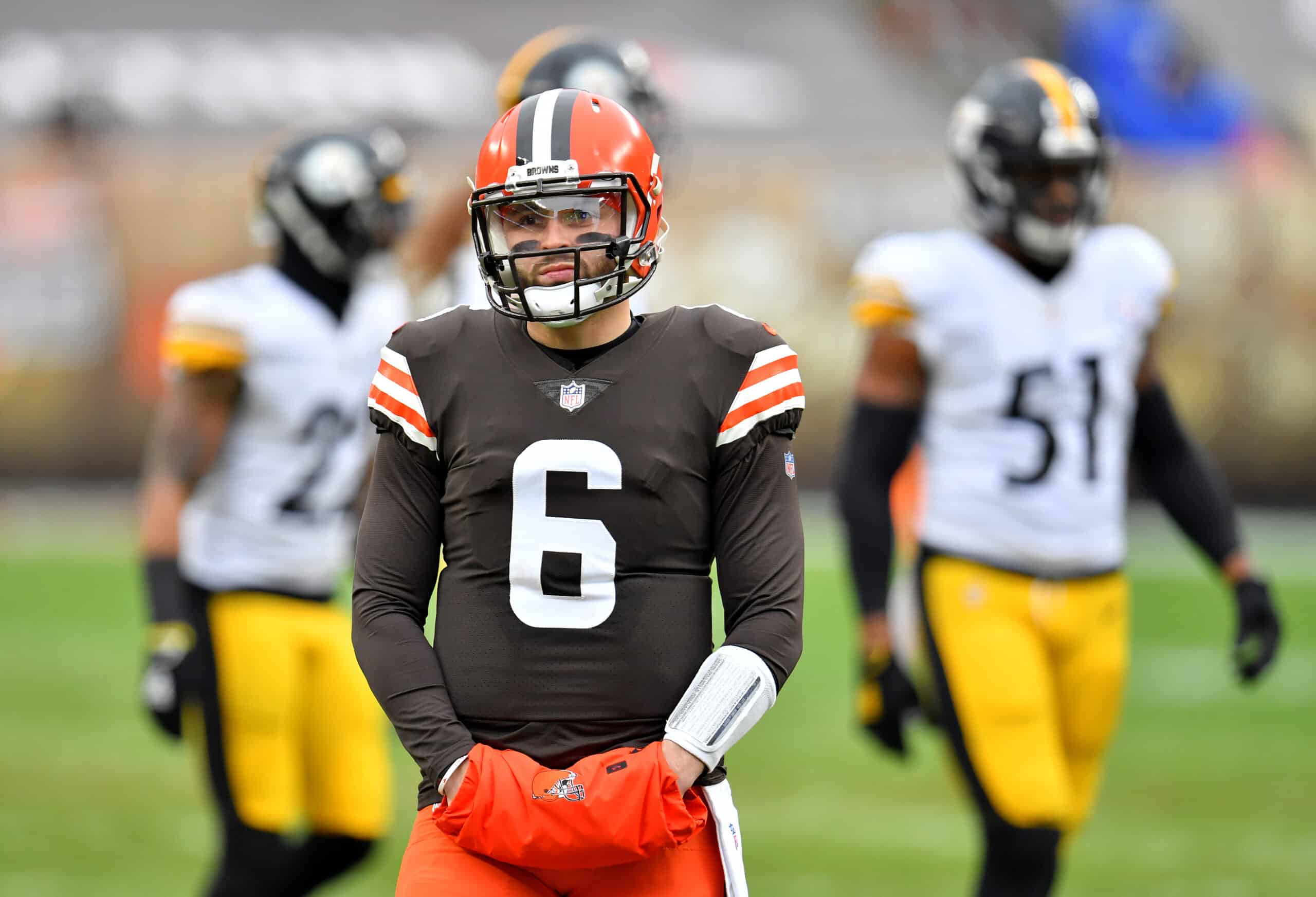 Since being drafted in 2018, quarterback Baker Mayfield has been criticized by the media.
However, Mayfield came out and put together a rookie record setting campaign, which helped quiet the hate.
Sadly, media personalities such as Collin Cowherd continue to hate on Mayfield for every little thing he does.
At this point, we all know it's for ratings, but Cowherd and others need to back off Mayfield.
Stop 👏 disrespecting 👏 Baker 👏 Mayfield 👏@danorlovsky7 doesn't want to hear it.

"Baker Mayfield resurrected the worst franchise in sports in America!" pic.twitter.com/KjWXEwNdmW

— Get Up (@GetUpESPN) June 30, 2021
A sophomore slump put Mayfield in some hot water, but the borderline Pro Bowl campaign in 2020 saved Mayfield.
Right now, no one should be claiming Mayfield cannot be a franchise quarterback.
The hate needs to stop, Mayfield has helped lead the Cleveland Browns to a playoff victory.
He has done more than any other Browns quarterback over the last decade, but continues to get criticized more than them.
Keep Piling It On
Sadly, the media is going to continue hating on Mayfield because it helps get viewers.
To be fair, Mayfield hasn't done himself any favors in the past, but has been professional since joining the Browns.
Earlier this offseason, he went out of his way to greet all the new additions to the Browns roster.
He also went and practiced with his teammates in Florida during the offseason.
Instead, the media wants to talk about how Mayfield skipped involuntary workouts.
That decision was met with plenty of backlash from the media and fans.
Baker Mayfield a NO SHOW at voluntary OTA. Not the type of leader that @Browns A.B. Wants. @MylesLGarrett the TRUE leader of the @Browns football team @JDubsIII

— BornInOHIO 💯🏈🏀⚾️ (@THE_OhiOGuys) June 2, 2021
It seems that no one wants to give credit to Mayfield when he does something good.
Instead, everyone wants to wait until he makes a minor mistake or misses a non-required practice before talking about him.
To be fair, that comes with the territory of being a franchise quarterback in the NFL.
A franchise quarterback steps up and takes the blame even when it's not his fault.
A New Deal
The Browns are likely going to reward Mayfield's excellent play with a new contract extension in the near future.
He is coming off a fantastic third year where he helped Cleveland get into the second round of the playoffs.
Mayfield has done enough to warrant a long-term deal with Cleveland, but we'll see what happens.
Over the offseason, Mayfield mentioned that he's not worried about an extension and wants to focus on winning games.
Baker Mayfield on a potential contract extension: "I'm in no rush. Right now I'm focused on winning games. … Cleveland is a blue collar town that values hard work. I think that's part of why it's been such a good fit…. I believe everything happens for a reason."

— Nick Karns (@karnsies817) June 16, 2021
A new deal is likely going to be in the range of 30 or more million per season.
Once Mayfield gets paid, he'll get ripped apart for every little mistake he makes.
He'll be called "overpaid" as soon as he throws his first interception.
However, that is part of being a superstar and franchise player for a team.
There is going to be significant backlash whenever he plays or does something wrong, but he just needs to continue moving forward.
Mayfield needs to keep his focus on football and let that do the talking for him.