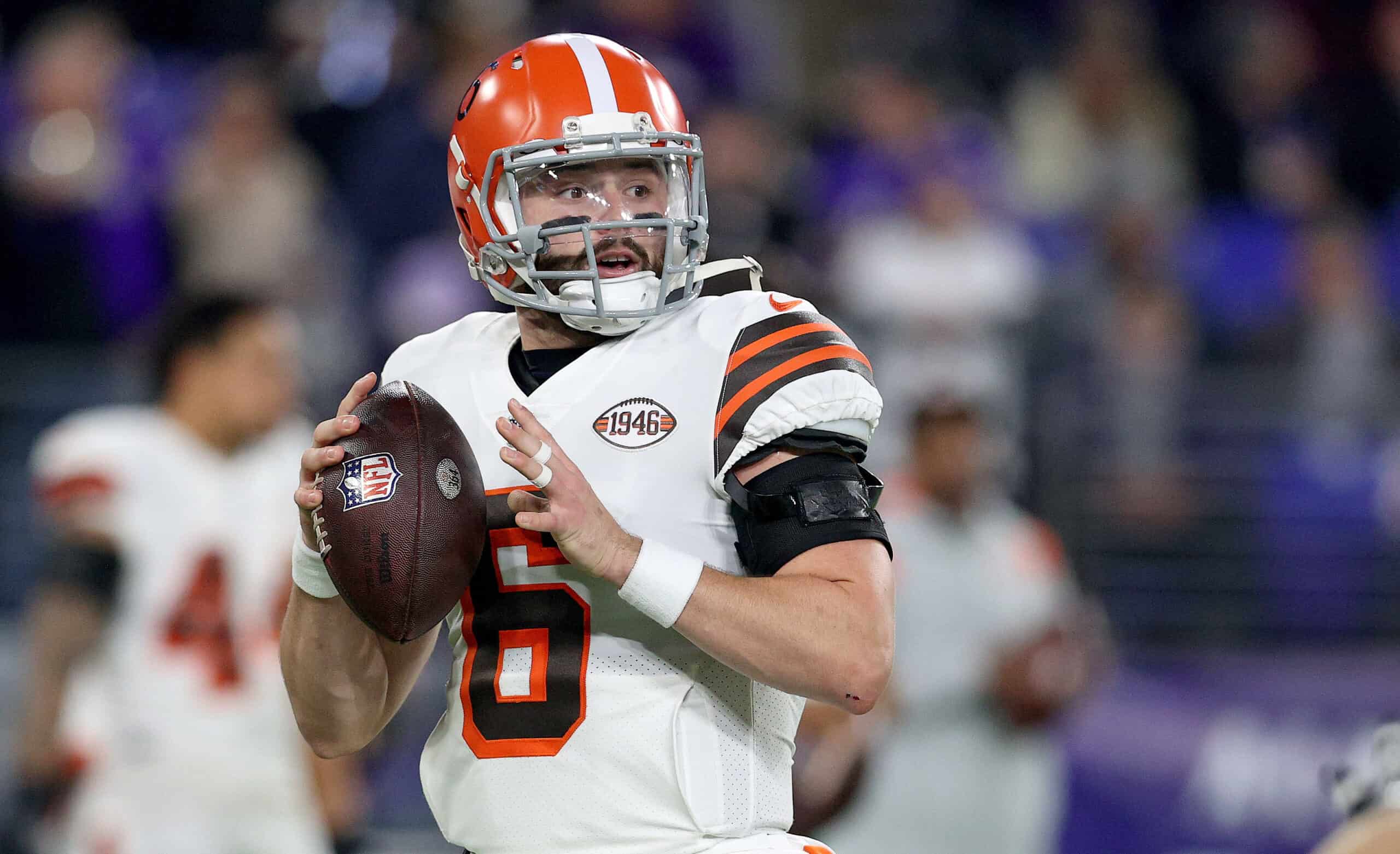 It has been a struggle for the Cleveland Browns offense over the last few weeks.
In fact, they haven't scored over 13 points in any of their last three games.
One of the main reasons this offense has been stale has been the play of quarterback Baker Mayfield.
The organization claims they won't make a change under center, but Mayfield's poor play could force them to make a change.
Cleveland is running out of time to make a push for the playoffs and needs to win now.
How Bad Is Mayfield?
To be fair, the 26-year-old quarterback is dealing with a completely torn labrum in his left shoulder.
It is his non-throwing shoulder and has only forced him to miss one game this season.
Although, Mayfield is expected to have surgery this offseason, which would sideline him 4-6 months.
Until then, the organization plans to start Mayfield and ride out the rough patch.
Since Week 10, Mayfield has completed 44 of 87 passes (50.5 percent) for 496 yards with three touchdowns and three interceptions.
Somehow, Mayfield's play has actually been worse over the last three games.
In fact, he is the only quarterback with a passer rating under 80 over the last three weeks.
Baker Mayfield is the only NFL QB with a Passer Rating under 80 in each of the last 3 weeks. pic.twitter.com/fSjrlwIRBP

— NFL on CBS 🏈 (@NFLonCBS) November 29, 2021
As already mentioned, Mayfield does deserve somewhat of a break because he is playing injured.
Although, Mayfield has been playing below average all season long.
Right now, Pro Football Focus grades Mayfield as the 26th best passer this season.
It doesn't appear that things are going to get better for Mayfield, but at least he has a bye week coming up.
The hope is that the Browns' possible franchise quarterback can turn it around down the stretch.
Time For A Change?
Browns head coach Kevin Stefanski mentioned the organization has no plans of replacing Mayfield as the starter after their Week 12 loss.
It is quite surprising the coaching staff isn't considering a change since Mayfield's play has been disappointing lately.
Although, he did have some promising moments against the Baltimore Ravens in Week 12.
Despite having a capable backup option in Case Keenum, Cleveland will stick with Mayfield going forward.
The hope was that Mayfield might turn it around after Odell Beckham Jr. was released.
Last season, the Browns' offense seemed to play better together after Beckham suffered a season-ending injury.
However, the results have not been the same for the Browns this time around without Beckham.
Baker Mayfield stats without OBJ this season

1,248 Yards
6 TDs
5 INTs

Man I thought Odell was the problem 🤔 pic.twitter.com/fqPe0gXJMO

— 𝙈𝙞𝙘𝙝𝙖𝙚𝙡🎄 (@LikeMike_05) November 29, 2021
There is still time for the Browns offense to turn it around before the playoffs.
Although, these disappointing results from Mayfield over the last few games are concerning.
The Browns offense isn't scoring right now and a change at quarterback seemingly cannot make it worse.
It seems like the Browns aren't ready to give up on Mayfield despite a few ugly performances.
Possibly, Mayfield can turn it around after the bye week in a rematch against the Ravens in Week 14.
The clock is ticking on Mayfield to prove he is worth a long-term extension and the franchise quarterback for the Browns.