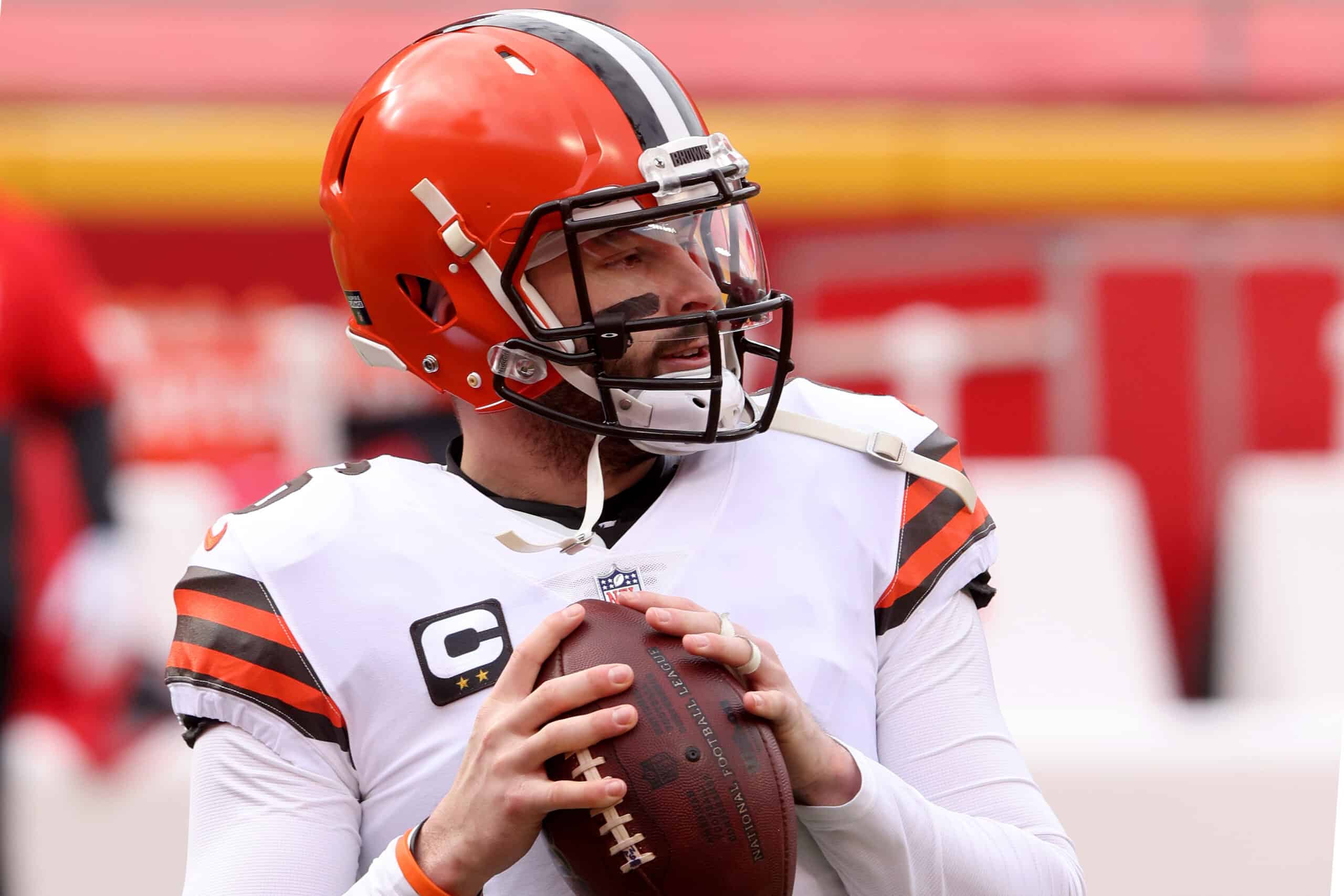 It is no secret that Cleveland Browns quarterback Baker Mayfield is off to a great start in 2021.
If we asked him, he would probably talk about the two passes that turned out to be interceptions that he would like to take back, one in each game.
The rest of his passes have been delivered with zip and accuracy even after suffering a left shoulder injury on Sunday against Houston.
In this stat driven sport, how does Mayfield stack up against the other NFL quarterbacks after two games?
He is the league leader in completion percentage.
Check out the list.
After 2 games, Baker Mayfield leads the NFL in completion percentage:
1. Mayfield 81.6%
2. Bridgewater 77.1%
3. Prescott 76.5%
4. Mahomes 76.1%
5 .Wilson 74.1%#Browns

— Jake Trotter (@Jake_Trotter) September 20, 2021
Mayfield leads the pack with an 81.6% completion percentage.
Behind him are Teddy Bridgewater of the Denver Broncos, Dak Prescott of the Dallas Cowboys, Patrick Mahomes of the Kansas City Chiefs, and Russell Wilson of the Seattle Seahawks.
That is impressive company overall, and Mayfield is the only AFC North quarterback in the top five.
What It Means
Obviously, all five of these quarterbacks are very accurate passers thus far in 2021.
It is true that Mayfield attempted the least amount of passes of the five players.
Here is the order of the top five by the number of attempted passes from most to least.
Prescott, 85
Bridgewater, 70
Mahomes, 67
Wilson, 54
Mayfield, 49
Some will say that the fact Mayfield attempted the fewest throws muddies the water on his league-leading percentage.
That could be true, but the bottom line is that he completed 81.6% of the passes he has thrown.
Who Is Missing
There is one glaring omission on this list.
Where is Tampa Bay's Tom Brady?
Brady has completed 56 of 86 passes through two games.
That is a completion percentage of 65.1%.
The other quarterback I was curious about was Mayfield's AFC North peer, Lamar Jackson of the Ravens.
Jackson has completed 37 of 56 passes for a completion percentage of 66.1%.
Conclusion
Teddy Bridgewater is having an excellent start to his 2021 season.

Is that because of the change of scenery or because of the level of competition he's faced? @jfmckessy examines.#FrontOffice33 | #BroncosCountryhttps://t.co/1JlZ9xPMUn

— The Draft Network (@TheDraftNetwork) September 21, 2021
Wins are the most important stat in football, and Teddy Bridgewater's Denver Broncos are leading the quarterbacks and teams on this list.
The Broncos are out to a 2-0 record and have their home opener coming up in Week 3 against the New York Jets.