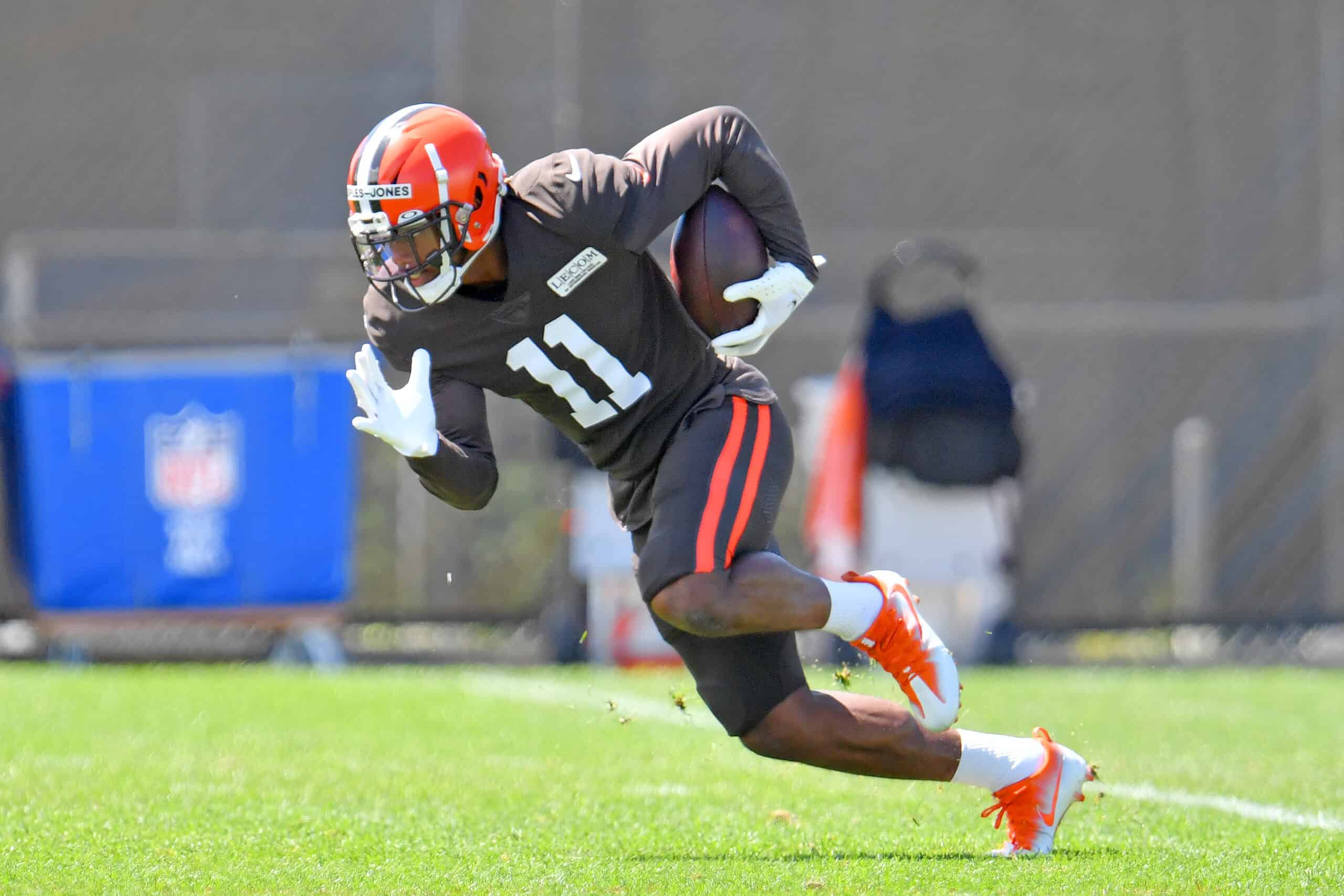 The Cleveland Browns are in uncharted territory.
Wide receiver Jarvis Landry is on IR, and Odell Beckham Jr. is still recovering from his torn ACL.
Though there are indications that OBJ will be back in Week 3, he could be on a fixed snap count.
Both Landry and OBJ are the veterans in the Browns' wide receiver room; each is turning 29 in November.
With uncertainty around both of them, the youth movement will be on full display for the Browns wide receivers.
With #Browns Jarvis Landry on IR for at least 3 games, Donovan Peoples-Jones, Anthony Schwartz and Demetric Felton will have to grow up fast https://t.co/TZEcgMaGQk

— Mary Kay Cabot (@MaryKayCabot) September 21, 2021
Rashard Higgins is nearing his 27th birthday and is the veteran of the group.
Statistically Higgins, in his 6th season, had his best year in 2020 with 599 receiving yards and 4 touchdowns.
He should have a bigger role during this time also, but the three youngsters will need to step up also.
They are 21, 22, and 23 years of age.
All were drafted by the Browns in either 2020 or 2021.
They will have more plays and pressure placed upon them to deliver in the absence of Landry and OBJ.
From youngest to oldest, they are as follows.
Schwartz has played a little in the absence of OBJ.
We have not been treated to a large sample size of plays demonstrating his speed; that speed earned the former track star the nickname "Flash."
Schwartz showed his inexperience on the fateful Mayfield interception play against the Texans when Mayfield injured his shoulder.
He needs to gain experience and confidence at a quicker pace than the Browns originally envisioned.
#Browns HC Kevin Stefanski said rookie WR Anthony Schwartz made a mistake by stopping short on his route on the INT and he won't make that mistake again

— Nate Ulrich (@ByNateUlrich) September 19, 2021
Second Year Player – Donovan Peoples-Jones – 22 years old
Peoples-Jones had a fantastic training camp and preseason.
So far none of that has translated into regular season success.
It is unclear why he has not connected in a big way with Mayfield yet.
Donovan Peoples-Jones has played roughly 78% of the offensive snaps for Cleveland and has just two targets through two weeks.

— Ryan Fowler (@FowlerRyan1) September 21, 2021
He also played last season in OBJ's absence.
Of the three young receivers, he is the most experienced to carry the load while OBJ and Landry are healing.
Rookie – Demetric Felton – 23 years old
Felton caught his first-ever NFL pass on Sunday against the Texans.
Demetric Felton spin move shook three defenders 😨

(via @NFL)pic.twitter.com/zH0SMt5ayL

— Bleacher Report (@BleacherReport) September 19, 2021
By the way, it was a touchdown, and it was also Mayfield's first touchdown pass of the season.
Felton has quietly worked hard through training camp learning the playbooks of multiple positions.
He can be a running back, a wide receiver, and he has made his presence known on special teams in kick and punt returns also.
Felton is a rare find and just what the Browns like; a young, smart player who can be plugged into various capacities and perform well.
He got his feet wet last week with the touchdown catch so there will be more to come for him.
Conclusion
Besides the young receivers, the other security blankets Mayfield has are the tight ends: Hooper, Njoku, and Bryant.
Kareem Hunt is also a good receiver who can line up in the backfield or on the line of scrimmage.
It will be interesting to watch how creative Coach Stefanski and offensive coordinator Alex Van Pelt are in using these three young receivers in the coming weeks.