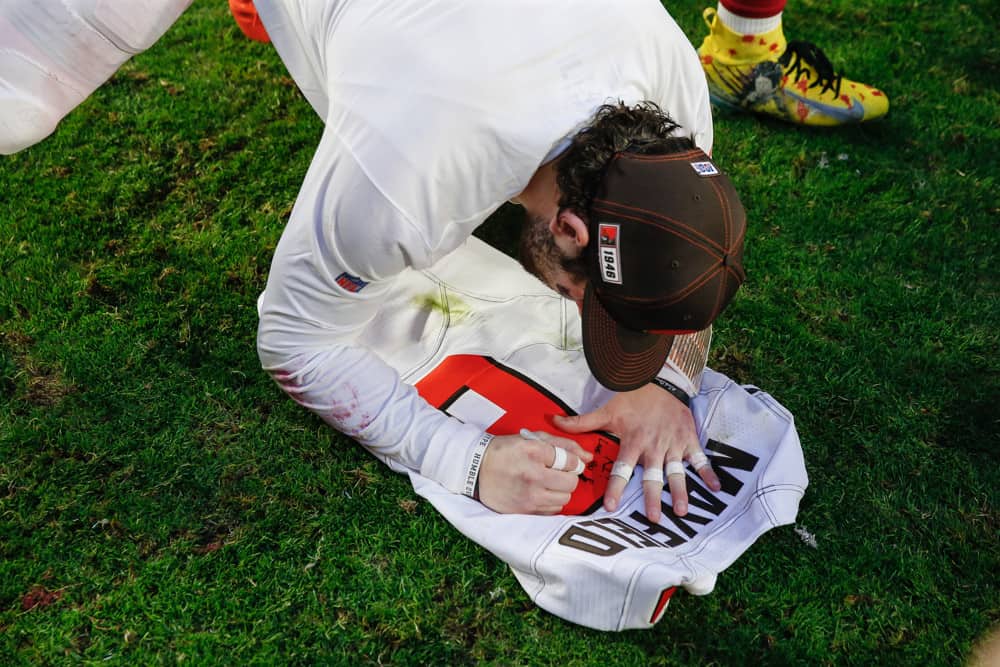 The Cleveland Browns were one of the few bright spots in 2020.
That is evidenced by the recent release of top ten players in terms of jersey sales.
Both QB Baker Mayfield and RB Nick Chubb finished the season in the top ten.
No other sport sees jersey sales move as much week-to-week as the NFL– it's what makes our job @fanatics so much fun!! But the more things change, @PatrickMahomes and @TomBrady remain on top again, finishing #1 and #2 for the season. Here's how jersey sales played out… let's go! pic.twitter.com/5XAVBtBkl4

— Michael Rubin (@michaelrubin) January 8, 2021
Only the Browns and the New Orleans Saints had multiple players in the top ten.
Mayfield Comes In At Number 2.
Baker Mayfield has been an underdog his whole life and beaten the odds.

A win Sunday night would be his biggest achievement yet. pic.twitter.com/lD3eaH7z8x

— MoreForYouCleveland (@MoreForYou_CLE) January 7, 2021
QB Baker Mayfield's leadership down the stretch to catapult the Browns into the playoffs is the likely reason his jersey sales ranked second in the NFL.
The 25 year old is in the midst of his career-best season as the Browns attempt to win their first playoff game in 18 years on Sunday.
Chubb Comes In At Number 7.
NICK CHUBB pic.twitter.com/7qOur2N4Ws

— Barstool Sports (@barstoolsports) January 3, 2021
RB Nick Chubb's jersey was also a hot commodity this year.
With his consistent performances interrupted only by injury, Nick Chubb remains a Cleveland Browns' and NFL fan favorite.
His is the highest-selling jersey by a player other than a quarterback.
Quarterbacks Dominate The Top 10.
Quarterbacks, as usual, rue the day when it comes to jersey sales.
Eight of the top ten jerseys are for QBs.
The top ten is as follows:
Patrick Mahomes, QB, Kansas City Chiefs
Baker Mayfield, QB, Cleveland Browns
Aaron Rodgers, QB, Green Bay Packers
Tom Brady, QB, Tampa Bay Buccaneers
Josh Allen, QB, Buffalo Bills
Lamar Jackson, QB, Baltimore Ravens
Nick Chubb, RB, Cleveland Browns
Russell Wilson, QB, Seattle Seahawks
Alvin Kamara, RB, New Orleans Saints
Drew Brees, QB, New Orleans Saints
It's somewhat surprising that the Pittsburgh Steelers do not have any players in the top ten given their impressive 11-0 run.
However, it comes as no surprise that Super Bowl MVP Patrick Mahomes has the top selling jersey in the NFL this year.
One thing is for sure, neither Baker Mayfield nor Nick Chubb is thinking about jersey sales as the team prepares for its first playoff game in 18 years.
A lot is on the line for the underdog Browns dealing with massive COVID-19 issues as they take on the Pittsburgh Steelers on Sunday night.