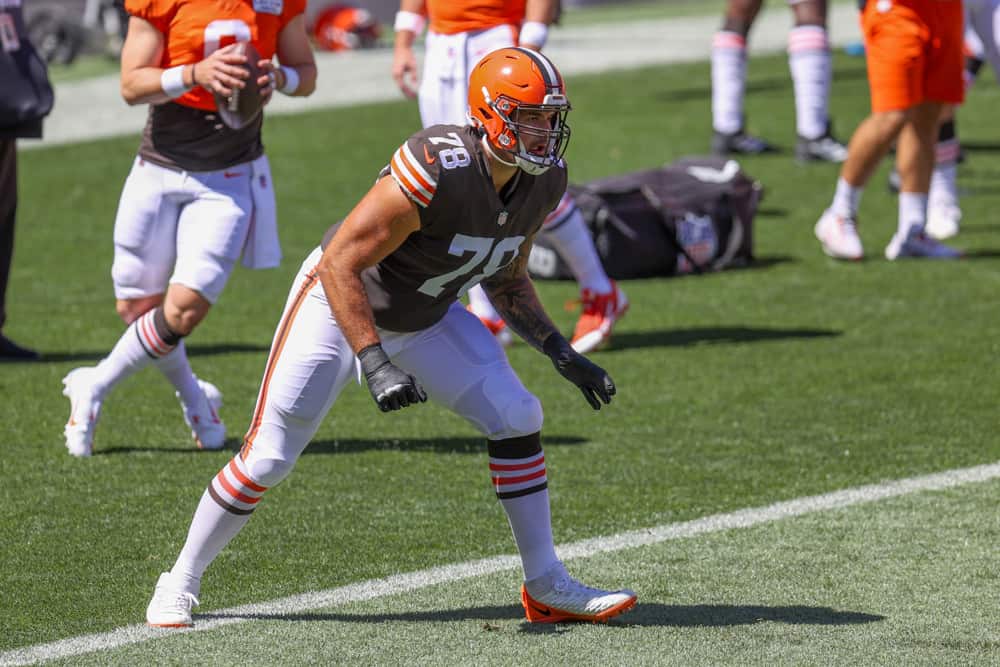 The Associated Press released its 2020 All-Pro Team selections today, and the Cleveland Browns are well-represented.
Among the first team All-Pro selections are Browns' DE Myles Garrett and RT Jack Conklin.
The Browns haven't had two first team selections in the same season since 2013.
#Browns  DE Myles Garrett and RT Jack Conklin have been named to the AP All-Pro Team for the 2020 season. Congrats to both!

— Cleveland Sports Talk (@CLEsportsTalk) January 8, 2021
Myles Garrett and Jack Conklin give the Browns 2 players on AP's All-Pro 1st team. First time that's happened since 2013, when Josh Gordon and Joe Thomas made it.

— Andrew Gribble (@Andrew_Gribble) January 8, 2021
Myles Garrett, DE
Garrett, in his fourth NFL season, was on pace for Defensive Player of the Year consideration before he contracted COVID-19 and missed two games.
This is Garrett's first time to be selected on the first team.
In 2018, Garrett was selected to the second team.
Through 14 games this season, Garrett has 33 solo tackles, 18 quarterback hits, and 2 fumble recoveries.
Garrett has been the undisputed leader of the defense and despite feeling some nagging effects from COVID-19 has come back and played well.
Jack Conklin, OT
This is the second time Jack Conklin earned first team honors.
The last time was in his rookie season (2016).
Conklin played four seasons in Tennessee before signing with the Browns in the 2020 offseason.
He has played in 15 games.
Conklin is dealing with a knee injury so it is not yet known if he will play in Sunday's wildcard game against the Pittsburgh Steelers.
AP All-Pro second-team honors went to Browns' guards Joel Bitonio and Wyatt Teller.
#Browns G's Wyatt Teller and Joel Bitonio named to All-Pro 2nd team pic.twitter.com/5qbwPkMwOy

— MoreForYouCleveland (@MoreForYou_CLE) January 8, 2021
Joel Bitonio, G
This is the third consecutive season that Bitonio has been named to the second team.
Bitonio has been a career Cleveland Brown since being drafted in 2014.
The team has been ravaged by COVID-19, and Bitonio's positive test this week was one of the most devastating.
Not only because of his on-the-field leadership, but also because he is the longest tenured Cleveland Brown who endured those losing seasons to finally get to the playoffs.
Wyatt Teller, G
This is Teller's first time being named an All-Pro.
He earned second team status by doing his part to ensure Nick Chubb and Kareem Hunt could earn those massive rushing yards.
Likely the only thing that kept him from being named to the first team was injury.
Teller suffered a strained calf early in the season and is now dealing with the ankle injury.
Like Conklin, his availability for the wildcard game is yet to be determined.