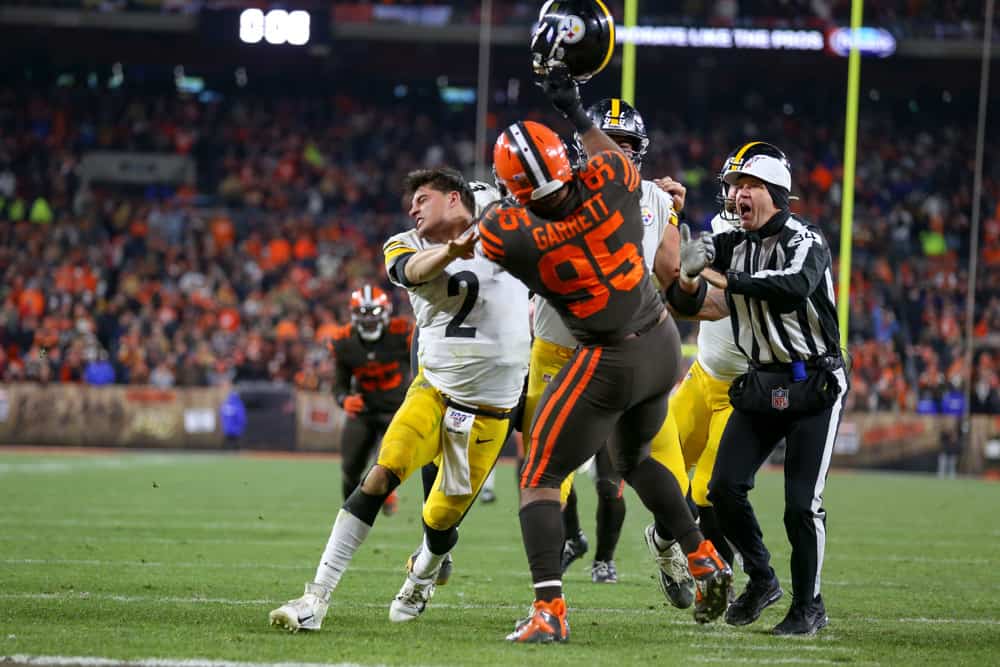 As the final minute of the Cleveland Browns' victory over the Pittsburgh Steelers winded down, Browns' fans felt overwhelmingly positive about the remainder of the season. The Browns played well on both sides of the ball, forcing turnovers on defense and scoring in the red zone on offense.
Unfortunately, after a Myles Garrett sack, the tone of the game changed. Fans sat in silence, as they watched Garrett rip off Steelers' quarterback Mason Rudolph's helmet and swing it at his head. Garrett connected, while Maurkice Pouncey tried to get in between his quarterback and the Browns' defensive end.
Myles Garrett just hit Mason Rudolph in the head with Rudolph's helmet. Yikes. He has to be suspended multiple games for this. That's wild. Never seen it before. pic.twitter.com/BWPKxUAKOc

— Clay Travis (@ClayTravis) November 15, 2019
Pouncey eventually tackles Garrett to the ground and punches him multiple times in the head. Both Garrett and Pouncey earned ejections. NFL officials ejected Browns' defensive tackle Larry Ogunjobi, as well. He pushed Rudolph to the ground during the fight.
During an on-field, post-game interview, Baker Mayfield spoke his mind about the situation.
"I didn't see why it started. but it's inexcusable. I don't care, rivalry or not, we can't do that. That's kind of the history of what's been going on here lately, hurting yourself, and that's just endangering the other team. It's inexcusable, he knows that. I hope he does now. It's tough. We'll see."
He continues,
"I don't think there's anything in that moment that I can really say to calm him down. The reality is he's going to get suspended, we don't know how long, and that hurts our team. We can't do that. We can't continue to hurt this team. It's inexcusable."
Baker Mayfield incredibly professional after the game on the Myles Garrett vs. Mason Rudolph incident.

"It's inexcusable." pic.twitter.com/zdYZHUaufq

— Carson Cunningham (@KOCOCarson) November 15, 2019
Mayfield showed much-needed poise and leadership. Garrett's action directly impact Cleveland's chances of making the playoffs.
After this week, the Browns move to 4-6. First place in the AFC North will be difficult to capture, but prior to Garrett's ejection, the Browns were finally making their division interesting.
After the ejection, it is almost definite that Garrett receives a lengthy suspension. With Olivier Vernon currently out with an injury, the Browns' defense is struggling to find viable replacement edge rushers.
This is all on the heels of Antonio Callaway being released for another NFL substance-abuse allegation.
Luckily, next week, the Browns stay home for a 'gimme' game against the Miami Dolphins. The week after that, they travel to Pittsburgh. The NFL would be wise to suspended Garrett for at least two weeks in order to ensure that he doesn't take the field against the Steelers again.
Even if Garrett receives a four-game suspension, the Browns should win against the Cincinnati Bengals and Arizona Cardinals. If he doesn't return by Week 16, the Browns are in trouble against Lamar Jackson and the Baltimore Ravens.
How Freddie Kitchens and the rest of the locker room respond to Thursday night's incident is crucial to Cleveland's future. Garrett unnecessarily put his team in a difficult position. If he kept his cool for eight more seconds, everyone in Cleveland would be talking about an impressive win over the Steelers.