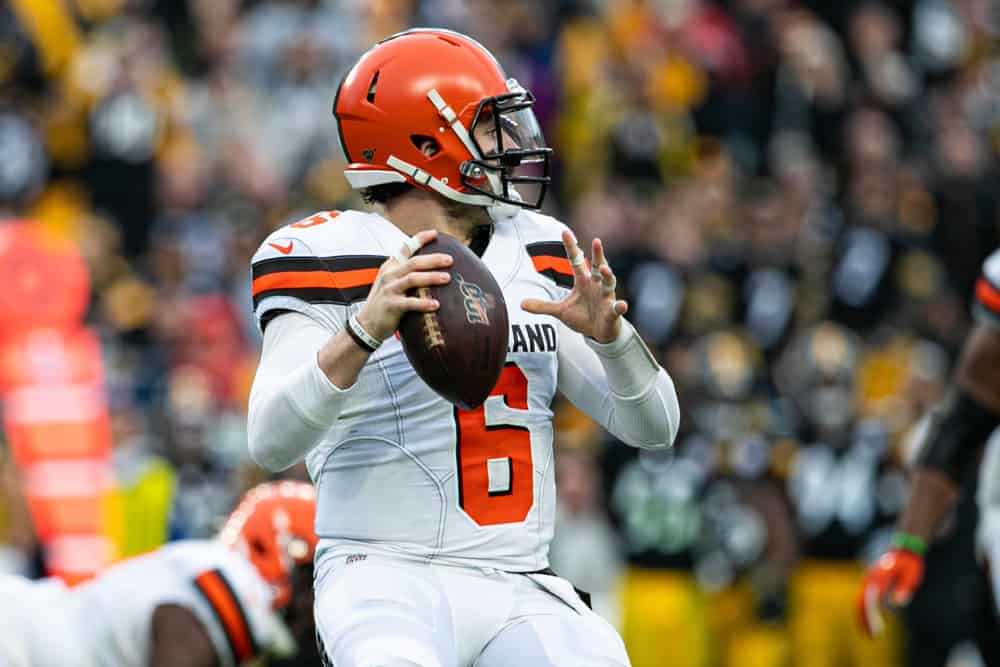 Heading into the 2020 season there was speculation on whether or not Baker Mayfield could be the franchise quarterback.
He was able to prove the doubters wrong and honestly did a little more than that.
Mayfield led the team to an 11-5 record and helped Cleveland win their first playoff game in 18 years.
It was a breakout campaign for Mayfield that gave Browns fans hope for the future.
Mayfield also became the Browns best quarterback through the first three seasons of his career.
Baker Mayfield is the best Browns QB in franchise history through 3 seasons.

Browns rank 1st 3 seasons*
75 pass TD 1st
11,115 pass yds 1st
89.1 pass rating 2nd
61.9 comp% 2nd
23 wins 2nd

*Min. 300 pass att pic.twitter.com/ISY7bQiBpB

— CBS Sports HQ (@CBSSportsHQ) January 29, 2021
Mayfield just goes out on the field and has his play do the talking for him.
Browns fans are certainly thrilled that Mayfield was able to turn it around.
Mayfield Magic
Heading into the season there were concerns that Mayfield might not be the answer.
He was coming off a rough 2019 campaign where he threw a career-high 21 interceptions.
Although, it's tough to put all the blame on Mayfield when he was stuck with a horrendous coach in Freddie Kitchens.
Mayfield immediately showed signs of improvement as soon as Kevin Stefanski took over as the head coach.
Sometimes, all it takes is the right coach to help turn around a player.
After the regular season, Stefanski was voted as Coach of the Year by the PFWOA.
#Browns Kevin Stefanski voted NFL Coach of the Year by the Pro Football Writers of America

— Mary Kay Cabot (@MaryKayCabot) January 21, 2021
Kevin Stefanski was able to get the best out of Mayfield.
It certainly seems Mayfield has silenced the critics for now, but will he end up as the best quarterback in Browns history?
Is Mayfield The Best?
The stats don't lie and Mayfield is putting up fantastic numbers early in his career.
What Mayfield has been able to accomplish is pretty remarkable considering he had Kitchens and Hue Jackson as his head coaches before Stefanski.
He has thrown for over 11,000 yards with 75 touchdowns through his first 46 games of his career.
The 25-year-old quarterback does not get enough credit for what he's accomplished through his first three seasons.
Baker Mayfield launches a dart to Jarvis Landry for the touchdown. #Browns pic.twitter.com/GmbSL1tvuR

— Justin Groc (@jgroc) January 17, 2021
Is it time to crown Mayfield the best quarterback in Browns history?
Who knows what the future holds, but Mayfield could end up being the best in franchise history, assuming he continues to improve his game.