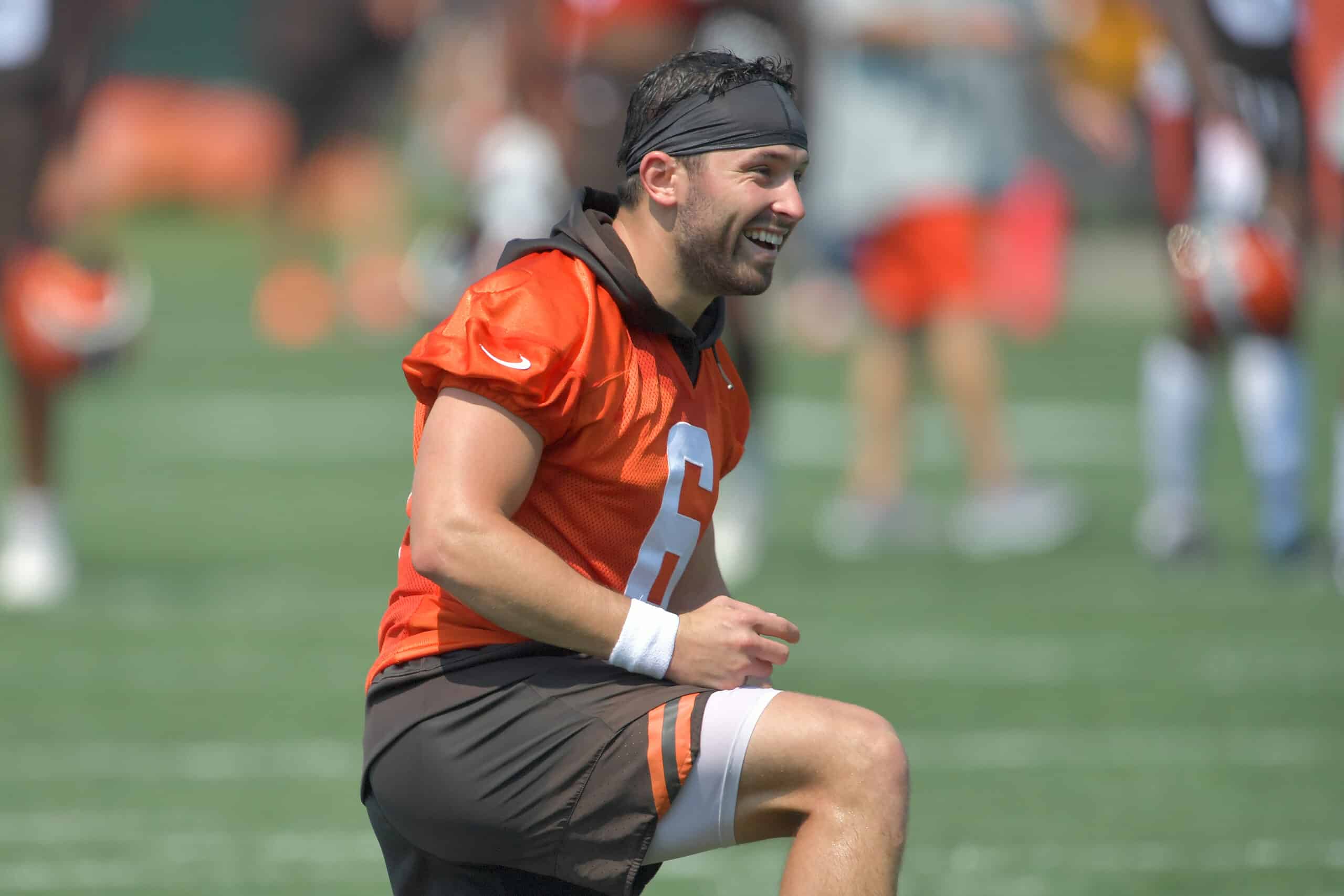 Cleveland Browns fans collectively breathed a sigh of relief and celebrated the good news of running back Nick Chubb's contract extension.
The #Browns and RB Nick Chubb have an agreement in principle on a 3-year contract extension worth $36.6M, per sources. $20M fully guaranteed. A huge deal for the bell cow in Cleveland. 💰 💰 💰

— Ian Rapoport (@RapSheet) July 31, 2021
Rejoice, Browns fans! Nick Chubb will be under contract with Cleveland for three additional years. Photo: John Kuntz, https://t.co/a4YA4W2Cro https://t.co/WTmzl9hskj pic.twitter.com/y7MUNa7D78

— clevelanddotcom (@clevelanddotcom) July 31, 2021
When this news broke on Saturday, July 31, Baker Mayfield took to social media to express his congratulations in his usual humorous way.
NICHOLAS JAMAL CHUBB!!!!!

— Baker Mayfield (@bakermayfield) July 31, 2021
Mayfield is clearly happy for his teammate whose extension comes on the heels of his fourth and final season under his rookie contract.
The Browns took a key first step in retaining its offensive nucleus before free agency can interfere.
Tight end David Njoku echoed Mayfield's sentiments on social media.
Let's go baby!!!! @NickChubb21

— Chief David Njoku (@David_Njoku80) July 31, 2021
Nick Chubb
We know that Chubb does not like to talk about the business side of football; he likes to concentrate on his contributions to his team on the field.
That means we will likely not hear much from him about the extension.
His Instagram post could be as good as it gets.
Nick Chubb via Instagram: "Let's go Cleveland 🦇" #Browns pic.twitter.com/ArXFWSMP4e

— clebrownsnetwork (@clebrownsntwork) August 1, 2021
And that is just fine.
This is part of what fans love about Chubb.
Chubb In The Headlines
While Chubb likes to be in the headlines for his game, he made the news earlier in the week because a fellow running back dropped his name.
When Marshawn Lynch was asked who runs like him in today's NFL his answer was #Browns RB Nick Chubb.

"I like the way he run that thing." (Via First Take) pic.twitter.com/DO8hL9oJ5M

— MoreForYouCleveland (@MoreForYou_CLE) July 29, 2021
This is high praise coming from Beast Mode.
Kareem Hunt
Chubb's backfield teammate, Kareem Hunt, advocated for his extension.
Kareem Hunt got his wish 😎

The #Browns secure the best RB duo in the NFL with Nick Chubb's extension 💰 pic.twitter.com/6ha8MHtifG

— PFF (@PFF) July 31, 2021
Hunt must be thrilled that he will be Chubb's teammate at least for two more seasons.
His two-year contract ends at the end of the 2022 season.
Conclusion
The Browns continue to handle player matters efficiently and effectively without extra fanfare.
Whether it is signing free agents, securing draft picks, or retaining important veterans on the roster, this is indicative of how GM Andrew Berry operates.
Berry has more work to do as Chubb is just the first of the Browns stars nearing the end of his rookie contract term.