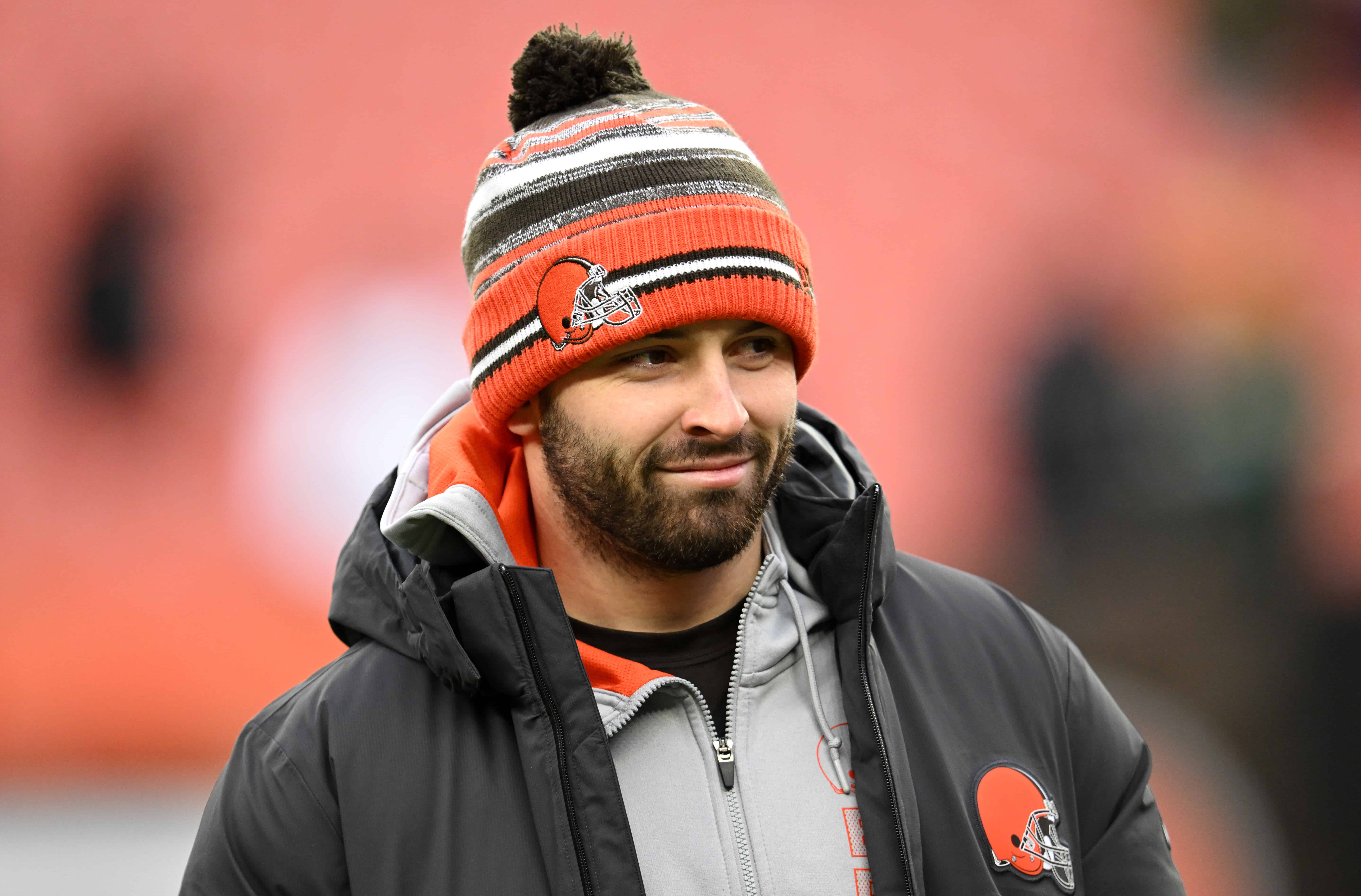 Cleveland Browns quarterback Baker Mayfield posted a video following his surgery today in California.
Calling the surgery a "complete success" and thanking people for their prayers and notes of support several times, Mayfield is recorded with his left arm in a sling and his shoulder bandaged.
What Mayfield Said About The Surgery
A somewhat subdued Mayfield spoke into the camera for 70 seconds.
He talked about checking the box to get the shoulder fixed.
Mayfield described it as "one of those steps to get back to my true self."
Thanks to Dr. Limpisvasti and his team for performing a successful surgery. This is only going to be a minor bump in the road.. excited to get healthy and back to my normal self. Thank y'all and God Bless. pic.twitter.com/cRVdkB6t9d

— Baker Mayfield (@bakermayfield) January 19, 2022
What Mayfield Said About The Past Year
Mayfield subtlely addressed the past season.
"This past year hasn't been very easy.  A lot of stuff has gone down, and it wasn't easy on me or my family so I appreciate everybody that has reached out that wished me well and good luck on the surgery, and all the prayers and everything it definitely did not go unnoticed."
What Mayfield Said About The Recovery
He called the road to recovery "not an easy one."
Mayfield concluded the video by saying:
"This is not the end of my story.  It's just going to be one of those little things I look back and remember.. one of those challenges and adversity that I am going to try and take advantage of, and it will make me a better person…Let's go get it."
Recovery Timeline
The recovery timeline is between 4 and 6 months.
Naturally, Mayfield is hoping to be on the 4-month side of the recovery window.
It is premature to know exactly how long it will take.
A better idea of the timeline will be known when he starts physical therapy.
Once Baker Mayfield starts physical therapy next week, he'll have a better idea about which side of the 4-6 month window his recovery will fall under. #Browns

— Camryn Justice (@camijustice) January 19, 2022
The plan is for him to be a limited participant in OTAs in April/May with a complete recovery expected by the time he reports to training camp in late July.
J.J. Watt's Timeline
The most recent comparison would be Arizona Cardinals defensive end, J.J. Watt.
He tore his labrum, bicep, and rotator cuff while also dislocating his shoulder.
From NFL Now: JJ Watt injured his shoulder. His entire shoulder. A detailed look at what ails the #AZCardinals star. pic.twitter.com/y5XEmT6QzI

— Ian Rapoport (@RapSheet) October 28, 2021
Watt played in the Cardinals playoff game on Monday 12 weeks after his injury.
▫️ Injured shoulder in Week 7
▫️ Placed on IR on Nov. 6th
▫️ Expected to be out for the season
▫️ Designated to return from IR ahead of Week 18
▫️ Activated off IR for Wild Card game vs. Rams
▫️ Played 24 snaps on defense just 12 weeks post-injury

Give it up for @JJWatt! 👏 pic.twitter.com/yi3vf6Uk5p

— NFL Badgers (@NFLBadgers) January 19, 2022
Hopefully, Mayfield's recovery progresses as smoothly and quickly as Watt's did.