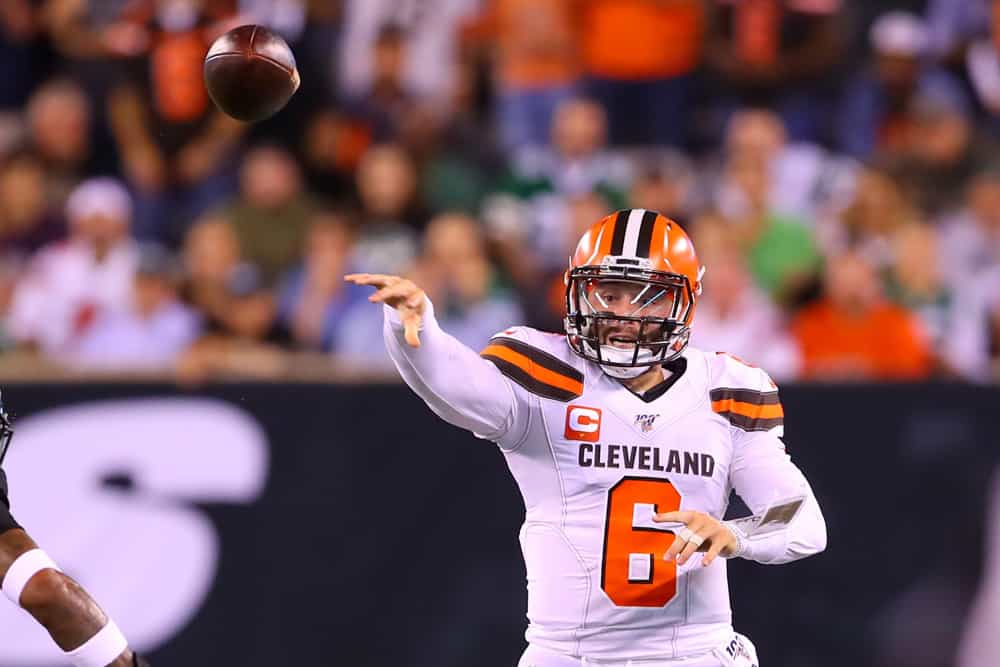 Baker Mayfield is as big a reason as any for the Cleveland Browns' 2020 playoff season.
His reduced turnovers and improved decision-making kept the Browns in most games, 12 of which he won.
According to NextGen Stats, Baker completed slightly more (0.8%) of his passes than they expected.
That number, like most of his 2020 statistics, won't blow anybody away.
.@bakermayfield's top plays from the 2020 season 🎯 pic.twitter.com/LaIYo58SQC

— Cleveland Browns (@Browns) January 21, 2021
But they are a massive improvement over his 2019 performance, including his 36th-ranked NextGen expected completion rank.
Mayfield's focus and accuracy lifted the Browns offense from the depths of the NFL rankings to a top-third unit.
And his clutch passing made Cleveland the 8th-best third-down conversion team, after ranking 25th in 2019.
All season long, Mayfield delivered the ball with zip or finesse where only his receiver could catch it.
Mayfield's consistency makes picking his best passes largely subjective.
But here is this writer's attempt at ranking Baker Mayfield's 3 best throws of 2020.
Week 2: Who Says Mayfield and OBJ Can't Connect? 
Cincinnati provided the perfect opponent for Kevin Stefanski's troops in Week 2.
The Browns needed to do something positive after their Week 1 debacle in Baltimore.
So, Stefanski pulled out all the stops, unleashing the rushing attack in between Mayfield roll-outs and play-action.
There was also an underlying debate about Odell Beckham and Baker Mayfield's compatibility.
Was Beckham's poor initial season just a reflection of everything else that went wrong that year?
ODELL. BECKHAM. JR. #Browns pic.twitter.com/q4g66jI2lY

— Orange and Brown Rpt (@TheOBR) September 18, 2020
Mayfield seemed to answer that question when he hit Beckham with a 43-yard strike as he crossed the goal line.
Beckham made a beautiful double move and sprinted toward the end zone with 3 steps on the defender.
But Mayfield was running full-tilt to his left and would need to stop and set his feet to throw that far.
His receiver was quickly running out of real estate as Mayfield heaved the pass.
Beckham caught it nearly in stride, hip-high while tumbling into the end zone, for a 14-3 Cleveland advantage.
Cincinnati did their best to keep the game close, but Mayfield's big pass let them know the Browns had other plans.
Their 35-30 victory kicked off a 4-game winning streak.
And for at least one week, it put the Beckham-Mayfield connection issue to rest.
Week 7: Introducing Donovan Peoples-Jones 
Cleveland suffered another demoralizing loss in Week 6 when they were manhandled by the Steelers, 38-7.
Once again, Cincinnati showed up to help the Browns right the ship.
Baker Mayfield and Joe Burrow served up a classic, throwing 5 lead-changing touchdown passes in the 4th quarter.
It was the first time that happened in NFL history, and the fifth one might be Mayfield's best pass of the season.
THE ROOKIE DONOVAN PEOPLES-JONES GAME WINNER🔥

— PFF Draft (@PFF_College) October 25, 2020
When the Bengals' Giovanni Bernard scored from 3 yards out with 61 seconds to play, things looked bleak for Cleveland.
But Mayfield used just 50 seconds to drive 75-yards in 5 plays and settle matters in Cleveland's favor.
That his pass went to Donovan Peoples-Jones was the icing on the cake for the 6th-round draft pick's debut.
Peoples-Jones, activated for the injured Khadarel Hodge, entered the game when Odell Beckham Jr suffered his season-ending injury.
Mayfield ignored the rookie for almost three quarters until he found the youngster for two key first downs.
Then he dropped a perfect dime just over the defender's reach and into DPJ's hip pocket for the game-winner.
Mayfield completed 22 consecutive passes during this game, a chance given 19,062-1 odds by NextGen Stats.
But he saved his best for last.
Week 19: Dreams of the AFC Championship Game
Throughout the 2020 season, Mayfield showed an innate ability to hit covered receivers in stride with lasers.
David Njoku laid out to score a touchdown on a seam route with a defender on his back in Cincinnati.
Mayfield hit Jarvis Landry crossing the back of the end zone with a New York Giant sitting on his hip.
But his last such pass might be the one that sticks out most in our minds.
That pass went to a diving Austin Hooper with the Chiefs' Bashaud Breeland climbing over the tight end's shoulders.
This season-saving catch from Austin Hooper 🤯

(via @thecheckdown)pic.twitter.com/iNels878DP

— Bleacher Report (@BleacherReport) January 17, 2021
The improbable completion gave the Browns a first down and kept our dreams of victory in Kansas City alive.
For sure, it was a great effort by Hooper to come up with the catch.
But if Mayfield threw the ball an inch in any direction, Hooper probably couldn't come down with it.
Despite the unfortunate result against Kansas City, that might have been Mayfield's most precise throw.
What Baker Mayfield Throw Will You Remember? 
Baker Mayfield threw lots of memorable passes in leading the Browns to their first playoff win in years.
Some were big moments, like Jarvis Landry and Nick Chubb's big catch-and-runs in the Wild Card Game.
There were also the big plays, like Donovan Peoples-Jones' 75-yard touchdown against Tennessee.
Others were… well, Kendall Lamm lumbering along in the end zone.
Why don't you use the comments below to tell us what you think was Baker Mayfield's most memorable throw?
We'd love to hear what you think.