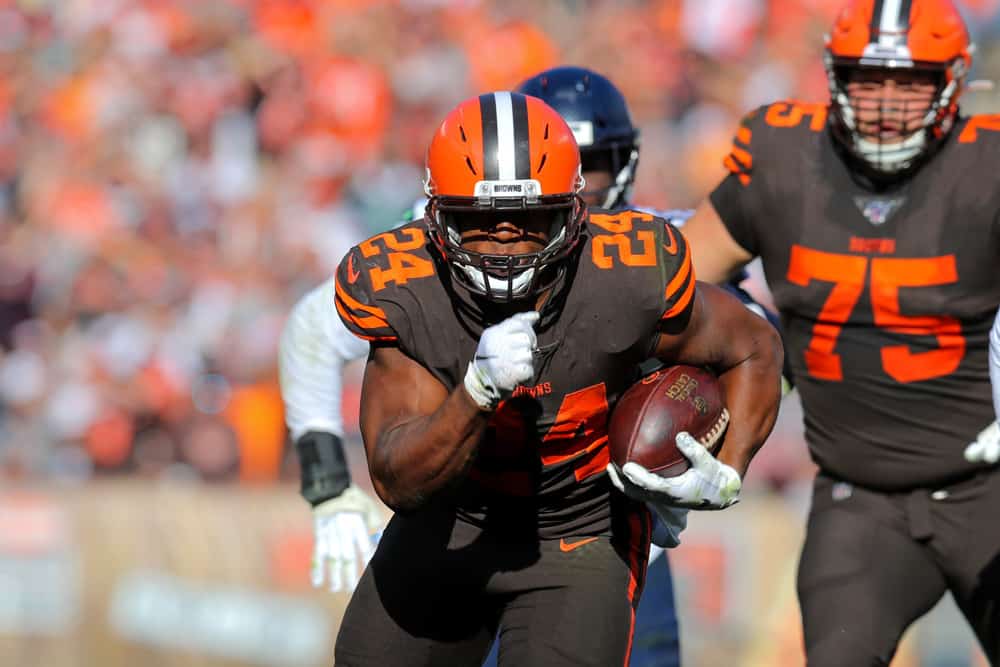 Cleveland Browns RB Nick Chubb is a one man highlight reel.
Year after year, he delivers consistent, solid performances without a lot of fanfare.
Coach Stefanski talked about Nick Chubb in April 2020.
"He is a cultural tone-setter. I like everything about him. Just doesn't say much. He comes to work and does his job. There's a way to lead without being a rah-rah guy. You don't have to be making speeches. His teammates are very, very keenly aware when [he's] in the building and on the field. He's about his business and about working. That's something I really respect."
In 2020, he rushed for 12 touchdowns and 1,067 yards.
It was a tough assignment to select the three best Nick Chubb runs of 2020, but here they are.
3. Nick Chubb Can't Be Stopped Against The Washington Football Team, September 27, 2020
Nick Chubb breaking all the tackles on this TD 🤯

(via @thecheckdown)pic.twitter.com/AueWllS94N

— Bleacher Report (@BleacherReport) September 27, 2020
You may be thinking that doesn't look like anything special.
But I am here to tell you otherwise.
He cuts and shifts his body weight in different directions as he sees the hole in front of him.
In true Chubb style, he attracts a crowd of defenders who attempt, but fail, to bring him down before he crosses the goal line.
The fact that Chubb makes this look easy is what makes it so spectacular.
Chubb scored two rushing touchdowns in this game.
This game was in Week 3, and Chubb suffered his knee injury the following week against the Cowboys.
Thankfully, Nick Chubb came back in Week 10 as if he didn't miss a beat.
2. Nick Chubb Doing His Best Derrick Henry Impersonation, Philadelphia Eagles, November 22, 2020
Nick Chubb MY GOODNESS. #Browns

📺: #PHIvsCLE on FOX
📱: NFL app // Yahoo Sports app: https://t.co/XvGQdBFS2I pic.twitter.com/ycXDeoS2zy

— NFL (@NFL) November 22, 2020
Everyone knows how well Nick Chubb can move, but what makes this play special is how he stiff arms an Eagles tackler and just keeps on rolling.
Chubb shows us his upper body strength as well as his agility on this play.
1. Chubb Stops Short Of Scoring The TD, Houston Texans, November 15, 2020
The Browns were 3.5-point favorites vs. the Texans. They were up 3 with 1:07 left.

Nick Chubb broke off a 59-yard run … and stepped out at the 1-yard line 😅

(via @thecheckdown) pic.twitter.com/JdU9GeeAD1

— FOX Sports (@FOXSports) November 15, 2020
Everyone had an opinion on this from Myles Garrett to Charles Barkley.
Not only is this an awesome run, but Chubb also has the presence of mind and self-control to stop at the 1 yard line.
After the game, he admitted that he almost forgot that Coach Stefanski and Mayfield told him to do this.
In true Chubb style, he critiqued himself for running out of bounds on the play.
This shows us everything we need to know about Chubb, and it is why he is universally loved by Browns fans.
He is all about the team and the game.
His personal statistics are secondary to winning.
Chubb's Contract
Not that he needed to, but Nick Chubb cemented his importance with the Browns offense in 2020.
Even though he does not like to think or talk about it, a contract extension has to be in the works for Chubb.
His 4 year, $7.3 million rookie contract will expire at the end of the 2021 season.
Sportrac estimates that Chubb can expect a $48 million contract over 4 years averaging about $12 million per season.
This is based on the performance and paydays of his peers including Derrick Henry, Joe Mixon, and Dalvin Cook.