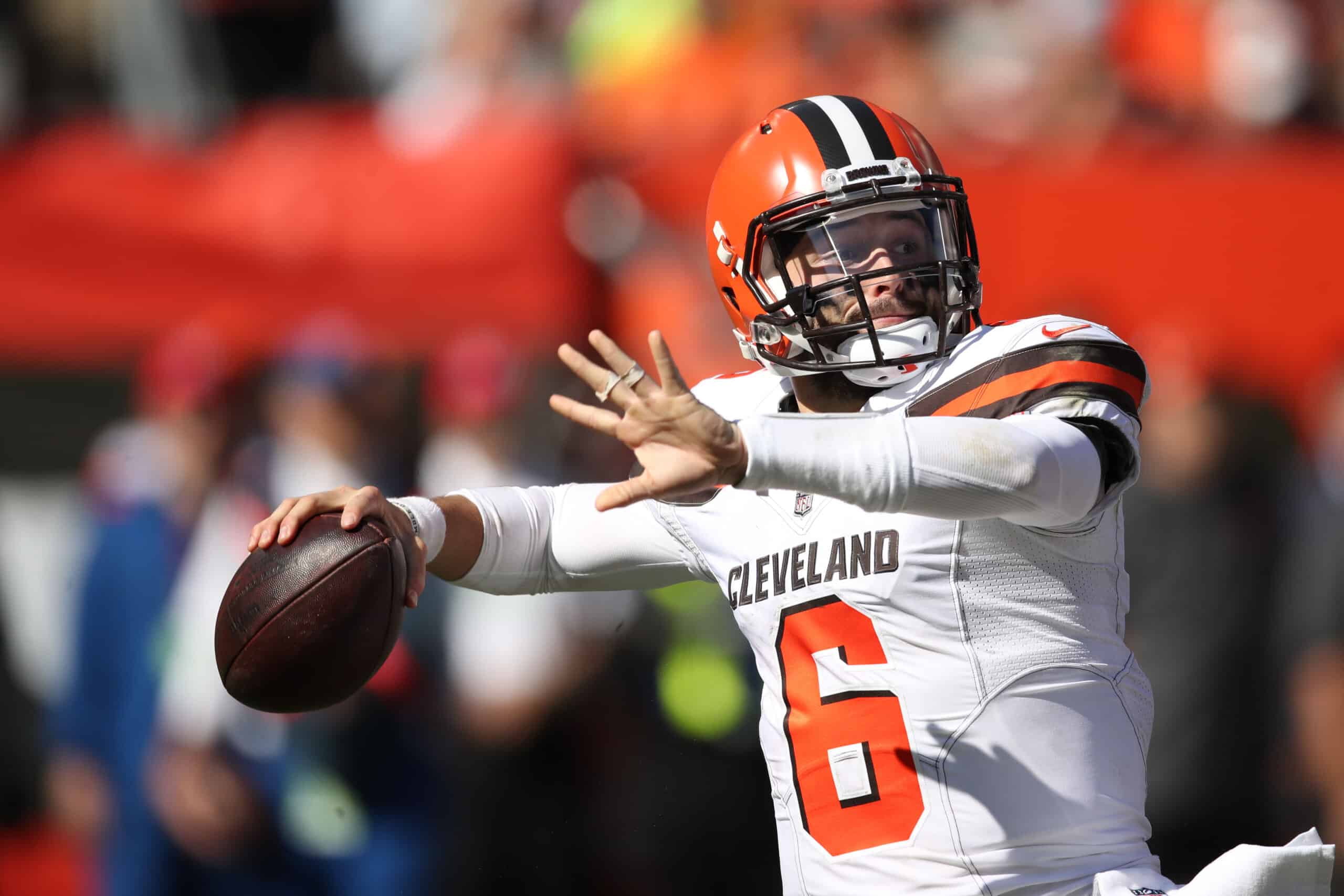 Everyone knows the success of an NFL team largely rests on the shoulders of its starting quarterback.
And hopes for success dwindle rapidly if that quarterback is injured.
But the Cleveland Browns pay Case Keenum $6 million per year to mitigate those odds.
As the highest-paid backup outside of Chicago, Keenum is expected to keep the Browns on an even keel this week.
"Baker Mayfield isn't much better than Case Keenum anyway!"

—@BartScott57 👀 pic.twitter.com/dUqOenRtvt

— Get Up (@GetUpESPN) October 21, 2021
And at least one ESPN analyst believes fans can expect just that in the absence of Baker Mayfield.
In fact, he thinks the Browns' starter isn't much better than their backup quarterback.
Bart Scott, a former NFL linebacker who played for a team in Maryland of all places, told ESPN's Get Up audience:
"The elephant in the room is that Baker Mayfield isn't much better than Case Keenum anyway. Remember what Keenum did in 2017 in a run-centric offense when he was able to defeat Drew Brees in the playoffs?"
Cleveland fans already know their backup quarterback gives them a chance to beat the Broncos.
But Scott's underhanded dig at Baker Mayfield is sure to elicit some reaction from Baker Backers everywhere.
There Are Similarities Between Mayfield and Keenum
One of the most striking similarities between Cleveland's quarterbacks is their physical stature.
Both players stand 6'1″ tall and are listed at 215 pounds.
Even their uniform numbers look the same on TV if you're not concentrating.
And while they're not exactly doppelgangers, Keenum could pass as Mayfield's older brother.
Case Keenum will start for the Browns on Thursday.

Baker Mayfield is dealing with a torn labrum in his left shoulder. pic.twitter.com/xKq3yXJsK0

— B/R Gridiron (@brgridiron) October 20, 2021
But on the field, there are noticeable differences.
Both can run Stefanski's preferred offensive game plan, but with a slight twist.
But Mayfield enjoys throwing the deep ball more often than Keenum.
And maybe it is just his relative youth, but Mayfield appears more mobile than Keenum.
Will Fans Notice a Difference With Keenum? 
Keenum is less mobile in his approach to the offense, but he is far from a sitting target.
The veteran quarterback is quicker to throw to a covered receiver and let him fight for a contested ball.
This bodes well for players like Donovan Peoples-Jones (9-for-9 on contested passes this year).
David Njoku and Odell Beckham are also adept at contested passes, though OBJ is likely to miss the Denver game.
Case Keenum and DPJ are gonna light up #TNF like Christmas!!!! pic.twitter.com/pyfskgO1W6

— 🇺🇸The Brown Spider!!!🇱🇷 #D4L (15-2) (@BrownSpiderCLE) October 21, 2021
In the absence of a viable target, Keenum's reaction to the pass rush is a little different, too.
Keenum can scramble when he needs to and is willing to take a hit if warranted.
In his last full-time season, Keenum ranked higher than any NFL quarterback under pressure.
But if he has more downs to work with, fans will notice he is more likely to throw a ball away.
Is Baker Mayfield Better Than Case Keenum? 
Kevin Stefanski came to Cleveland with a reputation for running a particular type of offense.
But the truth is the Browns head coach and offensive guru adapted his plans to his starting quarterback.
Andrew Berry provided players to fit Stefanski's scheme and to complement Mayfield's strengths, too.
Baker Mayfield is the quarterback best-suited to run the Cleveland Browns offense.
Case Keenum: "I'm ready for this. I'm built for this."#Browns pic.twitter.com/R7Jyq028Qv

— Tom Withers (@twithersAP) October 20, 2021
We will soon see how the years of relative inactivity affect Keenum's on-field performance.
But pointing to his 2017 playoff run and Super Bowl appearance creates unfair expectations.
Looking at the other 9 years of his career provides a more realistic assessment of his strengths.
And odds are he is plenty good enough to give the Browns a great chance of riding out Mayfield's absence.