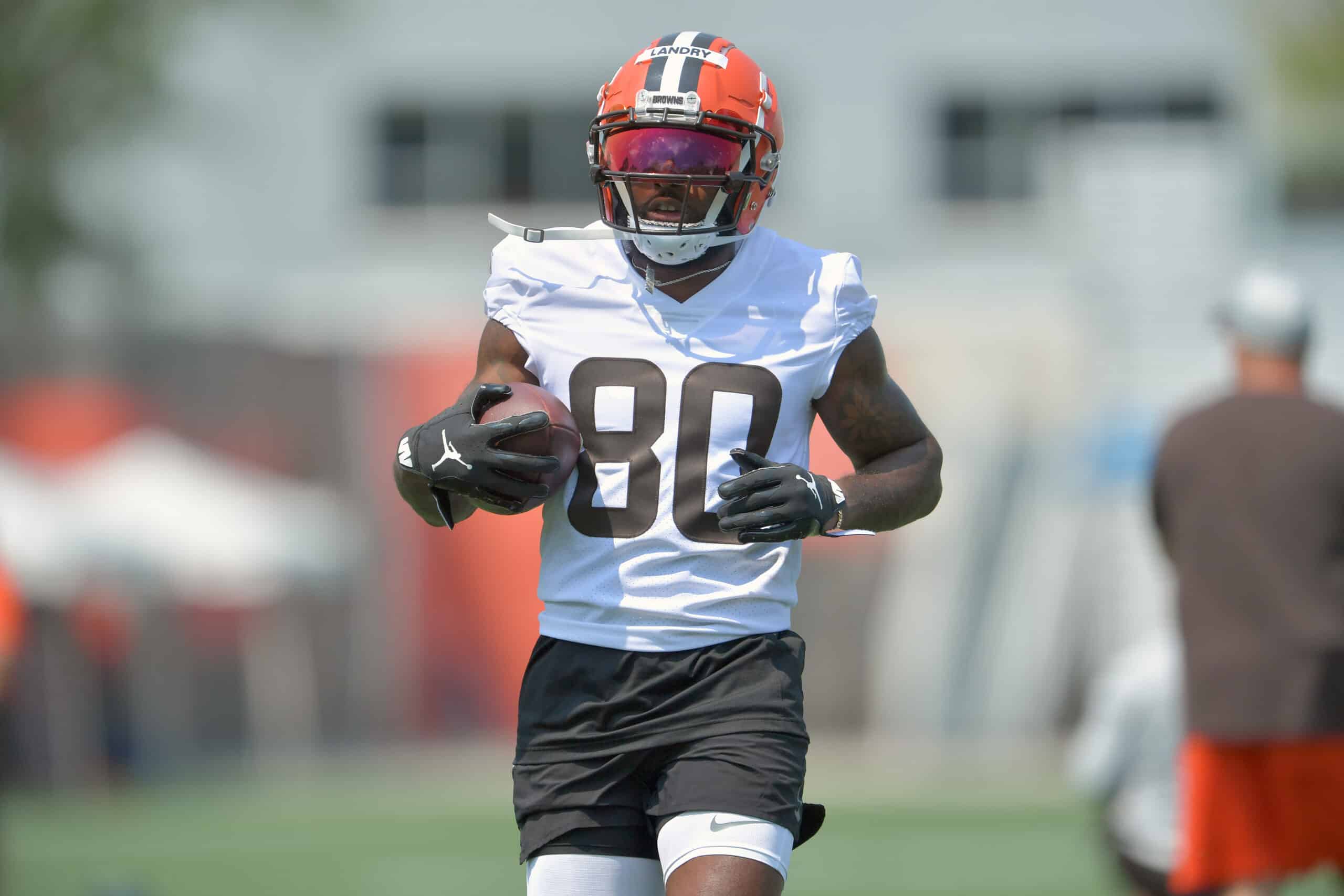 For fans who enjoy a good long book, one of the newest novels out there is the Cleveland Browns injury report.
And its scary repercussions fit right into the approaching Halloween season.
But amid the horrors of Nick Chubb and Baker Mayfield's disappearance, there is some cheerful news.
For the #browns WR Jarvis Landry should probably be activated off IR today per sources. If that officially happens expect him to play. For OBJ, he has a significant shoulder injury. I'm told it's an uphill battle to go tonight, but don't rule him out completely just yet.

— James Palmer (@JamesPalmerTV) October 21, 2021
Sources tell the NFL Network's James Palmer the Browns plan to move Jarvis Landry onto the active roster today.
And if that happens, he can be expected to play against the Denver Broncos tonight.
Another nightmare is partially alleviated with word that Jedrick Wills can return to bolster the offensive line, too.
Tackle update in Cleveland for tonight. #browns LT Jedrick Wills (ankle) is expected to return to the lineup tonight vs the #broncos, but RT Jack Conklin (knee) won't be able to go per sources. Von Miller rushes from the left side on the right tackle.

— James Palmer (@JamesPalmerTV) October 21, 2021
Wills' replacement, Blake Hance, took half his practice snaps at right tackle this week.
That seems to validate Cleveland's hopes that the starter will return to the left side.
What Landry's Return Means to the Browns 
Jarvis Landry provides a reliable and immediate threat for the  Broncos' defense to worry about.
But the return of one of its offensive leaders provides an important emotional boost, too.
Cleveland's starting lineup is full of players we saw in the preseason together.
Landry, along with Austin Hooper and David Njoku, raise the perceived level of experience on the field.
#Browns Jarvis Landry practicing today. pic.twitter.com/iS2rjIqPXF

— Camryn Justice (@camijustice) October 19, 2021
All three of those receivers could be in for a busy day with Case Keenum behind center.
Keenum likes to get rid of the ball quickly, especially on short routes to receivers in motion.
That plays right into Landry's favorite slot routes, especially if the tight ends have to help block.
And Donovan Peoples-Jones and Rashard Higgins can manage the outside roles.
What Wills' Return Means To The Browns 
Jedrick Wills is still working to round himself into a top-notch NFL tackle.
And Blake Hance did a credible job in relief of the injured second-year player.
But if Wills can make it through the whole game Thursday night, he provides a boost to the opposite side.
James Hudson struggled mightily at the right tackle position last week.
#Browns AVP on the possible return of Jedrick Wills pic.twitter.com/rkW0Drhh40

— Fred Greetham (@FredGreetham9) October 14, 2021
He consistently chose the wrong defender to take on and exposed Baker Mayfield to pressure.
Hance has proven to be a versatile offensive lineman and can spell Hudson if Wills returns.
Cleveland might also use Alex Taylor at times as Von Miller's preferred pass rush target.
And the Browns' tight ends and backs can focus on helping the right side if Wills holds up well at left tackle.
More Good News On the Horizon? 
Cleveland's good news on Landry and Wills is tempered by less optimism about Jack Conklin and Odell Beckham.
But even that comes with a caveat of increased hopes for the Browns' important Halloween game.
Beckham joins Baker Mayfield with an injury that is unlikely to heal but can be made better with therapy and rest.
Both players expect to be on the field for the Browns' first divisional game of 2021.
New look run game 👀@Browns #Browns pic.twitter.com/qVlO68AvOa

— Mike McFadden (@MUTGuru) October 20, 2021
Likewise, another week of rest for Jack Conklin makes it likely the Browns offensive line is intact for Pittsburgh.
Conklin joined Wills in a limited practice Wednesday, indicating he is close to a return.
Nick Chubb almost made it back for Denver and is expected to lead the rushing attack against the Steelers.
Kareem Hunt and Jeremiah Owusu-Koramoah need more time but will return to help Cleveland's playoff run.