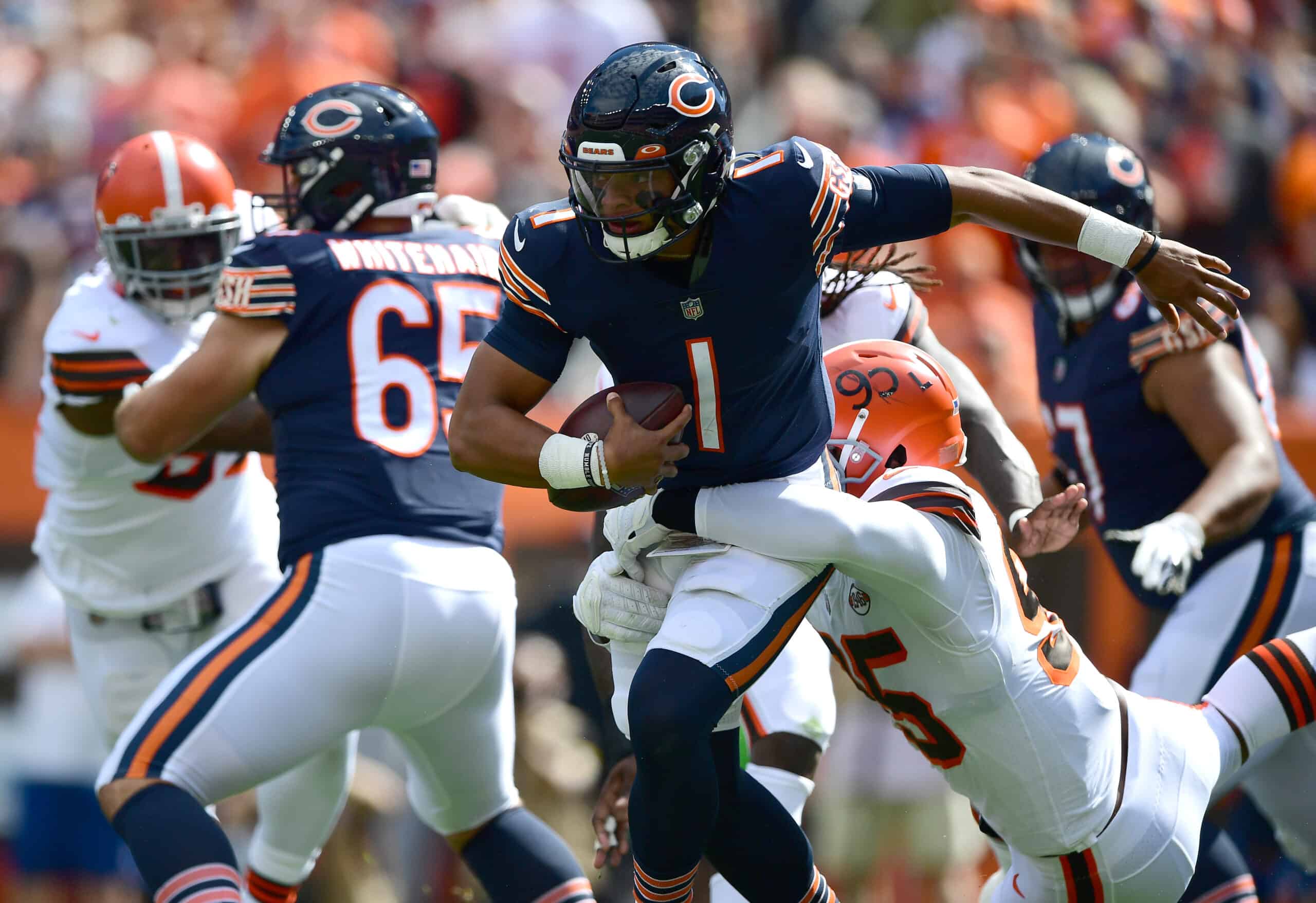 On this Victory Monday, we need to again revisit the defensive dominance that took place yesterday as the Cleveland Browns defeated the Chicago Bears by a score of 26-6.
It is amazing any way you look at it, but here is a new and fresh perspective that will perk up Browns' fans Monday while making Bears fans even more depressed.
The Bears netted 1 passing yard for the entire game.
Yes, you heard correctly, 1 yard.
In a game of records being broken, this is another record breaker as it is the least amount of passing yards gained since 2009.
The Chicago Bears will finish this game with one net passing yard. ONE!

— Jake Trotter (@Jake_Trotter) September 26, 2021
How Is That Possible?
I wondered about this too.
Looking at the box score, we see that Bears quarterback Justin Fields completed 6 passes for 68 yards.
However, he was also sacked 9 times for a loss of 67 yards.
Alas, that is how the 1 yard is calculated.
As expected, Bears fans are less than delighted with this news or the idea of being in the same conversation as the Cincinnati Bengals who also achieved this dubious feat on January 3, 2010.
#Bears had 1 yd passing today–that's not a lot. Last team to have 1 or fewer passing yds were the Bengals on 1/3/2010.

Go Bears! pic.twitter.com/7IsVEB2Qeq

— Scott Lindholm 📊 (@ScottLindholm) September 26, 2021
Give Us More Of That Defense
Obviously, the Browns defense won the battle at the line of scrimmage.
There will be other teams' offensive lines more up to the challenge of handling this tough bunch.
Myles Garrett got, and rightfully deserved, top billing on the day with 4.5 sacks.
However, there were others who had great days also.
Most notably, Jadeveon Clowney who continues to make his presence known to opposing teams' quarterbacks.
I love how Jadeveon Clowney runs like a cartoon villain at the beginning of this play. Unreal burst. pic.twitter.com/ebYNGZCKxb

— Johnny Kinsley (@Brickwallblitz) September 27, 2021
He scored his first (and second) sack as a Cleveland Brown and his first in nearly two years.
That was Jadeveon Clowney's first sack since November 11, 2019.

— Dan Labbe (@dan_labbe) September 26, 2021
The rookie Jeremiah Owusu-Koramoah also made big plays against the Bears.
Jeremiah Owusu-Koramoah played out of his mind in the 1st half. This kid is special. Here's a couple highlights. And that sack is not a designed play. JOK saw an opening to the QB and he took it. #Browns pic.twitter.com/nhPu7B6WnW

— Roberto Shenanigans (@Rob_Shenanigans) September 26, 2021
#Browns LB Jeremiah Owusu-Koramoah's Sunday in review:

– 4 tackles
– 1 TFL
– 0.5 sack
– 2 PD
– 1 QB Hit
– 93.9 PFF grade

Monster. pic.twitter.com/lJNfmYTbZx

— MoreForYouCleveland (@MoreForYou_CLE) September 27, 2021
Victory Monday is sweet but fleeting.
The Browns will get to work to prepare for the Week 4 road game against Coach Stefanski's former team, the Minnesota Vikings.