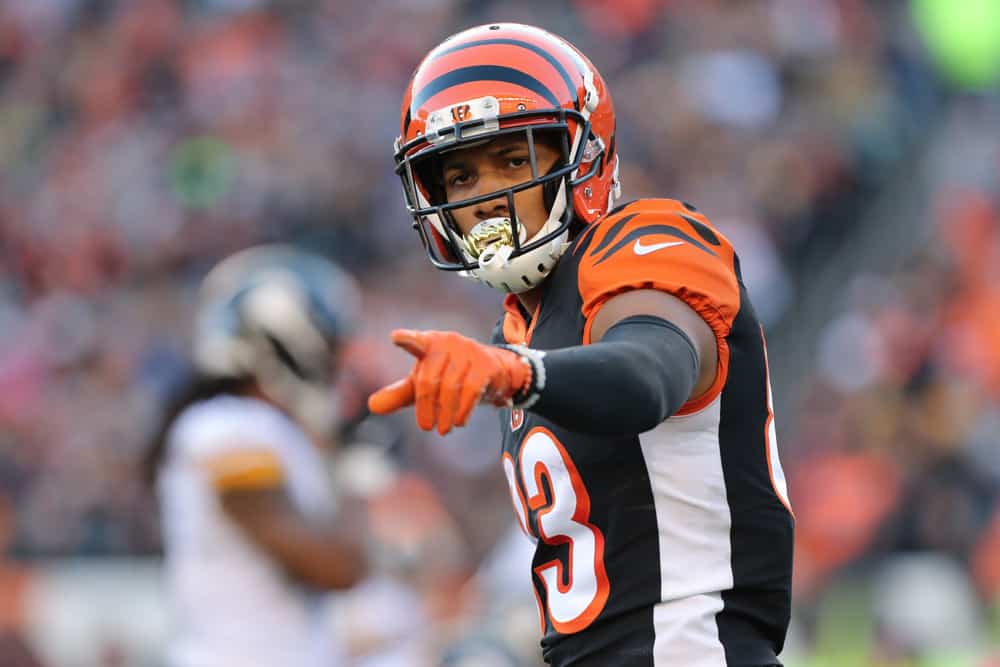 The Ohio rivalry between the Cincinnati Bengals and Cleveland Browns just got a little more intense.
Bengals wide receiver Tyler Boyd had some interesting words to say on a graphic posted on the NFL Network's Twitter account.
Shits not even close https://t.co/phKmeamr7o

— Tyler Boyd (@boutdat_23) May 8, 2020
The fifth-year receiver is obviously going to back his guys, but maybe this is a little too far.
The former second-round pick is putting a target on his back by saying things like this on social media.
Cincinnati has a new look offense, but were bottom dwellers in most categories last season.
Boyd obviously wants to hype up his own teammates, but maybe he should slow down since his team went 2-14 last season.
Which Duo is Better?
This is a tough comparison to have when first overall pick quarterback Joe Burrow hasn't taken the field yet.
The seven-time Pro Bowl receiver A.J. Green is reportedly healthy, but missed all of last season due to injuries.
That being said, it's hard to say that a duo of Burrow and Green is going to be compatible right away.
Burrow has not taken a snap in the NFL and Green hasn't played since 2018.
Quarterback Baker Mayfield is coming off a sophomore slump, but is expected to bounce back under new head coach Kevin Stefanski.
The three-time Pro Bowl receiver Odell Beckham Jr. is coming off a disappointing 2019 season, but it wasn't all his fault.
Beckham has already undergone surgery and said that his injuries did impact his performance last season.
A little update on rehab post surgeryhttps://t.co/dyAVLt8kaL pic.twitter.com/soqCEOq0c7

— Odell Beckham Jr (@obj) May 4, 2020
Three of these four players are looking to bounce back after their 2019 performances.
Burrow has not yet taken the field, but has high expectations after being taken first overall during the 2020 NFL Draft.
That being said, it's tough to say that Burrow and Green are better without seeing them play together yet.
Tyler Boyd vs Browns
Whether it was intentional or not, Boyd may have already made himself an enemy in the eyes of Browns fans.
Does the 25-year-old receiver have the stats to back himself up?
In 2018, Boyd hauled in 76 receptions, 1,028 receiving yards, and seven touchdowns through 14 games.
He followed that up with 90 receptions, 1,046 yards, and five touchdowns in 16 games last season.
However, Boyd was acting as the Bengals main receiving choice while Green was sidelined all year in 2019.
Boyd has put together solid back-to-back campaigns, but is not on the level of a superstar like Beckham.
Last season, Boyd recorded 10 receptions, 134 yards, and zero touchdowns versus the Browns in their two matchups.
Boyd appeared to be the only beacon of hope for the Bengals offense last season, so we'll see how he performs in 2020.
Mayfield and OBJ
The 2019 season was the first year that Mayfield and Beckham were teammates together.
As stated earlier, Beckham dealt with injuries last season, but still performed fairly well.
He hauled in 74 receptions, 1,035 receiving yards, and four touchdowns through 16 games last season.
It wasn't exactly a superstar year by OBJ, but he was battling injuries throughout the campaign.
Beckham is capable of playing much better and has vowed to come back stronger in 2020.
As of right now, it does appear that Mayfield and OBJ have the edge over Burrow and Green, but we'll see what happens next season.