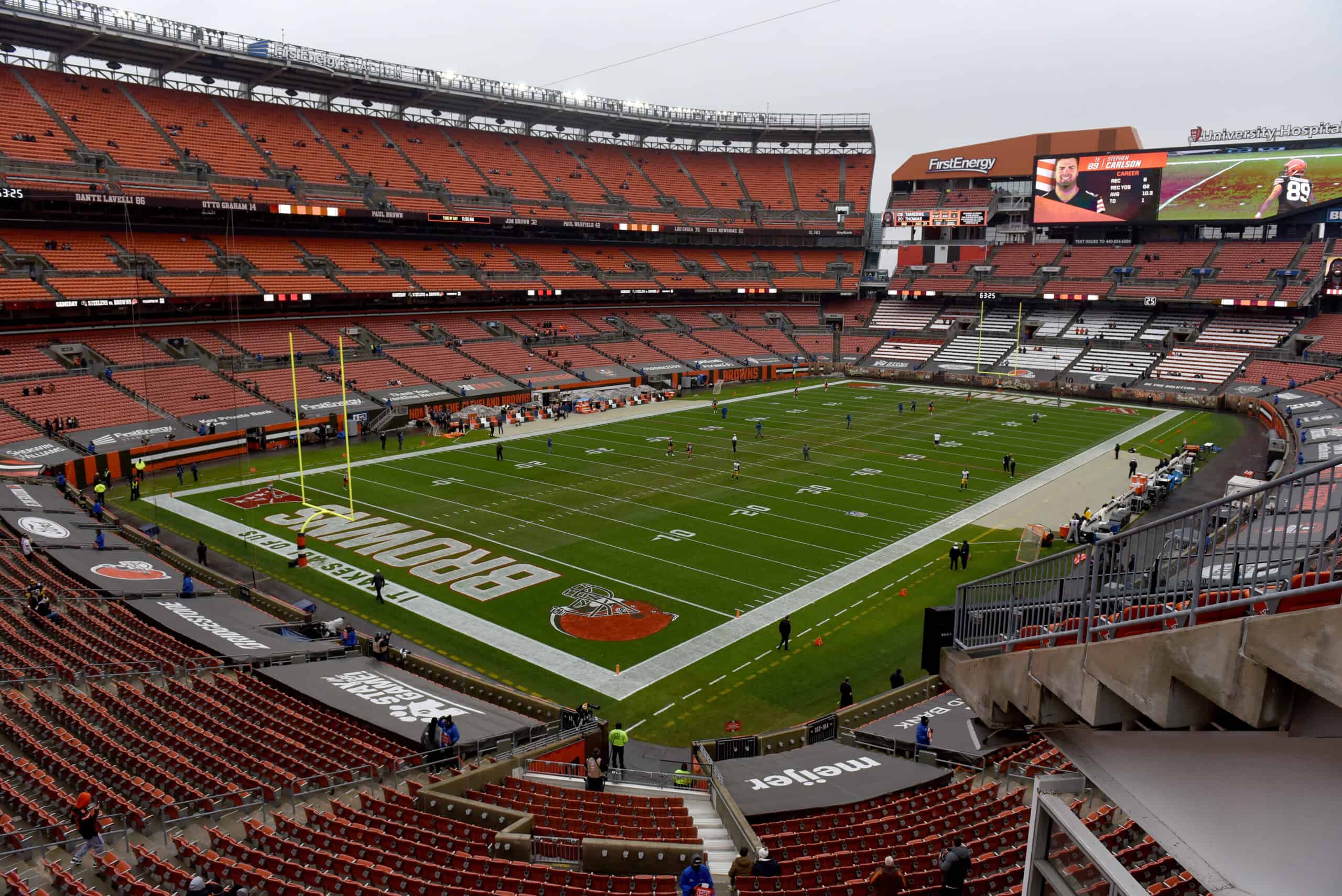 After weeks of anticipation, the Cleveland Browns revealed the 75th anniversary uniforms online at 12:01 AM.
Recall that the Browns left us hanging for most of the month with this teaser.
— Cleveland Browns (@Browns) July 5, 2021
That led to a lot of speculation.
Orange uniforms seemed to be a prevailing thought (or wish).
However, the 1946 Browns did not wear an orange uniform; orange uniforms were introduced in 1953.
I had no idea the Browns wore orange jerseys in 1953 pic.twitter.com/8olHTpckzV

— Ben Axelrod (@BenAxelrod) January 29, 2021
Months ago, the 75th-anniversary jerseys were supposedly leaked though many were skeptical.
LEAK: #Browns anniversary jerseys reportedly have been leaked pic.twitter.com/LMwib8b9ev

— Brad Stainbrook (@BrownsByBrad) March 7, 2021
Here It Is
Finally, we have official word on what the 75th-anniversary alternate uniform looks like.
Spoiler alert: the leaked jersey was correct.
The Cleveland Browns alternate uniforms 👀 pic.twitter.com/FZMsvMZvu7

— CleWest (@erjmanlasvegas) July 24, 2021
The Cleveland Browns have officially unveiled their 1946 throwback uniforms: https://t.co/N0UXbOpFm0 pic.twitter.com/VSYczdYySO

— Andrew Lind (@AndrewMLind) July 24, 2021
The helmets are also reminiscent of the Browns' early days when the player's number was painted on both sides.

You can shop for Browns gear in the link below.

Reaction
Left tackle Jedrick Wills approves.
Jedrick Wills on Browns 75th anniversary unis:

"The uniforms are fire. I like the helmets more though." pic.twitter.com/20O6fEAunn

— Nick Karns (@karnsies817) July 24, 2021
Preliminary reactions from fans have been positive particularly on the helmet.
Browns have released pics of the 75th anniversary uniform….they are fire!!! I love the look & the number on the helmet…such a classy look! Go Browns!! #Browns #DawgPound pic.twitter.com/7nSxSVcotM

— Aaron Trigg (@AaronTrigg2) July 24, 2021
Busy Days In Cleveland
Cleveland is a busy place these days.
The Browns have been getting FirstEnergy Stadium ready for the 75th anniversary by hanging banners and revising the end zone art.
#Browns have started to decorate First Energy Stadium with 75th Anniversary banners pic.twitter.com/qYI63hvGPR

— Brad Stainbrook (@BrownsByBrad) July 5, 2021
New end zones this season for the 75th anniversary season #Browns pic.twitter.com/aD5MK4jmhh

— Brad Stainbrook (@BrownsByBrad) July 22, 2021
They also got a corporate sponsor for the Berea practice facility.
We're proud to welcome @crosscountrymtg to the team as our official mortgage partner. CrossCountry Mortgage's nationwide presence continues to expand, and so will our Berea facility. Introducing the CrossCountry Mortgage Campus! pic.twitter.com/SlyKT1OWy6

— Cleveland Browns (@Browns) July 22, 2021
And that's just the Browns news.
Not to be outdone, the Cleveland Indians made their big reveal yesterday including a much anticipated name change.
Guardians of the Baseball Diamond! Can't wait for the new uniforms, they're probably out of this world 😉 https://t.co/JT1yEHUJ7M

— Cleveland Browns (@Browns) July 23, 2021
Down To Business
These are exciting times, but it is time for the Browns to get to work on living up to the 2021 expectations.
Team members report to training camp on July 27.
For a change, the coaching staff returns, and there are no visible roster gaps.
Free agents and draft picks are signed.
Now it is time for the team to begin their quest for the AFC North divisional title which they have never won since the division was instituted in 2002.
The Browns will need all this time to prepare for a very tough opening game against the defending AFC Champion Kansas City Chiefs on September 12.