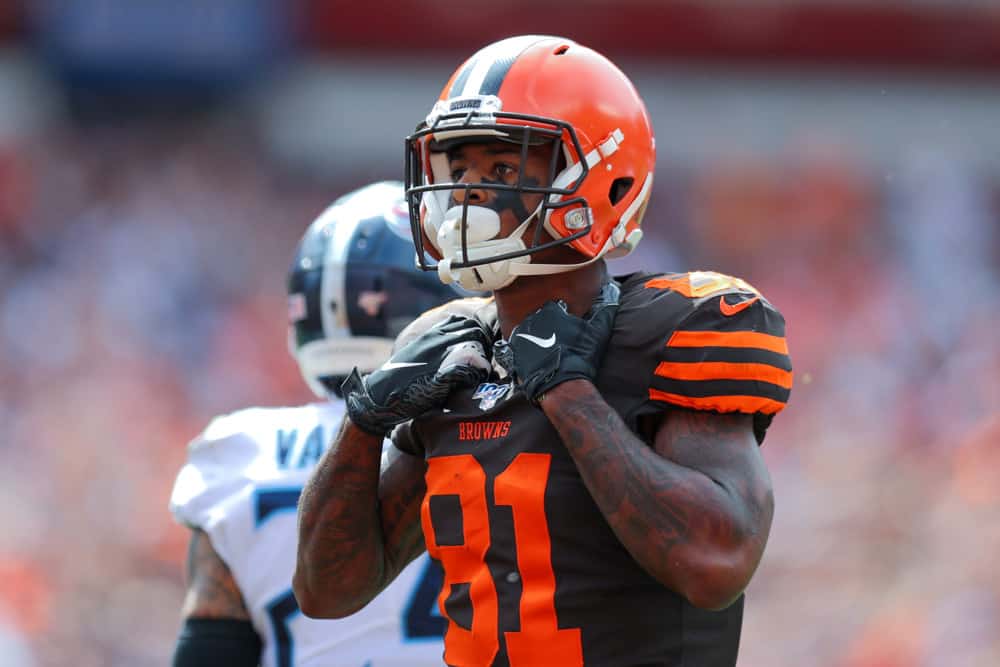 The Cleveland Browns were devastated when they lost Odell Beckham Jr. mid-season to an ACL tear.
The superstar wide receiver was obviously done for the rest of the season, which seemed like it was the beginning of the end.
However, five-year wideout Rashard Higgins stepped in and played incredible in the absence of OBJ.
It took an entire team effort to make the postseason, but Higgins certainly helped fill the void.
In fact, he put together some impressive stats that are actually better than some Pro Bowl receivers.
Hollywood Higgins
The 26-year-old receiver put on a show during the 2020 season.
Last season, Higgins finished with a fantastic 53.1% 1st Down Catches per Targets.
Only Julio Jones, A.J. Brown, and Corey Davis finished with a better percentage than Higgins last season.
The legend of Hollywood Higgins continues.
2020 regular season, what do these 3 have in common?
*Julio Jones
*A.J. Brown
*Corey Davis
Only 3 WR to top Wood's amazing 53.1% 1st Down Catches per Targets.
Src: PFF, 20% qualif targs; 112 WR qualified#Browns @CALLME_WOOD @Browns pic.twitter.com/OVSLedBhg9

— NFL Fact Checks (@wildlifeluvr) April 2, 2021
It's pretty incredible that Higgins was able to be that reliable of an option.
He started as the No. 3 option behind two Pro Bowl receivers, but ended up being a huge factor in the offense.
Higgins finished better in a handful of categories over both OBJ and Jarvis Landry.
One of the more impressive stats was that Higgins finished with 16.2 yards per reception.
Both OBJ and Landry were significantly below Higgins in that category.
That shows Higgins wasn't getting short passes or non-significant targets.
He was a major factor in the offensive gameplan and the season would've been quite different without Higgins on the roster.
What To Expect In 2021
Higgins will likely return to the No. 3 spot on the depth chart heading into next season.
It sounds like OBJ will be back in time for the beginning of the 2021 campaign.
He appears to be making significant progress over the offseason and during mini-camp.
#Browns Odell Beckham Jr. on the bike brigade today on the final day minicamp. Probably part of the rehab plan. pic.twitter.com/gxa9OHZ8Rx

— Mary Kay Cabot (@MaryKayCabot) June 17, 2021
That being said, Higgins will move down a spot on the depth chart, but should remain involved in the offensive gameplan.
He showed last season that he can be a reliable option with 37 receptions and nearly 600 receiving yards.
Although, Cleveland does have plenty of weapons on offense, which could make it tough for Higgins to repeat similar stats in 2021.
The Browns should have a healthy OBJ and rookie Anthony Schwartz is going to be involved as well.
At No. 91, the #Browns select #Auburn WR Anthony Schwartz who can absolutely fly. Maybe the new fastest player in the NFL.

— Ian Rapoport (@RapSheet) May 1, 2021
As seen above, Schwartz is arguably the fastest player in the NFL.
Although, Tyreek Hill is definitely going to give him a run for his money.
Regardless, Schwartz should be involved in the passing attack as well next season.
Higgins might get lost in the shuffle at times, but should remain involved.
He has proven he can be just as good and sometimes better in certain ways than the two receivers ahead of him.
A decline in stats is expected, but hopefully Higgins remains an important piece on this roster.
He has great chemistry with quarterback Baker Mayfield, so Higgins will see his share of targets in 2021.