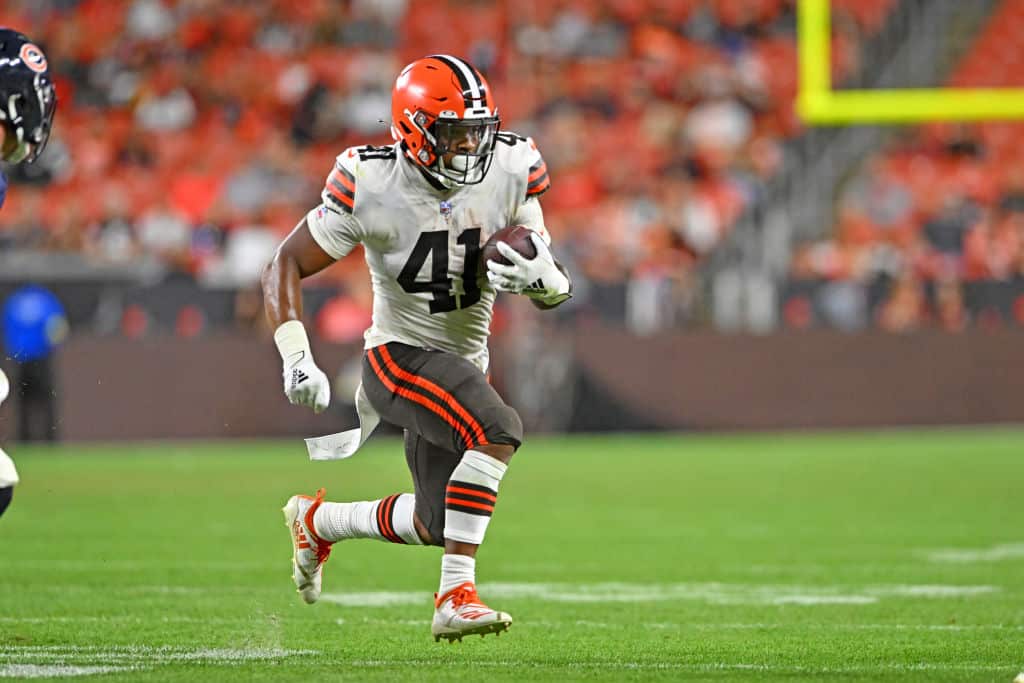 Derrick Henry is still not a member of the Cleveland Browns, but the team announced another running back move earlier today.
It looks like Browns general manager Andrew Berry is determined to bring the whole preseason gang back together.
He already signed Jordan Wilkins and Nate McCrary this week, and now, John Kelly Jr. returns to the fold, filling another practice squad spot.
We have signed RB John Kelly Jr. to the practice squad

📰 » https://t.co/4VaSHBqeFI pic.twitter.com/yGDpyUsvPX

— Cleveland Browns (@Browns) October 27, 2023
Kelly has spent most of the past three seasons with the Browns.
An occasional game-day call-up punctuated what was primarily a practice squad role.
It surprised a few that he was not signed to the initial squad again this season.
Kelly started the preseason with 69 total yards and two touchdowns in the Hall of Fame Game, but his contributions tapered off after that, and he finished the preseason with 124 total yards and three touchdowns.
Now he joins the mix of rushers brought back in the face of injuries to Jerome Ford and Kareem Hunt.
Hunt returned to practice yesterday and is expected to play Sunday at Seattle, but the Browns now have three reserve running backs who are familiar with their play-calling jargon.
Wilkins is expected to be called up as the third back behind Hunt and Pierre Strong, but if the team wants to be careful with Hunt, the Browns could call up Kelly or McCrary, as well.
Kelly was originally a 2018 6th-round draft pick of the Rams and played 2 seasons in Los Angeles.