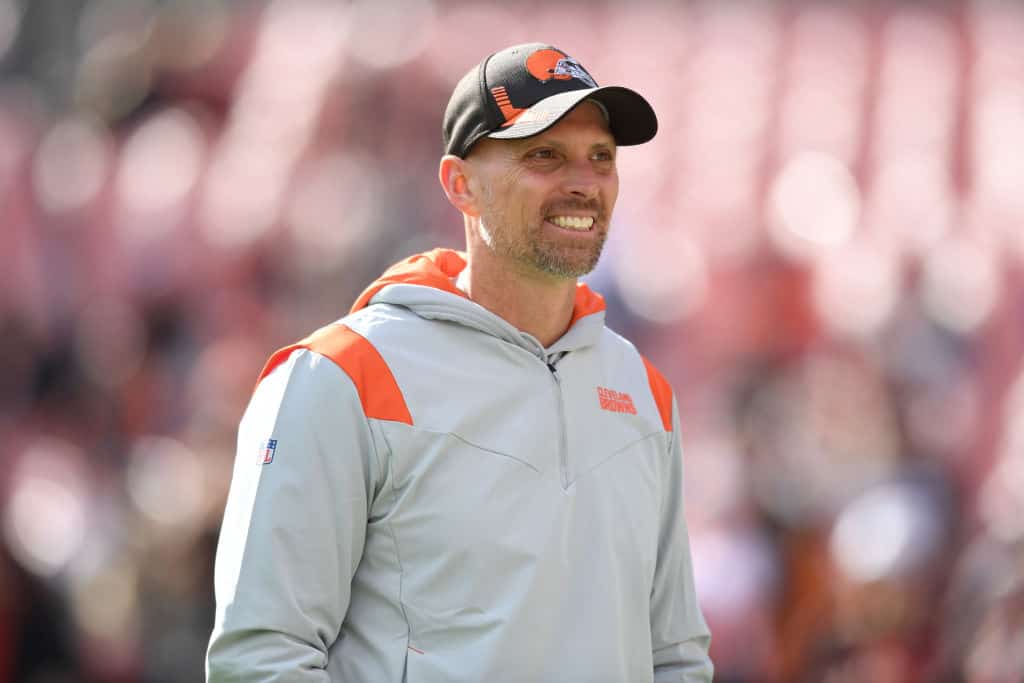 It is that time of year when new NFL coaches are filling their staff positions.
The latest to do so is New York Giants head coach Brian Daboll who is the former offensive coordinator of the Buffalo Bills.
Mike Garafolo of the NFL Network is reporting that Daboll could tap Cleveland Browns wide receivers coach Chad O'Shea to be his offensive coordinator.
With Ken Dorsey sticking with the #Bills, the expected finalists for #Giants OC: Pep Hamilton, Mike Kafka and Chad O'Shea, sources tell me and @RapSheet.

— Mike Garafolo (@MikeGarafolo) February 1, 2022
He is one of three front-running candidates for the job.
Others include Houston Texans quarterbacks coach Pep Hamilton and Kansas City Chiefs quarterbacks coach Mike Kafka.
The 3 finalist for the Giants OC:

Texans QB coach Pep Hamilton.
Chiefs QB coach Mike Kafka.
Browns WR coach Chad O'Shea. pic.twitter.com/wop2ISGOB4

— Doug Rush (@TheDougRush) February 1, 2022
Chad O'Shea's Resume
The 49-year-old O'Shea has been in the NFL for nearly 20 years.
He started as a volunteer assistant with the Kansas City Chiefs in 2003.
O'Shea also worked with the Minnesota Vikings, New England Patriots, and Miami Dolphins before joining the Browns in 2020.
In addition to being the Browns WR coach, he is the pass game coordinator.
O'Shea is a 3-time Super Bowl Champion from his stint as wide receivers coach with the Patriots from 2009 to 2018.
He has been an offensive coordinator before, though briefly, in his one season with the Dolphins in 2019.
Prior Relationship With Daboll
Daboll tapping O'Shea for this position for a key role on his staff makes sense.
The two crossed paths in New England when Daboll was the tight ends coach from 2013 to 2016.
Might Be Time For A Shakeup
Given how the Browns passing game performed in 2021, this may be a well-timed move for O'Shea.
The Browns need to be better and more aggressive in 2022 to compete with the likes of the Cincinnati Bengals and other AFC powerhouses.
Of course, the 2021 passing game woes do not completely fall on O'Shea's shoulders; there were other issues.
This could be just the beginning of newly appointed head coaches recruiting Browns staff members to join their teams for next season.